A parish in Bolivia made the rosary this past month of May in conjunction with Laudato Si' Week and World Environment Day.
We've seen giant rosaries before. There's the one in Lebanon with chapels for beads, for example. And how could we forget one made out of helium balloons by nuns in Italy at the height of the pandemic lockdown, so they could float it from the rooftop as a sign of hope?
Then, there are oversized rosaries made of plastic bottles (usually with an environmental message). A parish in Brazil made one in 2021 for Laudato Si' Week, apparently using one bottle for each bead. However, it looks like a Bolivian parish has outdone them for Laudato Si' Week 2023, employing1,000 disposable plastic bottles to make their oversized rosary.
Laudato Si' Week is a celebration based on Pope Francis' famous encyclical on the care of our "common home."
This year, it ran from May 22 to 28, ending just a week before June 5, World Environment Day. It was within the framework of these special dates, where attention to environmental issues is particularly focused at the international level, that a Bolivian parish organized an activity that was also linked to May as the month of Mary.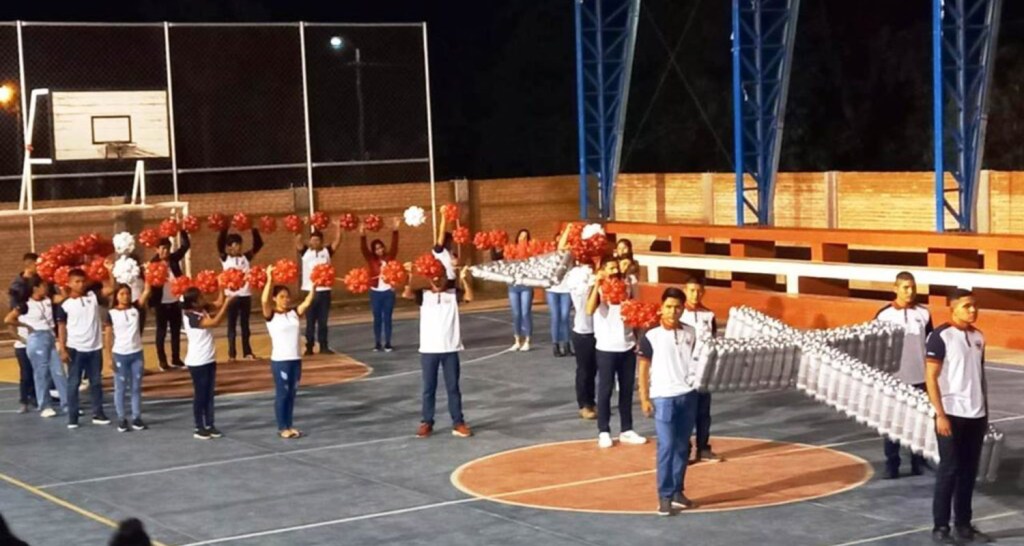 Arquidiocesis de Santa Cruz de la Sierra
A giant rosary made of bottles
The creativity of the parishioners of St. John the Baptist of Biobisi Parish, in the municipality of General Saavedra, Bolivia, was on display during the Marian month, which concluded with the praying of the rosary.
As reported by the website of the Archdiocese of Santa Cruz de la Sierra, one of the new initiatives this year was the creation of "a giant rosary made with 1,000 disposable bottles, approximately 160 feet long."
This rosary was the result of a whole month of work. The task involved the collection of bottles, followed by cutting them and assembling them into spheres (for the beads), which also had to be painted.
"Teachers and students of primary and secondary school worked to assemble the 5 mysteries and the children of School Support and First Communion collaborated with the construction of the Cross," the article explains.
A testimony and message of hope
On May 31, the students took the rosary out in procession — led by the graduating class — to pray around the city's main square. The website describes it as "a testimony of love for the Blessed Mother and an invitation to care for the Common Home."
Arquidiocesis de Santa Cruz de la Sierra
The activity ended up resonating with many people, not only for the uniqueness of the rosary the parishioners had constructed, but also because it sought to offer a message of faith and hope in the face of an urgent issue.