Grab your leather jacket and felt fedora. We're off to Rome, exploring ancient ruins and hopping through time in search of past glory and present treasure
As the famed archaeologist Indiana Jones sets off on one last adventure, we take our adventurous readers on a virtual journey to 5 key sites in The Eternal City as it was in bygone days and exists now. Somewhere there is hidden a treasure beyond all price…
Indianapolis Museum of Art, Public Domain
Our adventure begins in the Rome of imagination.
This fantastic representation of the city's ancient monuments pays no heed to their true layout – but it captures perfectly the Roman-tic view that most of us have of The Eternal City. The glory of the world's most powerful empire has crumbled into awe-inspiring ruins. A group of peasants go about their business or exchange gossip, much as their forebears did hundreds of years before.
In the distance stands the Pantheon as Giovanni Paolo Panini saw it in 1735. What state is the Pantheon in today, about 270 years since this painting was created and more than 2,000 years since the ancient building was constructed? Like Indiana Jones turning the Dial of Destiny, we suddenly leap across time…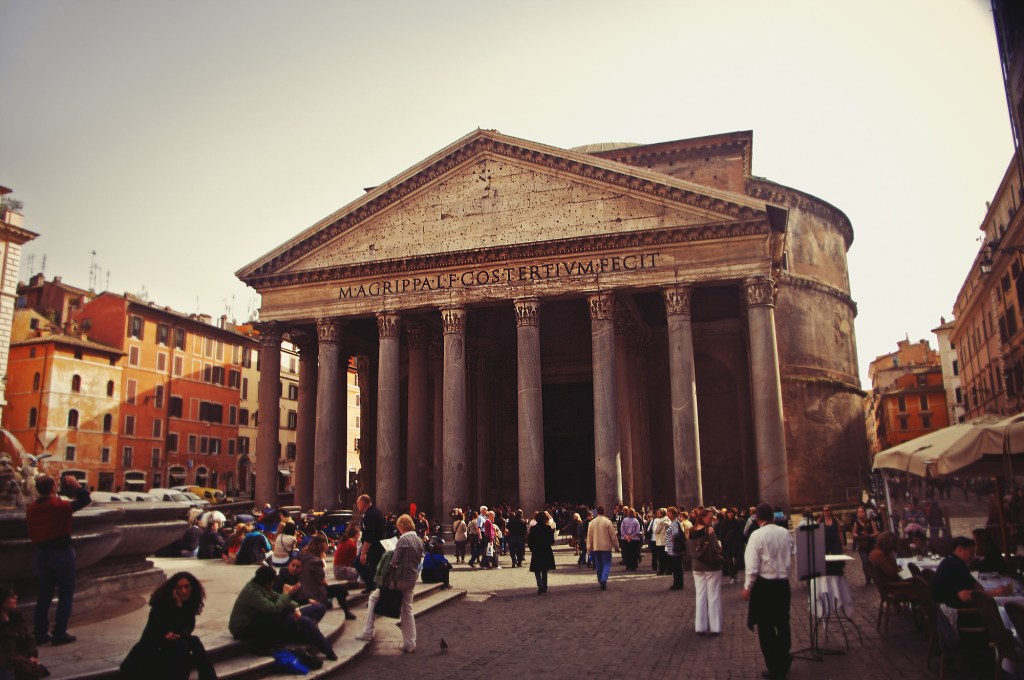 Photo by Andrew Seles – Creative Commons License
There has been little change to the Pantheon in the 21st century.
Casual tourists are so busy gaping up at its magnificent concrete dome and snapping pics on their phones that they often take little notice of an altar set for Mass. Yes, one can indeed be oblivious to the fact that in the year 609, this magnificent temple was converted into a Catholic church and dedicated to St. Mary and the Martyrs.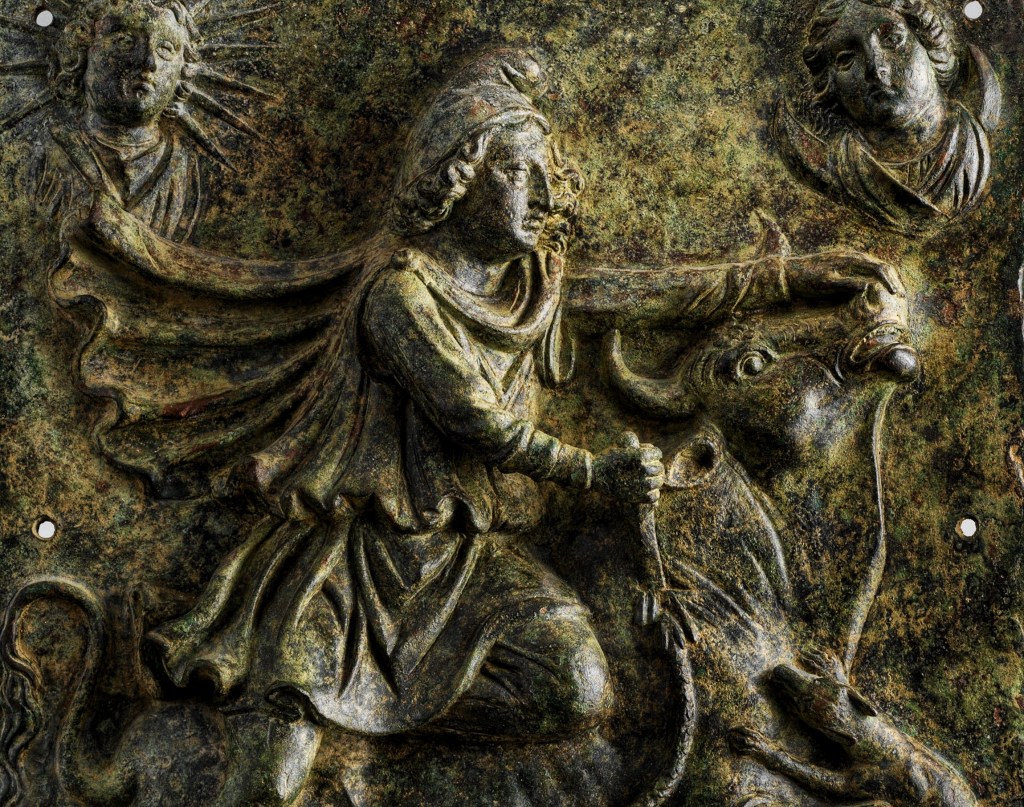 In the Eternal City, adventure is always just around the corner.
Or, in this case, just outside the Pantheon. A mysterious man wearing a fedora suddenly intercepts us, showing us a small bronze plaque depicting a strange scene — a man slaying a bull.
What could this object be?
The man explains that the figure on the plaque is the god Mithras. His cult spread through the east in the 2nd and 3rd centuries A.D. This plaque may have decorated a place of Mithras worship, which was called —
And suddenly we both gasp. This artefact is a clue! A clue that will lead us to…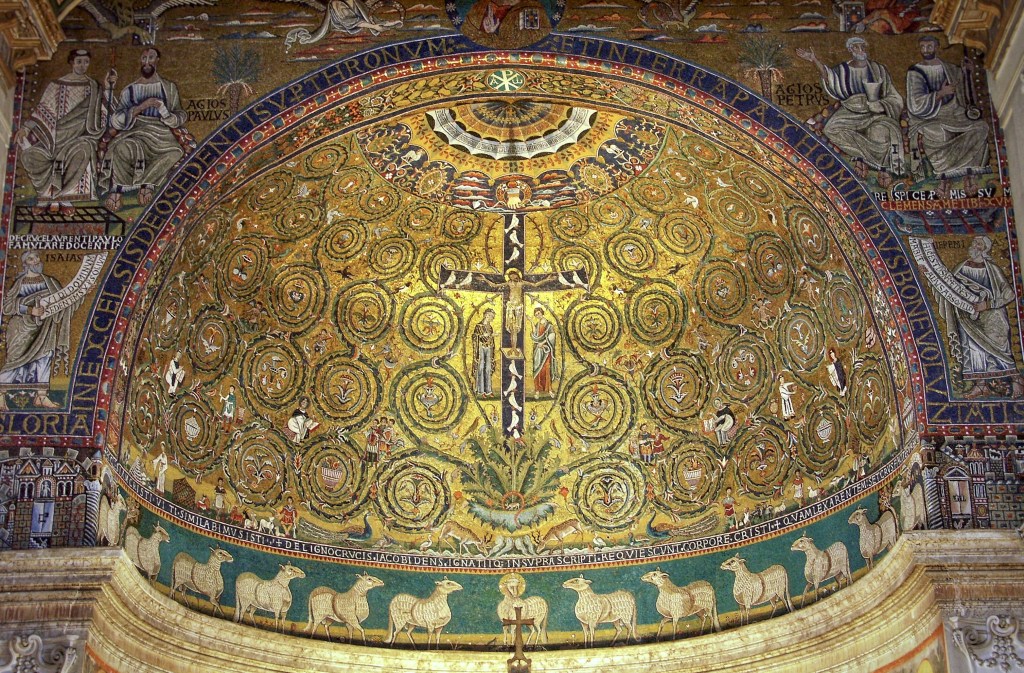 Wikimedia Commons, Jastrow – Public Domain
What breathtaking beauty!
We are facing the apse of the Basilica of San Clemente in Rome, mesmerized by its shining mosaic that depicts the Triumph of the Cross.
But why have we come here?
This magnificent church is also one of the great archaeological complexes in the world. Like many places in Rome, over the centuries the residents often constructed a new building directly upon an older one.
Beneath our feet is a 4th century church and under that the remains of a pagan temple and a 1st century villa… and there is also a small, cave-like Mithraeum where the worshippers of Mithras once performed their cultic rites! Before the coming of Christianity, the restless people of Rome worshipped many different gods.
The gods of ancient Rome did not go quietly — nor did the Roman emperors look kindly upon the strange people called Christians who refused to worship them as gods.
There may be another clue hiding in this beautiful place. But before we can explore the basilica any further, we are suddenly transported back in time again!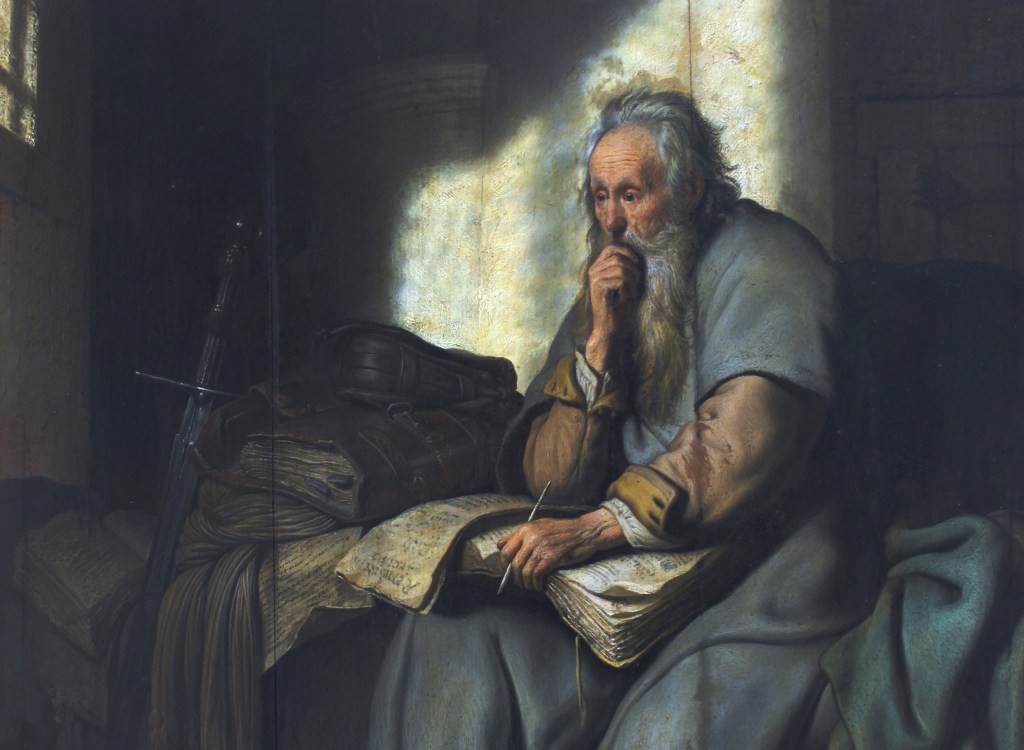 Staatsgalerie Stuttgart, Germany | Public Domain
What are we doing in this dank place and who is that man?
His name is Paul and this is the Mamartine Prison, though in Paul's day it was probably just called the prison. Those held here were awaiting trial or execution. In future centuries, this place too will become a site of pilgrimage and Christian worship. But now, in the late 1st century, it is simply a place of pain and despair.
Paul bears the marks of long confinement, but there is a light in his eyes and a hope that is unlike any of the other prisoners in this awful place — or, for that matter, like any of the Romans walking freely about the city.
We think that Paul penned his second letter to Timothy around this time. Could that be the letter he is writing in his cell? Before we can ask him, we time-shift yet again…
Antoine Mekary | Aleteia
Phew! We are back out on the Roman streets and free again.
What era have we traveled to now? It can be hard to tell in the Eternal City. No, wait… Those are honking horns in the distance. We must be back in the 21st century.
Now singing mingles with the sounds of traffic. A religious procession is forming. There is a glass reliquary. What is that inside? We step closer… and exchange shocked looks.
We recognize those chains as the very ones that bound St. Paul when he was in prison. They were preserved all these myriad years. The chains have been held in such great esteem that even today Christians process with the relics through the streets of Rome.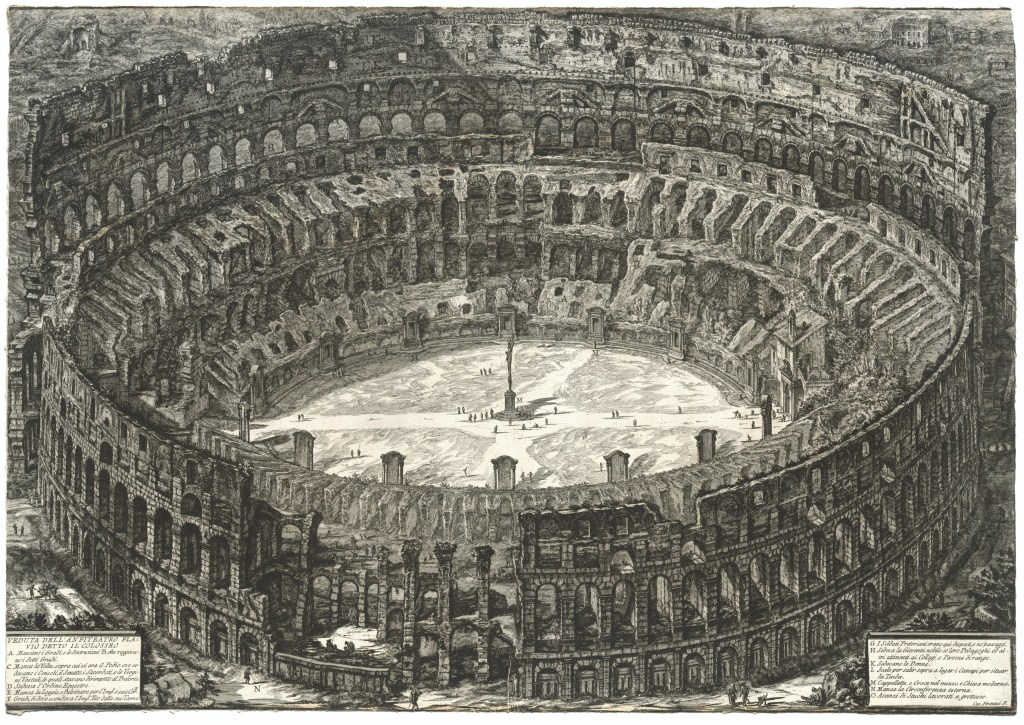 Metropolitan Museum of Art | Public Domain
The whirlwinds of time have carried us to the 16th century.
This is the Colosseum, lovingly rendered by Giovanni Battista Piranesi — a devoted antiquarian and extraordinary craftsman who was far ahead of his time. It took true genius to produce an aerial view of a Roman monument when hot air balloons had yet to be invented!
From this angle, Piranesi can show us an important fact. There is a crucifix in the center of this place where so many Christians were slaughtered for their faith in Jesus.
In 1743, Pope Benedict XIV placed the crucifix there to sanctify this spot. He also installed the Stations of the Cross…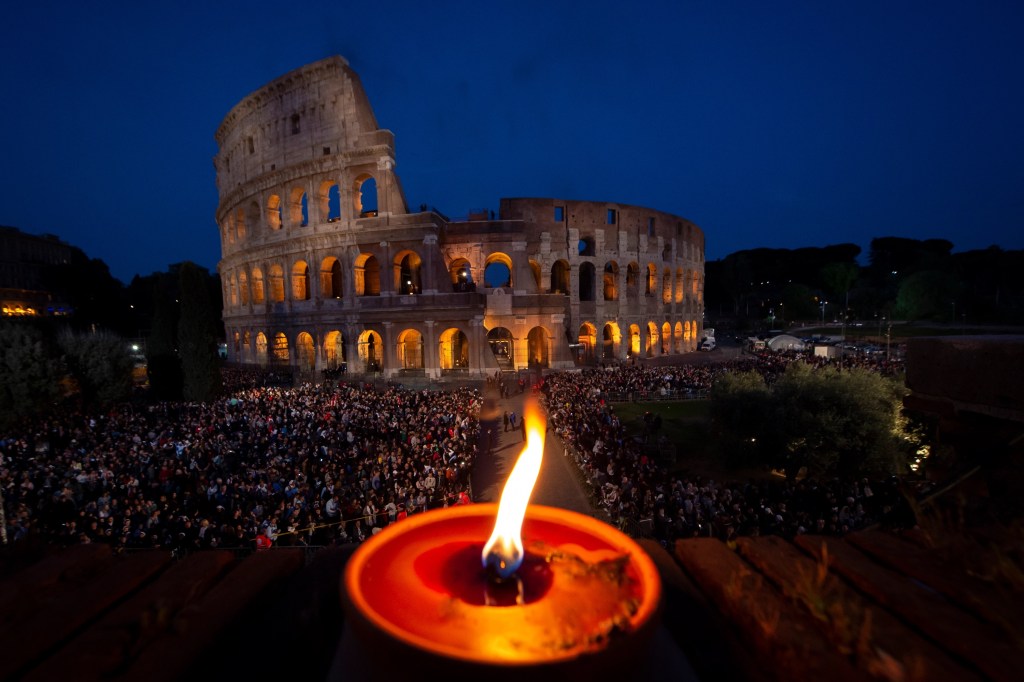 Antoine Mekary | Aleteia
Modern Catholics still venerate the cross in this place.
Back to the present. Every Good Friday, thousands of Christians come to remember the passion and death of Jesus and to pray for all those who suffer.
It seems the concept of time travel is not all that strange for Christians. Our rituals and liturgies confirm this. For us, the past is deeply connected to the present as a living memory.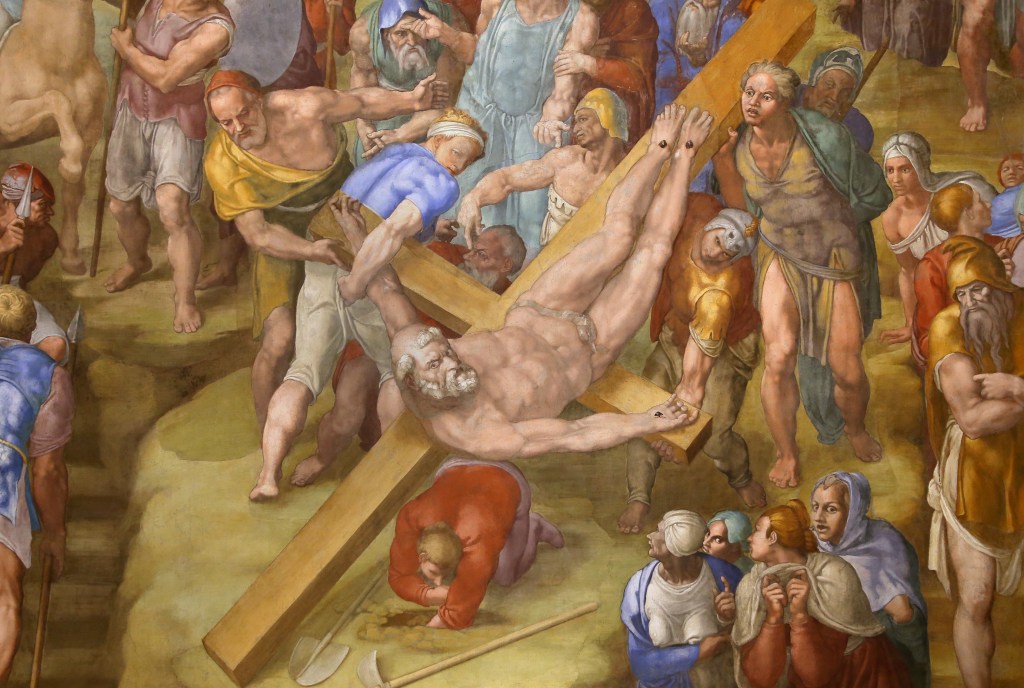 Wikimedia | CC License
For a great artist, time travel is an everyday fact.
In an instant, thanks to Michelangelo's genius, we find ourselves at the foot of Vatican hill amidst a raucous crowd that has gathered to witness the death of a fisherman. St. Peter insists on being crucified upside down because he believes himself unworthy to die like his master.
This scene happened nearly two millennia ago, but it may as well have happened yesterday. In fact, similar scenes have played out all throughout history, even up to the present instant.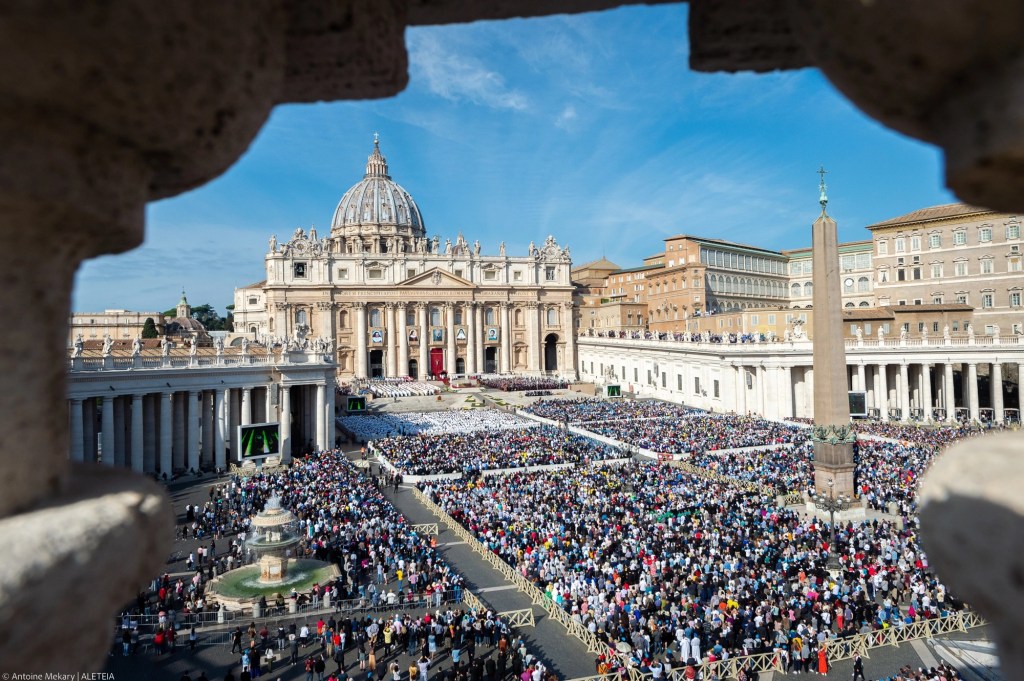 Antoine Mekary | Aleteia
We end our adventure here at the place of St. Peter's martyrdom.
Much has changed since St. Peter walked the streets of Rome. Back then, very few Romans professed the Christian faith. That small group of believers would be almost unnoticeable amid the vast throng that has gathered here in St. Peter's square.
The crowds have come to celebrate and give thanks as Pope Francis canonizes a new batch of saints. Since the time of Sts. Peter and Paul, many men and women have followed their missionary example, leading a countless sea of believers to the Risen Christ.
All the clues on our journey through Rome have led us here — to the living treasure that is Jesus present in His people, the Church.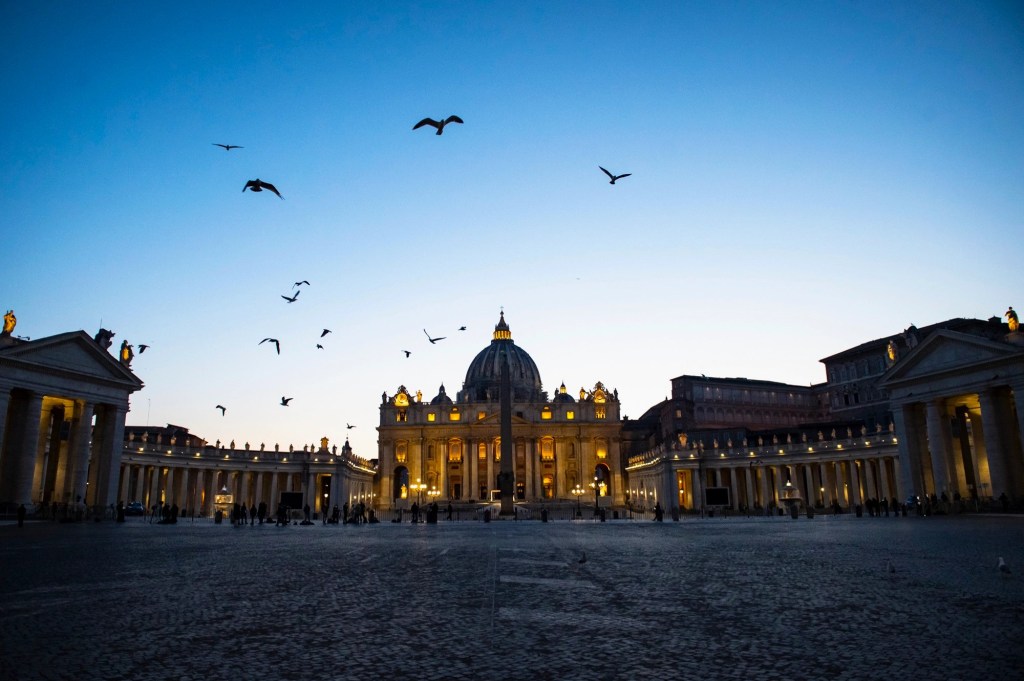 Antoine Mekary | Aleteia
Our journey to the Eternal City has reached its end.
Fairwell, my friend… until our next adventure!