Pierbattista Pizzaballa has served many years in leadership in the tense region where Jesus lived.
At a time of heightened tensions between Israelis and Palestinians, Pope Francis has named the Latin Patriarch of Jerusalem Pierbattista Pizzaballa a cardinal. The 58-year-old Italian will thus be an elector in the event of a conclave. 
During the Angelus on July 9, 2023, Pope Francis announced the creation of 21 cardinals, including 18 electors. The consistory will be held on September 30. Seconds before he unveiled the list of new cardinals, Pope Francis made an appeal for peace in the Holy Land from the window of the Apostolic Palace. 
"With sorrow, I learned again that blood has been poured out in the Holy Land," he told the crowd gathered in St. Peter's Square, at the end of a week during which violent clashes took place in the Palestinian town of Jenin. 
Who is cardinal-elect Pizzaballa?
Choosing a cardinal for the Holy Land therefore takes on special significance at this time, even if the future cardinal is not originally from the region. Born in Italy in 1965, Archbishop Pizzaballa entered the Franciscan Order of Friars Minor at the age of 19. Ordained in 1990 in Bologna, he had taken his perpetual vows a year earlier. He is also a former professor of Biblical Hebrew at the Franciscan Faculty of Biblical and Archaeological Sciences in Jerusalem. During that time, he supervised the Hebrew translation of the Roman Missal in 1995.
In 2004, he was elected custodian of the Holy Land — the local Franciscan province — and re-elected to the same post in 2010 and 2013. From 2005 to 2008, he was also Patriarchal Vicar of the Patriarchate of Jerusalem.
It was in 2016, on the retirement of the Latin Patriarch of Jerusalem Fouad Twal — of Jordanian origin — that the Pope appointed Bishop Pizzaballa the apostolic administrator of the Patriarchate, leaving it vacant. One of the Italian bishop's tasks was to reorganize an office whose management had led to serious financial problems. He took on the task despite facing a certain amount of internal resistance.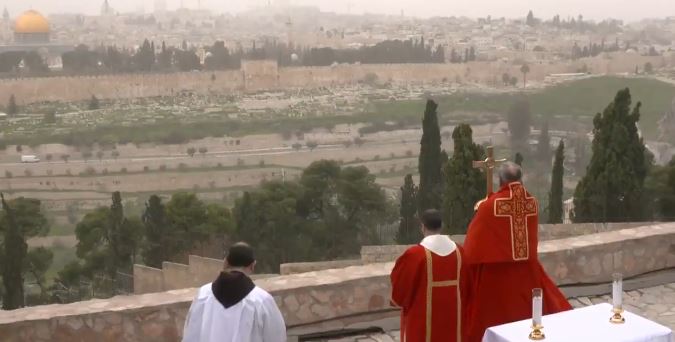 Patriarch of the Latin Patriarchate of Jerusalem
Four years later, in 2020, the Pope officially and formally entrusted him with the Patriarchate of Jerusalem. This choice was criticized by some, who regretted that Rome did not appoint a patriarch from the region. In 1987, John Paul II chose Patriarch Michel Sabbah, the first Palestinian Arab to bear the title of Latin Patriarch of Jerusalem. He was replaced by Jordanian Patriarch Fouad Twal in 2008, appointed by Benedict XVI.
The jurisdiction of the Patriarchate of Jerusalem extends to Latin Catholics living in Israel, the Palestinian Territories, Jordan and Cyprus. 
The Middle East has another cardinal elector: the Patriarch of Babylon of the Chaldeans Louis Raphaël Sako (Iraq). Pope Francis also created the nuncio to Syria, Mario Zenari, as a cardinal in 2016. The diplomat is counted as an Italian cardinal.