"We are devoted to the intercession and the holy life of St. Tekakwitha."
One day after St. Kateri Tekakwitha's July 14 feast day, members of Alaska's Kateri Circle will gather to celebrate Mass at St. Anthony's Parish in Anchorage. Aimee, a Kateri Circle member and Indigenous Alaskan, explains that prior to the celebration of Mass, members of the Catholic Alaskan Native Community will perform a smudge ceremony. In this ancient Native ritual, smoke dried sage cleanses the people, preparing them and the sacred space by clearing negativity and restoring harmony. 
Office of Native Ministries, Archdiocese of Anchorage-Juneau
The goal is to connect with the Creator. Participants will use feathers to guide and disperse the smoke. According to Aimee, the beating of Native Alaskan drums will serve to garner the attention of the participants.
During Mass, the Our Father will be sung and signed with dance in the language of the Yup'ik, one of the six main Indigenous peoples of Alaska. The participants will wear traditional Alaskan Native Kuspuks. Afterwards, the Kateri Circle community will come together to eat, sing, and dance.
Kateri Circles define themselves as "a group of faithful Catholics, non-Catholic Christians, and/or seekers who desire to be in community with one another through a lifestyle of prayer, service, and worship." Circles are independent, but affiliated with the Tekakwitha Conference, which evangelizes and advocates for communities of Indigenous Catholics across North America.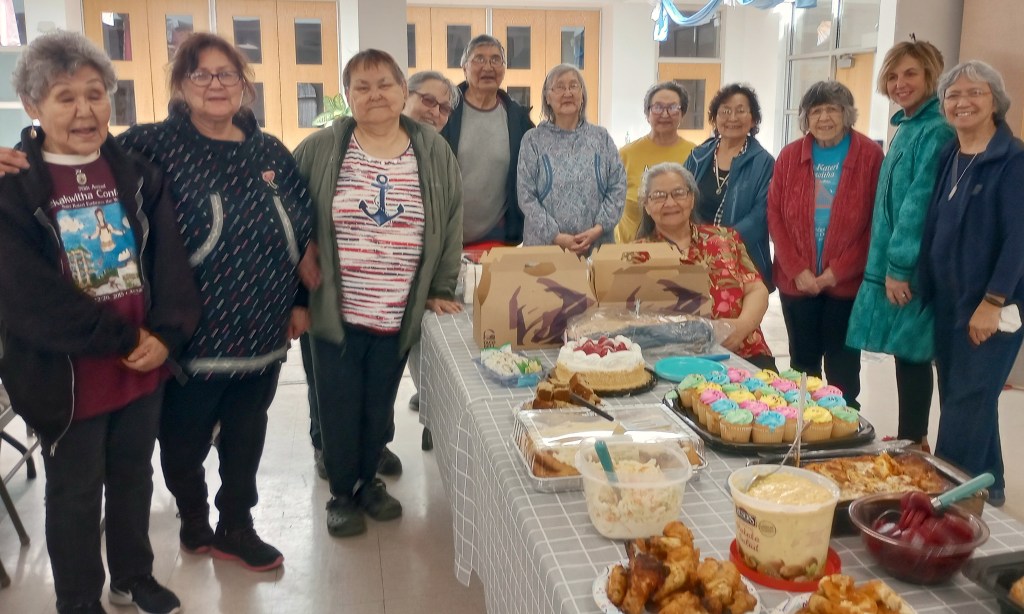 Office of Native Ministries, Archdiocese of Anchorage-Juneau
During weekly Kateri Circle meetings in Anchorage, participants pray the Rosary together for each other's needs, study and discuss the coming week's readings and Gospel, share a meal, and plan charitable works, along with other activities.
Beth has felt welcomed since joining the Kateri Circle in Anchorage after relocating from Northern Wisconsin. She says that the fellowship of the local Kateri Circle community has deepened her spiritual life. As a non-Native she has come to appreciate Indigenous Alaskans' unique contribution to the Church:
Baleen baskets, Birch baskets, Kuspuks, trying new foods — all of it helps me to experience the Catholic Church as universal. It is for everybody. When some of the elders, who are now deceased, would come to the Kateri Circle, learning their oral history from them was amazing.
Respect and care for one's elders, charitable community mindedness, and a posture of dependence on God as a result of a subsistence lifestyle are just some of the gifts that Indigenous peoples bring to the Church. They are also ways that St. Kateri experienced life as an Indigenous person, according to Aimee. "She lived and went through what we live and go through," Aimee says.
Mary, an Indigenous Alaskan elder, points out that there are no grocery or convenience stores in remote villages. Natives today, as in St. Kateri's time, gather and preserve their own food, and make their own clothes.
But subsistence is more than a way of surviving, as Mary explains. It shows a deep connection to the land and the Creator's providence. Fish, birds, seals, whales — no part of an animal is wasted. Thanking the animal for its life and its contribution to the survival of the community reveals our connectedness with all of creation. It honors the gift of the animal and the One who created it.
Every year, Alaskan Natives gather in Fish Camps to harvest what they have not sown. It teaches a respect for the land, plants, and animals that sustain life. Here, people are under no illusion that they can survive without each other or without a direct dependence on God and a thankfulness for his blessings.
Western Arctic National Parklands
When Mary was young, her mother taught her how to share with others and to care for the elders. Now that she is an elder, others care for and share with her. "In the villages, if I have a boat, I will share with you. What I have is not for me but a resource for the community," Mary says. She adds that many in her community understand that lessons from Native traditions and spiritual practices enrich their Catholic faith. When she sings and prays in Yup'ik, her heart soars.
Mary continues:
For me, the Kateri Circle is like family. We pray for each other's needs and we share with each other. When we see a need, we don't wait for them to ask for help, we help. I have not been to my village in 10 years and I miss it. There is a sense of God out there. There is peace. My Kateri Circle connects me to other Native peoples who were also the first people on this land. Many of us still live the way she lived. Especially in the villages we don't have the same distraction from TV, music, phones, and other entertainment. We work hard and it's a struggle but we are connected.
Though the first missionaries to Alaskan villages were conscious of integrating Native customs into the liturgy and prayers, Native customs and languages were later forbidden. Many Catholic Alaskan Natives felt unwelcome or alienated. When St. John Paul II visited Alaska in 1981 and 1984, he encouraged the local church to engage with Indigenous Alaskan culture while safeguarding the integrity of the Gospel. 
Kateri Circles epitomize this more open approach. "The whole idea behind the Kateri Circle is to connect with other people," says Sister Frances, the leader of the Diocese of Anchorage-Juneau's Native Ministry. "Even if only three or four people gather that week, we meet so we can connect with each other. It is not about the numbers, but the spirit of it. Inculcating the spirit of Kateri. Her spirituality is more important than numbers. We emulate her, not just socialize. We are devoted to the intercession and the holy life of St. Tekakwitha."
Aimee is grateful for Anchorage's Kateri Circle. Something had been missing in her life; she knew she needed companionship and a sense of belonging. "All tribes have Kateri," Aimee says. "We are not alone. Enjoy togetherness and companionship. Come and see what you are looking for. Fill the void. You belong. You matter. It is uplifting to follow her in our native way."
Each year Kateri Circles from across the US meet for the Tekakwitha Conference, which will be held this year on July 19-23 in Bloomington, Minnesota. Aimee has attended three of the gatherings and always finds them uplifting. These are her people, she says. They understand the hardships involved with living off of the land; living off of what God has given to us to sustain all of us.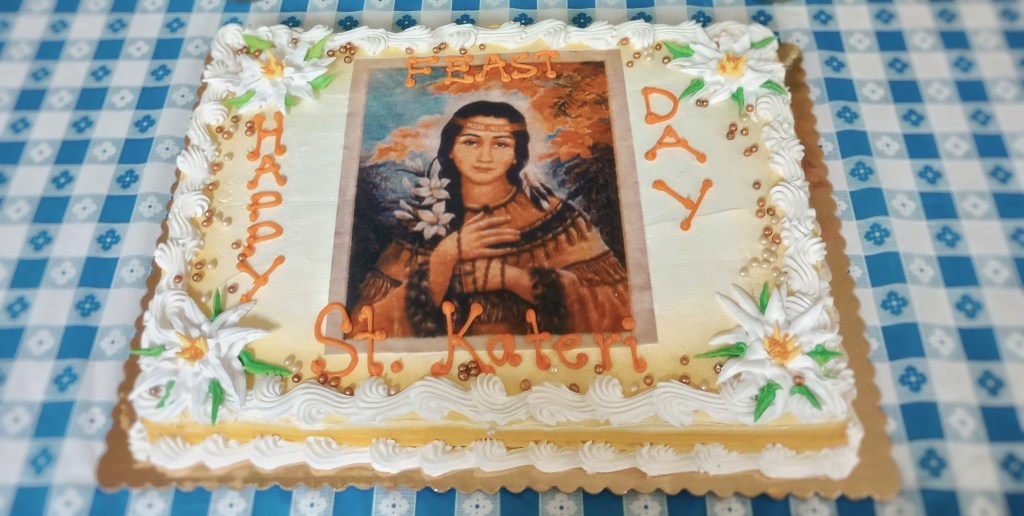 Office of Native Ministries, Archdiocese of Anchorage-Junea
St. Kateri Tekakwitha is the first American Indigenous saint. When she was four, smallpox swept her village. Her parents and brother were among the casualties. Kateri was left badly scarred and was nearly blinded by the disease. Moved by the example of some Jesuit missionaries, she later converted to Catholicism at the age of 20.
Eventually tribal opposition to Kateri's conversion became so extreme that she was forced to flee 200 miles on foot to live in a Catholic settlement. She died on Holy Thursday, still in her early 20s. Witnesses said that her face became radiant and her smallpox scars disappeared. Her last words were, "Ieosos konoronkwa," which means, "Jesus I love you." 
St. Kateri Tekakwitha is the patron saint of the environment, the loss of parents, people in exile, people ridiculed for their piety, and World Youth Day.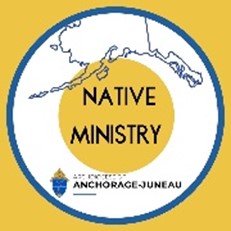 Office of Native Ministries, Archdiocese of Anchorage-Junea
The Alaska Native Medical Center Catholic Mass is livestreamed every Sunday at 11:30 AM (AKST/AKDT) on the Native Ministry of the Archdiocese of Anchorage-Juneau Facebook Page