A miraculous Madonna was beached in Sardinia in 1937. Her origins are now the subject of a detective-like search.
While walking on the beach on the west coast of Sardinia (Italy) on March 26, 1937, a local shepherd found a 15th-century wood-carved Madonna half buried in the sand. He dug it out and took the image to his house, where he built an altar for her. Soon after, his patron's daughter became seriously ill, due to a double bronchopneumonia. Against all odds, the girl recovered, and her healing was attributed to the Madonna. The news spread like wildfire and soon reached the neighboring municipality of San Vero Milis, who adopted the Madonna as their own. Since then, she has been venerated in the local Hagia Sophia church.
But where did this Madonna come from? The Sardinian priest Ignazio Serra is on a quest to find out.
As read on the website of the archdiocese of Valencia (Spain), the answer might be in the sea currents. The way the tides move on that shore strongly suggest that the image arrived at Sa Praja Manna (the beach where the image was found) from Spain. "At first we traveled to Menorca, in search of some clues about the origin of the carving," Serra explained the archdiocese. "but no documentation was found about a wood carving of these characteristics in Menorca."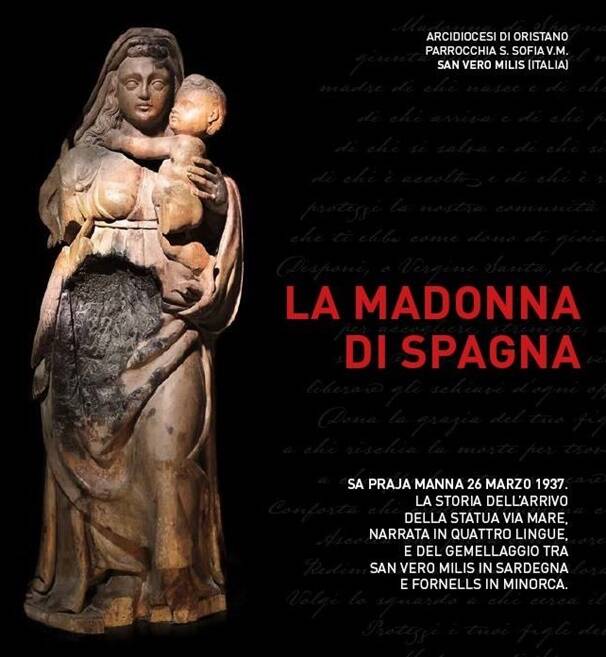 Archdiocese of Oristano
One thing is certain: the image must have belonged to some parish or chapel by the beach. During the Spanish Civil War, some churches were attacked. In those that were, altars, sacred images, statues and furnishings were usually destroyed or set on fire. Indeed, this Madonna shows signs of having suffered some burning. "Someone must have rescued her from the fire," Serra says, "fled with her, and thrown her into the sea in order to save her from destruction."
Whereas an initial hypothesis thought the image could have been aboard a ship that wrecked in the area, Serra claims that, in general, statues found at sea are usually the ships' figureheads or any other decorative elements that arrive to the shore, most of the time in a ruinous state. The Madonna's case is quite different "because of the distinctive burn in the center of the image, and for the high quality of the workmanship," the priest explains.
Serra is now asking for help to finally discover the origins of the beloved Madonna Di Spagna.