After 40 years of civil marriage, Carlos and Susana said "yes" before God in the chapel of the hospital where he's being treated for cancer.
Carlos Ariza and Susana Orejarena, a couple of Colombian grandparents, are living a story of true love and faith. Earlier this year they received the blessing of the sacrament of marriage at the International Hospital of Colombia (HIC), accompanied by their relatives.
"I'm very happy to be able to say 'yes' again to my wife … It is also a blessing from God for our children. We asked the monsignor to marry us so that we could end our lives in God's grace." This is what Carlos told Noticias Caracol, recounting the emotion he felt during his Catholic marriage.
Four decades ago, when he was 26 years old and she was 22, the couple was civilly married and began to form a family. Today they have three grown children and two grandchildren, who have brought them great joy and with whom they have overcome great trials. The most recent of those challenges has to do with Carlos' health. He is suffering a recurrence of Hodgkin's lymphoma, which he had seemingly overcome 10 years ago through surgery and chemotherapy.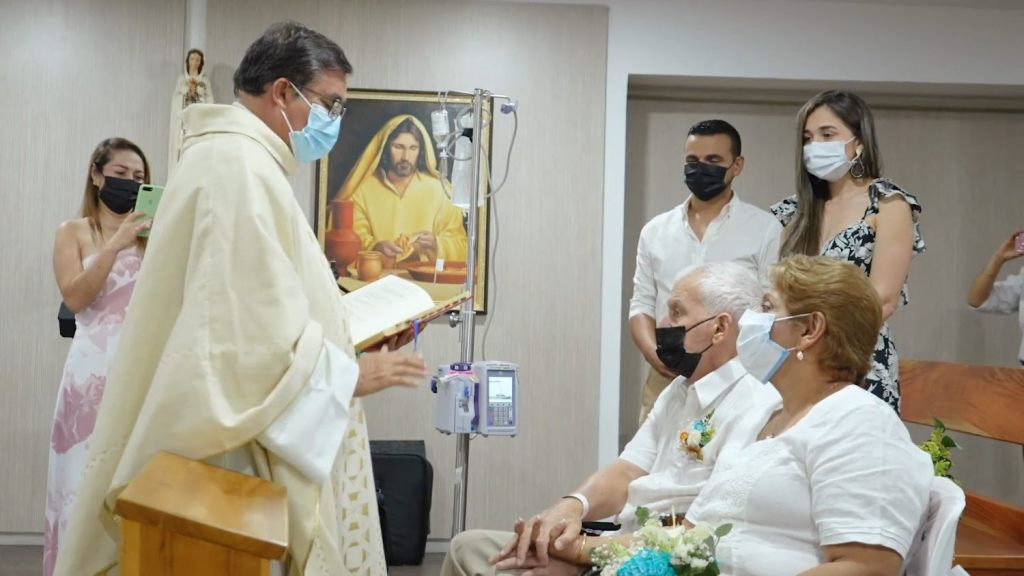 @FundacionCardiovascularCol
"The most divine ceremony"
Last April the doctors told Carlos that he had to return to treatment. Since then he has been being treated by the specialists of the International Hospital of Bucaramanga, in the east of the country.
"This story began when Carlos came to us expressing his desire to marry his wife (in a religious ceremony)," said Yadir Molina, the HIC patient's supervisor.
The staff of the medical center helped them organize the ceremony in a couple of days and celebrated this special occasion with the family.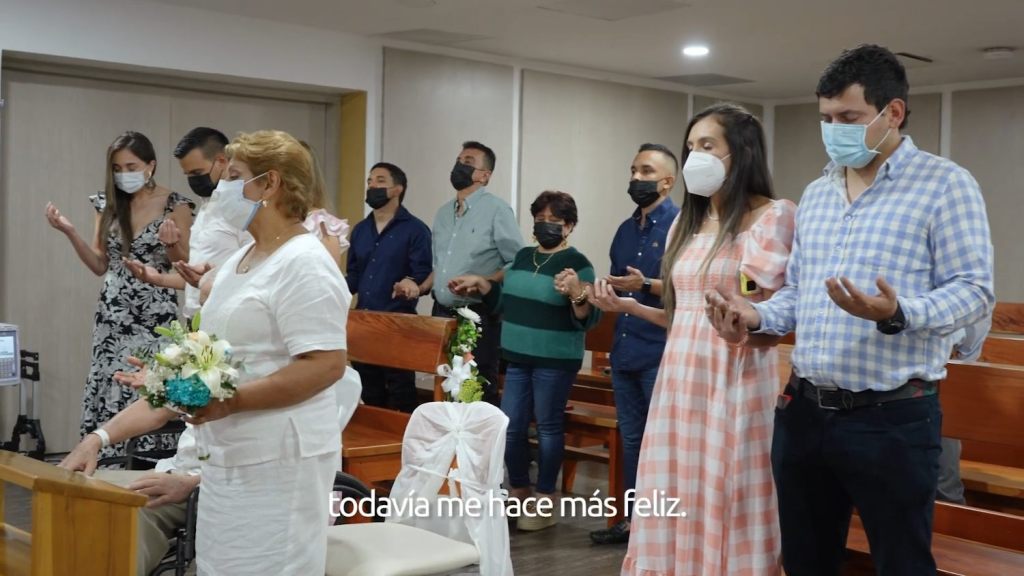 @FundacionCardiovascularCol
Susana entered the chapel accompanied by her children and carrying an arrangement of tropical flowers. Carlos was sitting in a wheelchair waiting for her. Both were dressed very elegantly in white.
"When Susan came in and I looked at her, she was beautiful … all dressed in white, very beautiful. She's happy and content and that makes me happy," he recounted in a message shared by the hospital on its Instagram account.
@FundacionCardiovascularCol
"One gives oneself to that person to the very end, no matter when the end is," Susana said. She recalled the four decades they have lived together, and she celebrated the decision to unite before God in the midst of her husband's illness. "One must fight to the end. As long as there is hope for life you have to fight for it. He has always been a fighter and for that I admire him," she added.
Despite the discomfort caused by the disease, Carlos was smiling throughout the ceremony. He kept looking lovingly at his wife and kissed her many times on her hands despite the mask he had to wear.