Reading a book to your newborn might seem unimportant, but there are many good reasons to read to little babies right from the start.
Newborns' interests seem to include nothing but eating, sleeping, and dirtying their diapers, so reading a book to your newborn might seem kind of pointless. But there are many good reasons to read to little babies right from the start.
I was pleasantly surprised to come across a video of a mom reading a book to her newborn with great expression and verve. The video garnered praise from early childhood experts, who were quick to point out the benefits of reading to infants.
One professor wrote on social media,
Read to your newborn. 📚 

With hearing developing during the final months of gestation, it's never too early to begin reading to your baby. And this mom is giving us an absolute master class in how to do it right. 

Note first that she's reading face-to-face. At this age (10 weeks), there is literally nothing more thrilling — or instructional — to your newborn than your face. Check out how intently focused baby is on mom's voice and facial expressions. 

Mom reads with expression and emotion, alternating between glances at the text and direct eye contact with her adoring audience of one. 

And there is so much going on in that developing brain. Did you know that during the earliest years of life babies form new neural connections at an estimated 1 million per SECOND? 

With these types of rich daily interactions, mom is setting her baby up for a lifetime of success. 
The professor makes some great points about how beneficial reading aloud can be to babies. Hopefully the practice becomes a habit that will continue for years to come.
Another reason to read aloud to your baby is to enjoy literature you love with the newborn love of your life.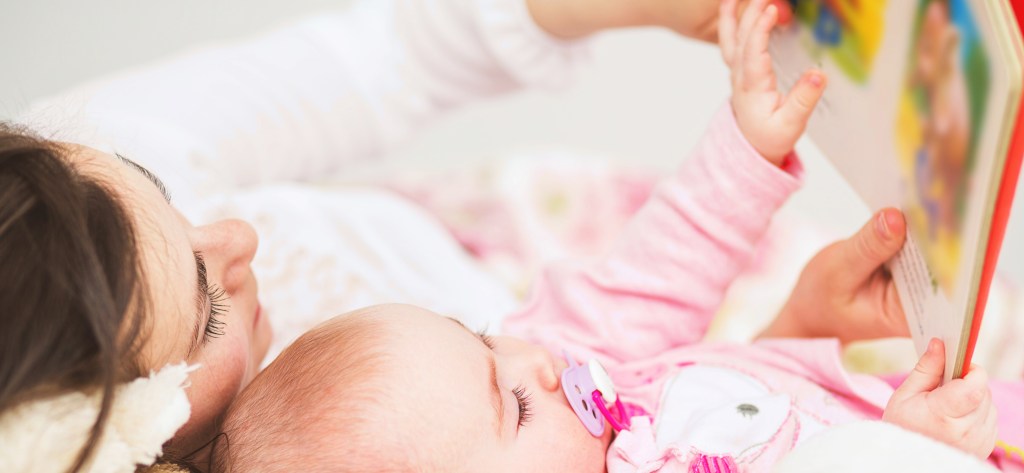 Tania Kolinko | Shutterstock
Do things with your kids that you like to do
One of the best parenting tips I've ever gotten was to do things with your kids that you actually enjoy doing.
Reading to your newborn is a great opportunity to read a book that you like, whether that's Calvin and Hobbes or the poems of Emily Dickinson. 
At this age, they don't care what you read, so you might as well pick one of your favorite books, and this read-aloud time can be a way to start sharing things you enjoy with your little ones.
When my oldest was a baby, I hung my favorite poem above the changing table and would read it aloud from time to time. 
Fast forward a number of years, and all that reading poetry to a nonverbal newborn paid off. That same child loves poetry and reads Shakespeare for fun (A Midsummer Night's Dream is a favorite). 
It's never too early to share what you love with your kids and find ways to enjoy your time together. So go ahead and read to your newborn, even if it seems pointless. 
You're not only setting up your kids for a lifetime of reading, but even more importantly, building a strong and loving relationship from day one.
For years the Children's Hospital of Philadelphia has had a "Reach Out and Read" program, encouraging parents to read with their children. The video below provides some helpful tips for parents reading with infants, particularly once they reach that grabby stage when they like to put everything in their mouths.