Walker Percy's 'Lost in the Cosmos' and Brother Guy Consolmagno's 'Finding God in the Universe' make for a delightful and thought-provoking reading experience.
"Why is it that of all the billions and billions of strange objects in the Cosmos – novas, quasars, pulsars, black holes – you are beyond doubt the strangest?"
This is one of a series of questions that Walker Percy asks at the beginning of his hilarious and thought-provoking book Lost in the Cosmos. It was placed on Aleteia's 2023 Summer Book List alongside a brief but equally wonderful book by Brother Guy Consolmagno, Finding God in the Universe.
Taking two quite different paths, both books are about humanity's search for our place in the grand scheme of things and our incessant need for meaning. The books also reflect the very different experiences and personalities of their two authors.
Walker Percy studied medicine, but after a serious illness led him to an existential crisis, he changed careers and eventually became an award-winning novelist. Thanks to his medical training, Percy wrote with diagnostic precision about contemporary life. He also had a delightfully satiric sensibility. Though Percy passed away in 1990, his books continue to be highly influential, especially among Catholics.  
Brother Guy Consolmagno takes a more self-reflective approach in his book and has a gentler sense of humor than Percy. Fascinated by the stars from an early age, Consolmagno went on to study planetary science at MIT, but eventually felt a call to become a Jesuit brother – a circuitous path that he shares in his book. Fortunately, Brother Guy would continue his astronomy career and became the director of the Vatican Observatory in 2015.
LOST IN THE COSMOS
When Walker Percy wrote Lost in the Cosmos in the early 1980s, the self-help book craze was at its peak. Like mindfulness books today, those self-help guides were all about identifying and fixing the problems in your life that were preventing you from "maximizing your potential."
Percy riffs off the genre by subtitling his book, "The Last Self-Help Book." He then leads the reader through a series of surprising questions and hilarious thought-experiments: Why is it that I feel more fully alive during a hurricane than when I'm sitting safe and sound in my cozy home? When I say that a suit or dress is "really me," what does that say about how I see myself? And why are human beings so desperately lonely that we go to extreme lengths to speak to chimps, dolphins, and space aliens?
Wikimedia Commons
These entertaining scenarios have a serious point. There is something uniquely problematic at the core of each human being. We feel out of place in this world and everything we do, no matter how extreme or irrational, is really an attempt to find that one true friend who can help us find our place in the immense universe. This is the essence of the religious impulse.
Readers should note that while Lost in the Cosmos is a highly entertaining book, there is a challenging section in the middle of the text about the field semiotics (the study of signs and symbols). It lays out in detail how human beings are unique among all creatures because we are sign-users. While Percy notes that readers can skip those 40 pages "without fatal consequences," I highly recommend you try and grapple with the material, as it offers profound insights into the extraordinary nature of each human person and is really the heart of the book.
After reading Lost in the Cosmos, you will never look at yourself or at your fellow cosmic wayfarers quite the same way again.
FINDING GOD IN THE UNIVERSE
When Guy Consolmagno left his postdoctoral position at MIT in 1983, he felt that his astronomy research "had become just a job." He writes that:
I would lie awake in bed, stare at my apartment ceiling, and wonder, "why am I worrying about computer models for the moons of Saturn when there are people starving in this world?"
As he explains in Finding God in the Universe, Consolmagno would eventually realize that the human desire for beauty and truth is no less important or intense than our need for food or shelter. How he discovered this makes for a wonderful story.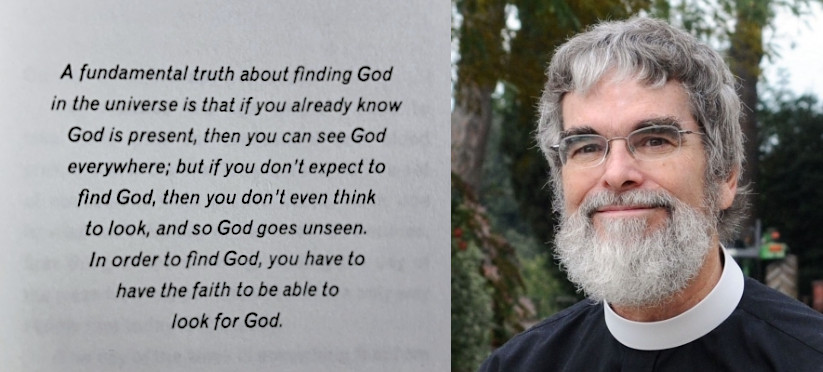 Brother Guy Consolmagno
Brother Guy thinks that stories like his are important to create and share. They are one of the ways we come to know and understand reality and, ultimately, God. The 87-page book has just three chapters – "Learning to Look," "Learning to See," and "Learning to Imagine" – plus a brief conclusion. In spite of its brevity, it is packed with wisdom. By taking us along part of his own journey to God, he helps us understand how the methods of science and faith run in parallel. As Brother Guy says:
"I encounter God with the same tools that I use to encounter the Universe: my sense, my reason, and my imagination. That is, I use everything that makes me human: my liberty, my memory, my understanding, and my entire will, all that I have and possess … which God has given to me, and thus I can offer it to God to dispose of according to His will."
Lost and found
Paired together, Lost in the Cosmos and Finding God in the Universe make for a delightful and thought-provoking reading experience. Walker Percy's ludicrous-but-true thought-experiments and Brother Guy's moving personal story are surprisingly complementary. They show how our unquenchable thirst for meaning finds expression in everything we do – whether shopping for the latest fashions, joining the Peace Corps, or peering into the farthest depths of the universe.