There are some wonderful resources out there that will let you and your kids to explore the diversity of our Catholic faith and our world from your living room.
What experiences in my life have helped my faith and perspective grow the most? Getting opportunities to see what the world is like for other people. Specifically, traveling to Kolkata, India, Settignano, Italy, and Istanbul, Turkey, have helped broaden my heart's perspective dramatically.
I watched, impressed, as crowds of men knelt down on the sidewalks to worship when the call to prayer sounded. In India, there were horns, barking, and shouting voices constantly vying for my attention — especially in the middle of Mass.
The narrow streets and the dense quiet of Italian towns intrigued me, as did praying in gorgeous, almost empty churches with mad rushes for Communion. Visiting the Hagia Sophia was a lifelong dream of mine after reading about it in history class. The visit left me awed by its existence, but also disappointed by its current lack of decoration. All of these experiences helped me grow closer to Jesus and opened my eyes to the diversity of our faith.
Opening my children's eyes to the world
I experienced all of this as an adult, but growing up, I remember reading about other countries and imagining what life was like in those places. This makes me want to give my children experiences of seeing the world — opening their eyes to the awesomeness of creation and to people that they won't be able to meet in our hometown. I also want them to know that the Catholic Church displays a beautiful diversity — the word Catholic means universal after all! I don't have the opportunity to take them to faraway countries, however.
Instead, here are a few resources I'm using to help them experience the diversity of our Catholic faith and our world from our living room couch.
CHILDREN JUST LIKE ME
The 1995 version of UNICEF's Children Just Like Me was a favorite growing up. I've recently revisited it with my own kids, and they too are fascinated by the two-page spreads that introduce a child and his family. The authors cover many countries on different continents, and include what the child usually eats, what school looks like, what hobbies interest him or her, etc.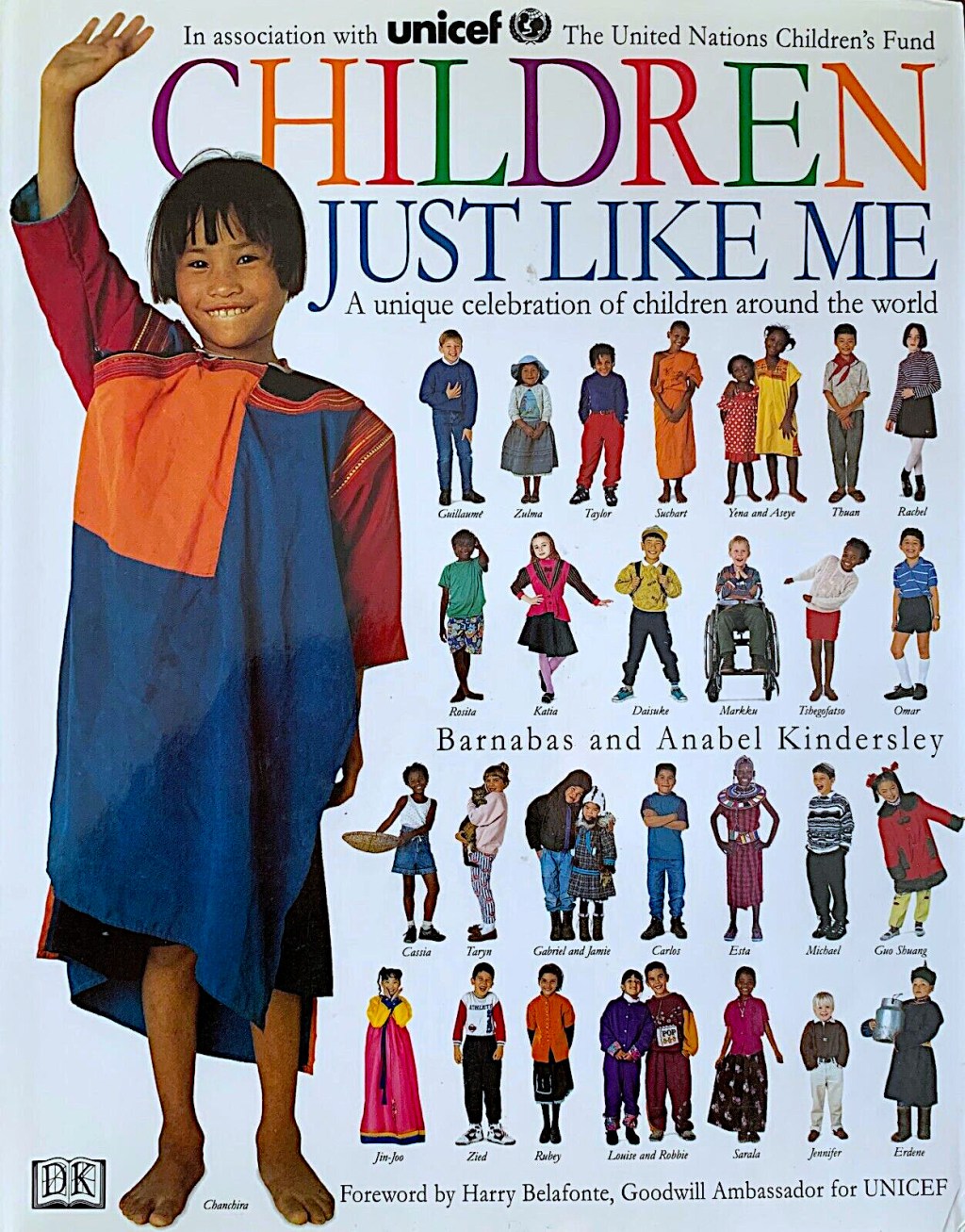 Unicef
SAINTS AROUND THE WORLD
Then, to add another layer into our study, we pair reading about a child from Brazil in Children Just Like Me with reading about a saint from Brazil in the book Saints Around the World. It has beautiful illustrations and short, interesting stories about saints that focus on struggles they faced and overcame. Our whole family, adults and kids alike, loves learning about the saints using this book.
VERY YOUNG CATHOLICS
Another resource I've recently started using are the Very Young Catholics series of books. This book series has lovely photographs and stories about Catholic children and families from every time zone — not from long ago, but from right now. We've loved following children like Christina as she prepares for her First Communion in Kenya and learning about the special Advent candlelit morning Mass that's attended by the big kids in an Austrian family.
https://veryyoungcatholic.com
So far, all we've done is read the books out loud, but there is also a way to get supplemental activities, pictures, quizzes and more with the Very Young Catholic Project. Reading and seeing how other families live the Catholic faith has helped me tremendously, even though the books are especially geared towards the 5-12 age group.
Happy travels! Here's to seeing the world and strengthening your child's faith one page at a time this school year.