Franciscan Bishop François-Xavier Bustillo, Bishop of Ajaccio (Corsica), wasn't on anyone's list of candidates for the cardinalate — except for Pope Francis'.


François-Xavier Bustillo was born in 1968 in Pamplona, Spain, into a Catholic family. He was the eldest of four children, and his father was a soldier. His family, he would later explain, "nurtured" his faith and passed on its "solidity." This helped his awareness of his vocation to grow from an early age. At the age of 10, he joined the Franciscan Minor Conventual seminary in the Baztan valley, near Espelette in France. But his motivation at the time was "not mystical": He was simply seduced by summer camps the seminary organized.
Formation as a Conventual Franciscan
The example set by the other brothers in the minor seminary led him to join the novitiate of the Friars Minor Conventual in Padua in 1985. He rarely returned home, only for a few days' vacation. In the city of St. Anthony, to whom Bishop Bustillo is very devoted, the young novice learned to live by the rule, marveling at encounters with missionaries from all over the world.
After five years of theological training, he considered going to Africa. In 1987, he took his first vows. In 1992, he made his solemn profession, a definitive commitment to the order. He then moved to Toulouse to continue his studies at the Catholic university, graduating in 1997 with a Master's degree in theology. Meanwhile, he became a deacon in 1993, and was ordained to the priesthood the following year in Pamplona, his birthplace, by Cardinal Fernando Sebastian Aguilar. During his years in Toulouse, he perfected his French, which he speaks with a lilting southwestern accent.
Apostolate in a de-Christianized land
After his ordination, he was sent with two other friars to reopen the convent of St. Bonaventure in Narbonne, the birthplace of his order, where he was assigned. In the heart of Cathar country, where he was in charge of several parishes, he was struck by the prevailing anticlericalism, which he took as a challenge for his mission. He often resorted to dialogue through sports; he plays tennis and likes volleyball and rugby. Between 2007 and 2018, he was a member of the episcopal council of his Diocese of Carcassonne-Narbonne.
Between 2006 and 2018, he was provincial of the Franciscan Conventual Friars of France and Belgium. In 2018, he moved to become the guardian (i.e. superior) of the St. Maximilian Kolbe friary in Lourdes. There, Bishop Nicolas Brouwet entrusted him with the protection of minors and vulnerable persons in the Diocese of Tarbes and Lourdes. He was also once again a member of the episcopal council.
A book the Pope liked
In 2021, he published The priestly vocation in the face of crises: creative fidelity (original title in French: La vocation du prêtre face aux crises : La fidélité créatrice). Although written in French, it was translated into Italian under the title Witnesses, Not Officials. Pope Francis read it and offered it to all the priests of the Diocese of Rome at the Chrism Mass in 2022. In the meantime, the Pontiff decided to appoint Fr. François Bustillo bishop of Ajaccio on May 11, 2021. He was ordained bishop by Jean-Marc Noël Aveline, archbishop of Marseille (created cardinal in 2022), on June 13, 2021.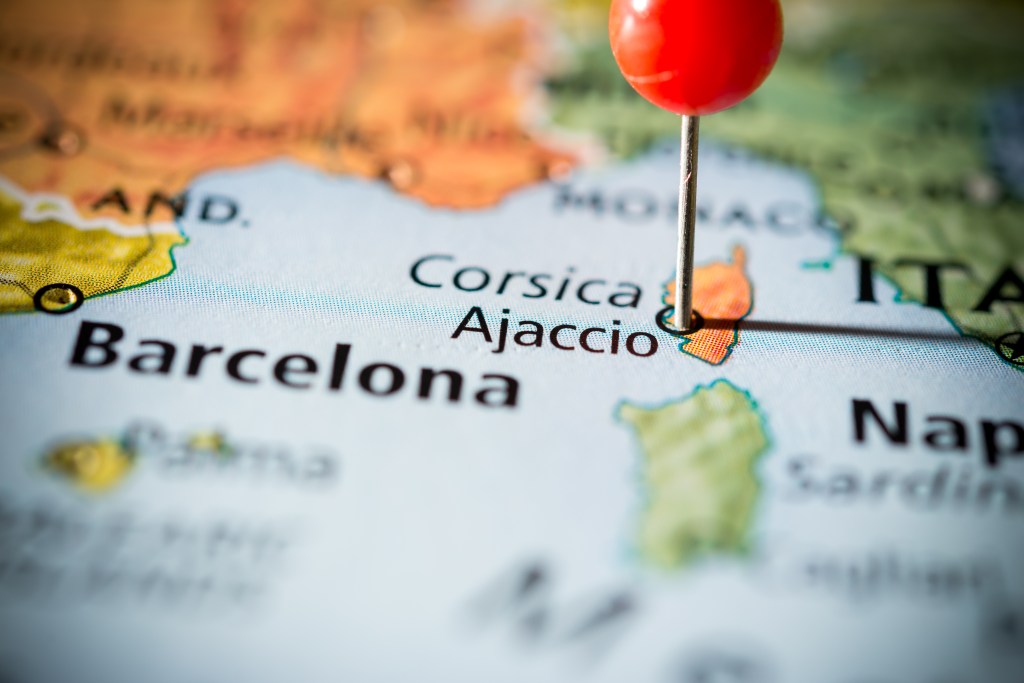 Shutterstock
In Corsica, his appointment quickly met with unanimous approval. "He's everywhere, at all the local festivals, and he quickly met all the priests … people like it, and they quickly forgot that he wasn't born here," a parish priest from his diocese tells I.Media. The bishop is delighted with the "beautiful friendship" he has managed to forge with the people of his diocese. He has been an unwavering supporter of the rediscovery of the island's rich Christian heritage, encouraging polyphonic singing and confraternities.
Last July, Pope Francis' unexpected decision to make this young bishop — raised to the episcopate barely two years ago — a cardinal was a source of immense pride for Corsicans. More than 800 Corsicans will accompany him to Rome to celebrate this event, the creation of Ajaccio's first cardinal-bishop.
"We just hope he stays with us for a long time," comments a young Corsican to I.Media. He will be making the trip on September 30.