A recent meme revealed that most men (my husband included) think quite a bit about Ancient Rome. Exploring the period together can build togetherness.
How often do you think about the Roman Empire?
That question is the beginning of a TikTok meme that has been very popular recently.
The videos reveal that men think about the Roman Empire surprisingly often, especially compared to women. When I asked my husband about it, he replied that he didn't think about the Roman Empire much, just once a month or so. That still seemed pretty frequent to me!
I personally loved learning about the Roman Empire and Ancient Rome growing up. In fact, discussing this meme made me reach back and bring to mind all of my Roman facts and stories. But that's just it, I had to reach back pretty far – as, unlike my husband, the Roman Empire is not a weekly, monthly or even quarterly topic of my thoughts.
Et tu, Shakespeare?
It turns out though, that it is quite easy to spark interest in this period of history. Recently, we borrowed several audiobooks for a long car trip with our kids, and one of these CDs was Jim Weiss performing Shakespeare's play Julius Caesar with a side of Roman history. (Apparently Elizabethan men were just as obsessed with the Roman Empire as today's men are.)
After just one listen, the Julius Caesar CD instantly became the story most often requested by my three boys — despite the fact that they are quite young. I was not expecting a Shakespeare retelling to hold their attention!
It appears that I am inadvertently helping the next generation of males discover a love for the history of Rome.
Why the fascination?
One of the main reasons this time in history will always fascinate us is because it was during the height of the Roman Empire that our Savior arrived. Not only did the Word become flesh, but He chose this specific period of time! This was the historic period and place where Christianity took root and spread far and wide. No wonder the Roman Empire continues to be such a focus of fascination.
I've compiled a few useful resources for kids and adults who want to learn more about this time in history, especially how it relates to the birth of Christ and Christianity during that time. Consider it an intellectual trip that can bring husbands, wives, and families together!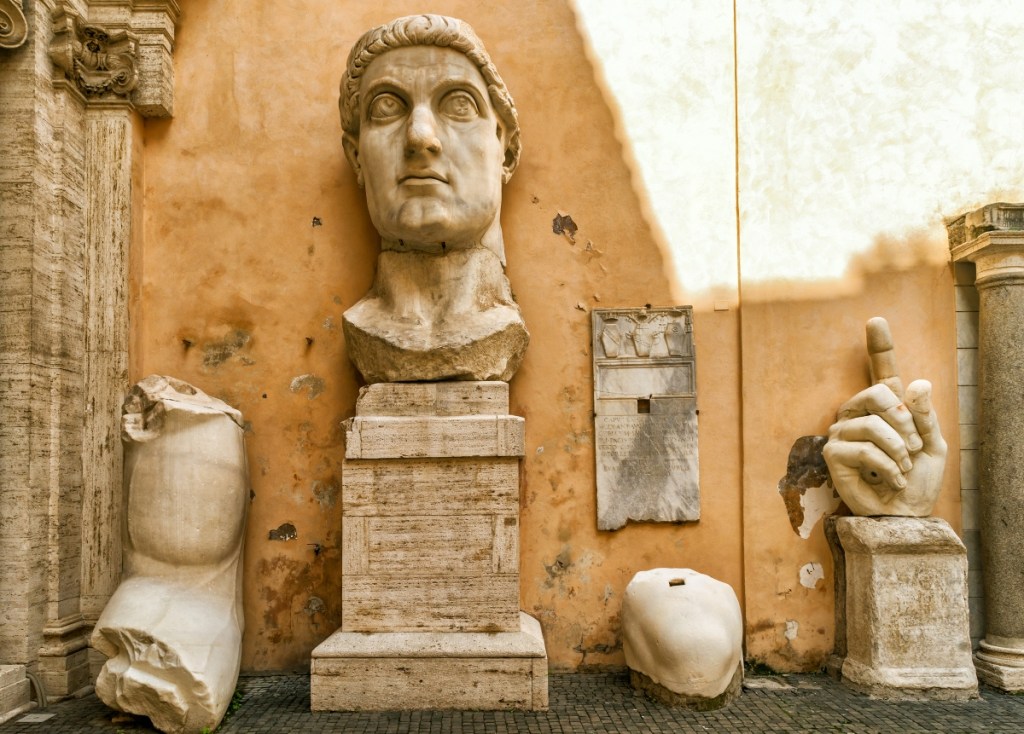 Viacheslav Lopatin | Shutterstock
Resources to explore the ancient Roman Empire
Thanks to an initiative called History in 3D, you and your family can take a virtual flyover tour of ancient Rome.
This 10-minute videoshows the spread of the Roman Empire geographically over the years.
Take a virtual tour of Rome's amazing Capitoline Museum, featuring amazing works of ancient Roman art.
Augustus Caesar's World by Genevieve Foster is a book showing the state of the world at the time of Jesus' birth and paints a picture of what was happening socially, politically, artistically, at the time.
The Bronze Bow by Elizabeth George Speare and The White Isle by Caroline Dale Snedeker are works of historical fiction set in the Roman world around the time of Christ.
Helena by Evelyn Waugh tells the story of St. Helena, who found the True Cross. It gives the reader a taste of Roman politics and lots of historical background.
Julius Caesar and the Story of Rome is available on Audible for a good, kid-approved summary of the history of Rome along with the story of Julius Caesar.
Ben-Hur is an engaging drama about a Jewish man and his family, his clash with Roman authorities, and his encounter with Jesus Christ. It's spectacular but long, so plan for a couple of nights or a long afternoon viewing.
It's great how a goofy Tik Tok meme can spur you on to learn and reflect!