The inexhaustible energy that helped her change the world came from her unshakable belief that small and insignificant things matter.
These days, I've managed to become something of a professional writer, but my career had an inauspicious beginning. My first major effort was for my high school composition class, which was designed for seniors to learn advanced writing skills. I toiled over an essay, the first of the semester, turned it in, and waited with bated breath for the glowing comments from my teacher I was sure would spring forth once he read my masterpiece. A few weeks later, our papers were returned. Mine had the letter F written across the top in red ink. As a writer, I was a failure.
Our teacher, Mr. Hartman, demanded the absolute best from his students. He believed we could become genuinely good writers. No grades would be gifted. A majority of us failed that first assignment. We sat in stunned silence in class, looking at the sea of red ink on our papers. One student was thrilled to have received a C, a grade that glowed in comparison with the rest of the class.
As we tried to recover, Mr. Hartman offered helpful advice, encouragement, and the opportunity to turn in a re-write for full credit. One of the pieces of advice he offered that sticks with me to this day was, "The essay needs to be about one thing." Every detail, every anecdote, every example, all of it relates back the main point the author is trying to make. A reader ought to be able to summarize the essay in a few sentences.
Just one of thousands
I'm sure Mr. Hartman gave that advice to thousands of students over the years. By the time I was in his class, he'd probably repeated it so many times he was sick of hearing himself say it. Perhaps he'd become so familiar with his advice he didn't think it was anything special. Maybe he took it for granted, simply mentioning it because that's what he'd done so many times before.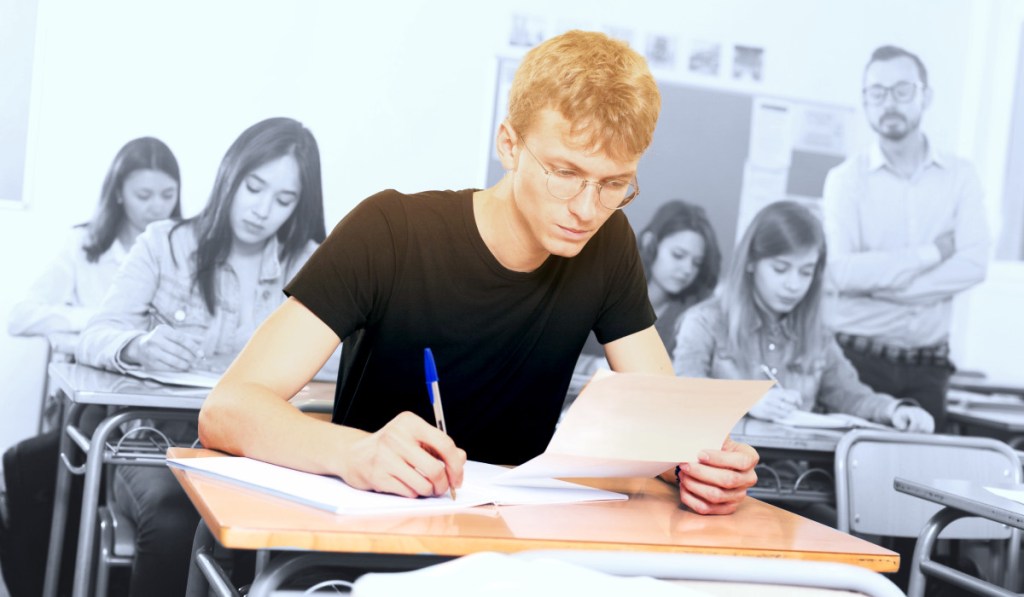 BearFotos | Shutterstock | Altered by Aleteia
I'm also sure I was only one of many, many faces to pass through his classroom. He taught me the same as he taught anybody. His job was to educate an endless stream of students, year after year. And he did an excellent job of it.
I wonder, though, if he knows that — how good he was at teaching. I wonder if he knows how important his advice was to me and that his class made me fall in love with the craft of writing.
Small moments that loom large
Over the course of my life, I've had a number of meaningful encounters like this. A piece of advice from a parent, an offhand statement from a mentor, an underlined passage in a book, a phrase from a homily that has stuck with me to this very day. These moments loom large in my consciousness. They're like signposts pointing out the specific path my life has taken.
I'm convinced that these people, if I hadn't explicitly told them, wouldn't know how much they've meant to me. Their influence is outsized. Providence made them part of my destiny, able to offer the right word, the necessary example, something I needed and didn't even know I needed. It's amazing the way that God puts people in our lives, who don't even know they're instruments in the hand of the Almighty. They're simply living their lives the best they can.
We go through our days, thinking each one is like any other day when, in fact, we are covered in glory.
Mother Cabrini: A saint of thankless tasks
One great example of this is St. Frances Cabrini, whose feast day is this week. In 1889, Mother Cabrini arrived in New York City, an urban jungle of chaos and poverty, teeming with Italian immigrants coming to terms with their new home which still felt foreign and alienating. These immigrants had come to the United States looking for opportunities to improve their lives, but a new life could only be gained in the cities of America through back-breaking work and struggle.
The city was full of orphans who needed basic care and education. Mother Cabrini was resolved to assist these children. She established orphanages and schools. Along with her religious sisters, she gave herself over to the poor, eventually establishing schools, hospitals, and orphanages all over the world.
When Mother Cabrini was declared a saint, Pope Pius XII commented that she had become world-famous not because she had wealth or prestige, but rather because of the way she lived her life. She took on heavy responsibilities, often by engaging in unenviable and thankless tasks. Her joy was in personal interactions with individuals in need. She probably didn't even know she was on the path to sainthood, but her influence was so much larger than she ever could have dreamed.
Focusing on the small stuff
Now that I'm an adult I try to keep in mind that, for better or worse, I have influence. More influence than I deserve. If learning to write a good essay was a challenge, learning to live a good life is an even more daunting (and rewarding) challenge. It's worth the effort, though, not only because a good life is a happy life, but because the students and parishioners God has placed in my life deserve my absolute best. They have all the potential in the world, and I don't want to quench it by a thoughtless word or action.
It may seem a small thing, to offer consolation in the confessional, preach yet another Sunday homily, chat for a moment with an altar boy before Mass, or talk with a student after class, but God infiltrates these small interactions and accomplishes great things.
Where does someone like Mother Cabrini acquire the inexhaustible energy to make those interactions so valuable? It was through her faith, the unshakable belief that what we do really matters even if it seems like we are small and insignificant. History has proven just how right she was.