What can God do in your life with one Bible verse a day?
Subscribe to Aleteia's new service and bring Scripture into your morning:
Just one verse each day.
Click to bring God's word to your inbox
There are moments when all children are confronted with fear of failure. But what should we do if this fear leads to negative thoughts and permanent stress?
How many kids (and adults!) are paralyzed with the fear of failure, the terror of making mistakes or of performing poorly? And yet, we all know full well that failure and defeat of every kind are inevitable, from the very first fall as a child learning how to walk to the poor performance at school, from the first heartbreak to the problems in workplace. How can we help children to transform each failure into victory? How can we free them from the fear of failing?
Cultivating willpower in children
First, let us avoid the temptation of overprotecting children from eventually experiencing failure. On the one hand, no matter what we do to postpone it, sooner or later they are bound to be confronted with their own limitations. On the other hand, and this is essential, it is the only way to overcome the fear of obstacles and to learn how to cope with them.
Confronting any obstacle requires two things: the will and the capacity to overcome it. In other words, in order to defeat the fear of failure, first, you must yearn to do so. Courage does not consist in the lack of fear –- it is the capacity to be liberated from it through determination. One of the main goals of parenting is to make children discover their willpower: "If you wish it, you can do more than you have ever imagined." When faced with failure I can give up or transform it into a triumph –- primarily over my fear and timidity. However, the question remains: "Do I really want to?" And there is no one who can answer this question in my stead, even if I am just a 7- or 8-year-old kid.
Willpower can do wonders but it is not enough. This is why "if you want to, you can" should be handled with a lot of precaution. Children can defeat their fear of failure, if they feel otherwise sufficiently secure. The better they have learned how to feel good about themselves, the better they are apt to face the defeat of any kind with serenity. More often than not, the fear of failure stems from children consciously or unconsciously telling themselves: "If I don't succeed, I am going to lose the love and the trust of my parents, my teachers and so on."
Children needs constant encouragement
The fear of failure also has to do with the fact that kids (and this is also true for adults) do not know how to put their defeat into perspective. Deep inside, they feel that they are destined to fail: "I did not make it, I am a loser." Parents need to show their children that their lives have not come crashing down because they failed, that this failure does not resume their life and their person. And the only way to prove this to children is to encourage every single one of their triumphs.Failure could deal a crushing blow, if you have never savored victory. Sometimes, a small initial success is enough, on the condition that it has been amply praised.
A calm and confident child can go far and discover that with the resurrected Christ, we are definitely on the winning side. For His total victory over every kind of evil is assured.Our own failures can only be trivial and passing if we live through them by the side of the resurrected Christ – "in dying like Him, only to rise again alongside Him."
Christine Ponsard
Read more:
5 Essential parenting skills no one tells you about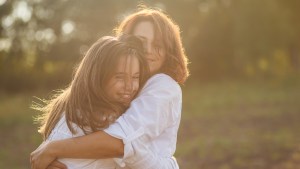 Read more:
Finding hope when you're parenting a pre-teen