Tips for customizing stories and sharing invaluable time with your kids.
What can God do in your life with one Bible verse a day?
Subscribe to Aleteia's new service and bring Scripture into your morning:
Just one verse each day.
Click to bring God's word to your inbox
"Once upon a time, there was a little absent-minded chimp who had lost his mother …" "Really! And what was his name?" "Umm … Teodulo." "And why did he get lost?" What parents haven't already ventured beyond the storylines laid out in books? It's amazing how much children love it when we make up stories. This activity is not just an invaluable moment to share that allows us to strengthen the emotional bond, nor is it merely a fantastic antidote to the screens. This activity offers a golden opportunity to engage in educational and constructive dialogue, "away from the usual 'Eat your soup,' 'Put on your coat,' 'Blow your nose,'" as Laure de Cazenove and Alice Le Guiffant, who have written a book on the subject, explain. It is also an occasion to build a story tailored to each child, and interact with him or her. Thus, in a subtle way, the story can end up talking about their fears, their hopes and their fantasies, sharing their inner world, making them feeling listened to. However, this activity is often neglected or unsuccessful due to lack of imagination, time, desire, energy, as parents typically claim, or lack of knowledge, or fear of disappointing or upsetting the children.
The innumerable virtues of stories invented by parents
And why make up stories when there are plenty of them in books? "There is no reason to stop reading stories, but inventing them has advantages that reading books, although wonderful too, will never have," the two writers say. "Inventing a story for a child, with no other intention than to be in relation with him, to offer him your total presence, is a true act of love, becausefor the time the story lasts, it makes him or her the most important person. It also means talking about your child'ssoul. What is offered comes from something very intimate," from the depths of the heart and the body. It is a moment of complicity that is much less anodyne than it seems, as Jacques de Coulon confirms. A philosopher and author of many works on education, this former director of an important school in Switzerland was deeply marked by his grandfather who, in fact, told unparalleled stories.
Read more:
6 Simple ways to study the parables with your children
"As children, we were fascinated by what came out of his mouth. He spoke slowly, with a penetrating tone of voice, managing the suspense perfectly. I especially remember a mesmerizing story, with the word 'black' repeated as a litany: 'Under a black, black, black sky, we sank into the black, black, black forest … before arriving at a black gate. And so on, until dense black curtains behind which a bird with a plumage of shining colors was hiding. It was very impressive. Of course, not everyone has his storytelling skills. But the presence that passes through the body and emotions is irreplaceable."
Another strong argument: "The child who listens to a story, effortlessly playing with it (neither adapting to the adult's reading rhythm nor reading it himself or understanding it), becomes familiar with a dynamic that nourishes the pleasure of reading: the creation of reading hypotheses," as Laure de Cazenove explains. "The child learns to love books as friends and not as venerable teachers." So listening to a story develops the imagination, sharpens analysis, awakens the curiosity, enriches the personality, unconsciously prepares the child to structure his or her thoughts and represent abstract concepts in concrete images (courage, goodness, justice, love).
Where can we find inspiration?
"My grandfather transmitted to me the taste for reading, but even more so the taste for listening," agrees Jacques de Coulon. "Hearing is a very powerful sense, much less used than sight, and through it we forge our own inner images." By becoming a little more of an actor, without the support of an image or a prefigured story, the child assimilates differently. But what is a story? Roughly speaking, it is a problem to be solved, a plot, which sets in motion a whole mechanism. The narrative scheme of traditional tales — like Perrault, Grimm or Andersen — is a proven scheme that offers the best guarantees: a concrete context and characters, a disturbing element that serves as a dramatic catalyst (an accident, the irruption of a monster …), an element of resolution and then an ending. A story is like a mirror of reality, offering a whole panel of experiences and archetypal characters (the cunning, the innocent, the grumpy).
Unlike some parents, making up stories was never a problem for Alexandra, mother of three who are now older teenagers. There is no little internal censor to curb the fertile imagination of this drama-loving girl. "What memorable, crazy laughs," she says with a smile. "One day, I got tired of always reading the same stories one after another. So I jumped in, inspired at first by their favorite books. Then I began to fantasize about the motive. I also took advantage of the opportunity to imaginatively revisit their day, or to divert certain fears." A night terror? "I sketched a little story in a meadow fenced in by barbed wire where I scribbled little comic scenes. They still talk to me about that one." "If you are walking in the mountains or in the woods, it's good fuel for tired little feet," adds Marc. It is something to help children find in themselves the resources to overcome frustration and boredom.
"But there are two essential prerequisites for storytelling: time and observation," says Jacques de Coulon. "I remember my grandfather, who was passionate about nature and who regularly took us to observe foxes and birds through his binoculars. Life was, in a certain sense, simpler, with more moments reserved for contemplation and dreaming." The world was less saturated with objects stealing our attention. How do we find time from our overloaded schedules? Therein lies the real challenge.
How do you get started?
To begin with, it is preferable to rely on the existing repertoire (book plots, stories, cartoons, biblical or mythological tales). Then you have to tell the story orally by appropriating it, modifying the ending or some detail, adding an extravagant character, mixing several stories. "Inventing is, first, copying," say Laure de Cazenove and Alice Le Guiffant, putting an end to any complexes you may have.Another recommendation: start with expressions, images, objects, songs or children's poems. You can also involve the children (a good way to get them to describe things) by having them choose three or four stones on which they have drawn different items: a cloud, a castle, a boat, a rocket. And it's up to them to make up a story with these elements!
Diane Gautret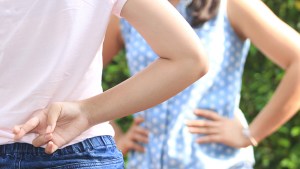 Read more:
A fail-proof method for encouraging children to tell the truth