Encouraging our kids to be masters of their desires will go a long way as they grow into adults.
A child, like every human being, has a deep desire for happiness. Growing up in a family where the parents love each other and their children already provides the conditions for happiness. But children are not aware of this. Endowed like each one of us with a wounded nature, they confuse their desire for happiness with the satisfaction of their desires. It is therefore very important to help children understand that in order not to become slaves to their desires, they can learn to think about what is truly good for them — body and soul.
Supporting children in their quest for happiness
Candy is pleasurable to eat. But if your child gets into the habit of eating candy every day after school, or whenever they want, they become a bit of a slave to this craving. As parents, aren't we ourselves caught up in this spiral of consumerism? Don't we tend to believe that our child will be happier if they have some candy or have the latest trendy gadget? After all, it's not such a big deal, right?
Apart from learning to control their desires, if they are not taught to be comfortable being different from others, how can they become different in adolescence? Why be surprised then when they mimic the same addiction as the rest to alcohol or illicit drugs? It is up to us, the parents to support our children in this quest for happiness which, surprisingly, does not involve satisfying desires but rather by mastering passions.
A mastery that gives freedom
By experiencing the joy of being able to overcome a craving, the child becomes aware of this little flame in his or her heart. This flame is nourished when they "succeed" in not letting themselves be drawn into temptation, and also when they "succeed" in sharing with others, in saying nice things to their brothers and sisters.
By not giving in to quick and easy pleasures, we teach children to be happy with who they are and with what they have. We also forge their will: and with this will they will learn to build their happiness. When pleasure then arrives, it is savored with greater intensity, andcontributes to happiness.
Let us not forget: it isn't so much the satisfaction of desires we should seek, but rather learning to taste true joy, which is primarily found in a Savior who came to fill our hungry hearts with His love.
Inès de Franclieu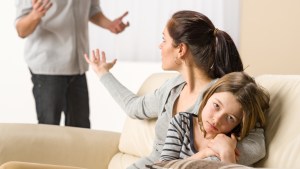 Read more:
What to do when you and your spouse have different parenting styles