Help your little ones approach Easter with encouragement and anticipation.
What can God do in your life with one Bible verse a day?
Subscribe to Aleteia's new service and bring Scripture into your morning:
Just one verse each day.
Click to bring God's word to your inbox
In a week, Lent begins! To help your children start this ascent to Easter on the right foot, it's time to start planning. Consider a few pedagogical guidelines (this list is not definitive!).
1
Take into account the age of the children
All children are affected by Lent, but not all in the same way. We sometimes hear: "Oh, young children don't have to do Lent!" But that's not the point. Lent is not a chore, a bad time to get through somehow. Lent is a gift, a time of grace given to us. Why deprive the youngest of it? Having said that—with few exceptions—realities such as conversion or penance are meaningless for those under the age of five. For them, 40 days is an eternity! It's up to us to decide when and how we can engage the attention of the youngest ones so as not to tire them out by Easter.
2
Take into account the personality of each child, his or her own strengths and limitations
It is important to take into account the child's age as well as his or her personality and ability to make this or that effort. Materializing the ascent to Easter by writing a list of their efforts can help a child who tends to get discouraged, who always feels that he is not doing anything right, but it will prove disastrous for another who, easily filled with pride, will use this list to prove to others and to himself that he is the best. Nor will it suit a child who is too willing to measure the value of his Lenten activities by the amount of deeds—this much prayer, that many sacrifices, that much  sharing—forgetting that addressing God's will is not necessarily about doing, but also about letting go.
3
Guide the children to Easter with an attentive and respectful attitude
We should remember that in any spiritual progression, appearances are sometimes deceiving: the most important thing is what cannot be seen. God has a unique love story to live with each one of us. This is why, in guiding children, our attitude must be attentive and respectful. Attentive, so as not to risk suffocating or crushing nascent wonders. Respectful, so as not to force these new spiritual awakenings down a preconceived path that would keep them from finding their own, unique secret garden.
4
Do not forget that charity begins with yourself
Do we want our children to genuinely experience Lent as an ascent to Easter? Setting a good example is better than a long speech. But be careful not to fall into the role of "exemplary" parents: anxious to set a good example, we may end up paying a high price for trying to hide our weaknesses and failures.
What our children need is not parents who are flawless, but parents who, knowing themselves to be sinners, always rely on God's mercy. Parents who experience Lent as an ascent, yes, but one that is less like a staircase than an elevator. St. Therese of the Child Jesus said: "I would like to find an elevator to raise me up to Jesus, for I am too small to climb the steep staircase of perfection. The elevator that must raise me up to Heaven are your arms, Oh Jesus! For that I don't need to grow large, on the contrary, I need to remain small, to become smaller and smaller."
Christine Ponsard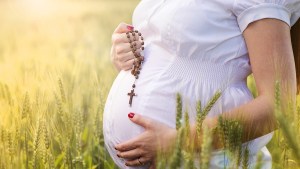 Read more:
How to make the most of Lent when you're pregnant