What is he really trying to tell his wife?
You can get Aleteia inspiration and news in your inbox. Our specially curated newsletter is sent each morning. The best part? It's free.
Sign up here
Recently, in my practice as a psychologist, I spoke with a woman named Karolina whose husband constantly complains about his health, and she's afraid of how it is affecting their marriage.
"My husband Maciek either runs from doctor to doctor, or he walks around the house moaning and groaning, and I'm running out of patience," says a 34-year old Karolina. "Doctor Google is his primary care physician. I think he looks him up every day. Any seasonal allergy or cold and Maciek locks himself in a room, and he establishes an extraterritorial zone. He isolates himself not to get the rest of us sick, but he also distances himself from problems. And each time, everything ends up on my head — two preschool children, taking care of the house, and a fairly intense professional life."
A good enough Samaritan
"On the other hand," says Karolina, "I believe in God, and I was raised to be a good Samaritan. I know you have to take care of the sick. Sadly, Maciek can't even seem to handle a simple 'how do you feel?' from me — he responds with endless lament. I take care of my husband, but more often than not, I end up exploding at him, or answering him callously because I'm tired of his complaints. But I know this is not a healthy situation."
Read more:
7 ways to get the men in your life to wear sunscreen
I understand Karolina's frustration. There's a lot of truth in the saying, "Men don't get sick, they fight for their lives." Some men have a special talent for simulating being sicker than they really are. Especially if their spouses gladly and uncritically assume the role of charitable caretakers. They are concerned, they bring comfort food, they isolate them from the children. And then the illness feels like a holiday vacation, a zone of peace and quiet, and the illness is not so much a nuisance but a prerequisite to a happy reprieve. Finally, he can relax and be taken care of.
So it certainly comes as no surprise to me that a sick husband might exaggerate his problems; it brings him emotional advantages. But when he regularly escapes into illness, the entire family system suffers.
Karolina has difficulty establishing healthy boundaries. She was brought up to believe that a good wife should sacrifice herself for the good of the family. But she doesn't have to be a perfect nurse, orderly, cook and guardian of her husband's peace and quiet. It's enough if she is a sufficiently good Samaritan. One that does not focus solely on the acute care and puttering about the "sickbed" of her husband.
The better solution is always this: find out what's really making your husband sick, and then react according to the diagnosis.
So … what's really going on?
Of course, not every whining husband exaggerates his symptoms, pretends, or manipulates. He could genuinely be suffering and complain, but not make an attempt to get treatment so instead you're playing nurse. But if that's the case, a patient, listening wife is only so helpful. Eventually empathy is not enough; you should simply take him to a doctor. (I could say that a husband is sometimes like a child, but since I am a psychologist, let's just say he needs the extra support.)
Now, in some cases, hypochondria is real: When medical test results don't show any problems, but the malaise persists. But beware, a person with hypochondria is experiencing real suffering and pain. It's not a whim, but an intense neurosis, major depression disorder, or anxiety.
Physically (or symbolically) speaking, there is an inflamed area in the psyche that causes this behavior. Healing will require a gradual discovery of what he cannot cope with and how he can express feelings he may not know how to talk about. It's not all that common, but this kind of emotional issue does happen: Your husband is calling for an ambulance, but in reality, he's crying for love.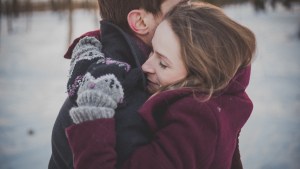 Read more:
Why I'm not afraid to love my husband more than he loves me
From Karolina's story, it looks like Maciek presents a case of cyberchondria, an addiction to online advice. Instead of looking for specific help from a doctor, he searches on the internet by himself. Much of the information, of course, is the superficial kind, or unreliable but ominous sounding, especially when on internet forums and medical websites. As it progresses, this behavior can manifest offline, too. Instead of talking to a psychologist, he visits another doctor in the hope that he finally will hear the catastrophic diagnosis he gave himself earlier.
Complaining about health can sometimes be a sort of an encrypted message—"See me! Take care of me! Take care of me and not just the children!" Health complaints often coexist with perfectionism, control issues, or excessive responsibility.
Perhaps Maciek has problems at work and doesn't know how to talk about them. He hides them from Karolina but also masks them from himself. For example, he may be ashamed that he didn't get a promotion he was hoping for or that his new boss is a woman, a younger one at that. He feels unappreciated, ignored, worse, more ugly and less resourceful than his friend.
The path to illness
Hypochondriacal focus on the body can lead to very real health problems. Chronic anxiety, and recurring moments of panic when a symptom of what may be a deadly disease is discovered, can consistently raise blood pressure, accelerating the pulse and breathing, weakening libido, and destroying the immune system. Sometimes phobias, obsessions, and psychosomatic illnesses appear. Irritable bowel syndrome, back pain, headaches, moving muscle aches, and fibromyalgia can also show up. To get rid of the vicious circle of self-torment, hypochondriacs can become addicted to painkillers and anti-anxiety drugs. And so imaginary illnesses contribute to a real loss of health.
Instead of being angry at (or babying) a sickly husband, it's better to get insight into what's bothering him. Use common sense as your first aid kit. Take him to the doctor. Talk, listen, tell him you feel bad for him, cuddle him. Hopefully, it will pay off.
Yes, Karolina's feelings of anger are justified — a life married to a hypochondriac is not a healthy one for her, either. Maybe she feels like she cannot count on reciprocity. When she becomes ill, she will barely stagger, but she will not sit down, and she will not stay in bed because no one will replace her. There is no substitute and she doesn't get babied. But being sick with dignity is not a privilege, it's a right, so enforce it. Clearly and assertively ask for help. "Listen, I have to go to bed early, please give the kids dinner." If a husband knows that his wife can also be sick and requires help, there is a greater chance that he will not escape into his own illnesses as often. My advice? Be with him, and help him, but don't abandon yourself in the process.
Note, however, that usually, a hypochondriac does not like someone else's hypochondria. They feel like they always have it worse than others. So if you're sick, and he starts his old song and dance, add your chorus … and watch for red flags. But either way, you'll need to figure it out together and hope for the best.
This article was originally published in the Polish edition of Aleteia.