An incredible act of forgiveness and compassion brings two families together on a very somber day.
True forgiveness doesn't tend to come easily, especially in disastrous instances where a loved one's life is taken. But if the recent actions of Kayla Greenwood and her mother, Stacey, prove anything, it's that after the tragic death of their father and husband, they've come to forgive the man responsible, even genuinely desiring for him to experience the love and support of his family. 
Kayla was five years old when her father, Michael, was killed in a car accident in 1999. He was in his work truck en route to make a delivery when he was rammed by a vehicle driven by escaped convict Kenneth Williams. "He kissed me goodbye and he promised he was coming home," Kayla recalled her last memory with her father that morning. But sadly, Michael died as a result of the collision. To add to the heartbreak, his wife, Stacey, was pregnant with twin boys at the time.
Read more:
Pope Francis Calls World Leaders to Abolish the Death Penalty
When Kenneth Williams was caught and convicted of additional murders, he was sentenced to death in the state of Arkansas. Yesterday, almost 18 years later, was the somber day of his execution. 
But Kenneth has a reason to smile before he closes his eyes in death, thanks to the remarkable compassion and generosity of Kayla and Stacey. Kayla, now 22 with two sons of her own, discovered recently that Kenneth has a daughter named Jasmine whom he hadn't seen in 17 years. What's more, Jasmine has a three-year-old little girl, Kenneth's granddaughter, whom he's never met.
In an extraordinary act of compassion, Kayla and Stacey decided to pay for plane tickets for Jasmine and her daughter to fly from Washington to Arkansas on Wednesday to visit with Kenneth one last time before his death. They even drove to the airport to pick the girls up and take them to the prison.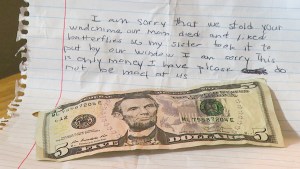 Read more:
A mysterious note from a boy tells a story of heartbreak and forgiveness
On Wednesday, before the flight arrived, Kayla said of her, Jasmine and their families: "We are just excited for today and being able to be there for each other." Stacey, who remarried several years after Michael's death, also brought her current husband as well as the 17-year-old twin boys she'd been pregnant with when Michael died. The whole family is amazingly heroic in their desire to connect with and provide so much support to Kenneth's loved ones.
Even after he took the life of her father, Kayla does not want Kenneth to die. "One more death, that is how I look at it," she said. "I don't think that is ever right." 
When the death row inmate was read the emails from Kayla expressing forgiveness and informing him that she and her family were flying his daughter and granddaughter to Arkansas, "he broke out in tears." What a beautifully fitting, human response to an undeserved act of pure love.