Finding greater meaning is as simple as turning off your phone and finding someone to talk to.
Pope Francis recently gave a TED Talk at the international TED conference, in which he focused on human connection, solidarity, and tenderness. He reminded us that "each and everyone's existence is deeply tied to that of others; life is not merely time passing by, life is about interactions."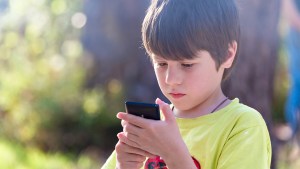 Read more:
Should younger kids have smartphones? Bill Gates doesn't think so
That's true in more ways than one. A recent article in The Washington Post explained the myriad of ways that prioritizing in-person, face-to-face interaction can improve your life — and maybe even save it.
Those with intimacy in their lives, those with support systems and frequent face-to-face interactions were not only physically and emotionally healthier, but they also lived longer. It's why women, who tend to prioritize spending time with their friends more than men, live an average of six years longer, Pinker said. And it's not enough to text or email. The actual health benefits of socializing are only achieved through in-person contact, she said.
Psychologist Susan Pinker has spent years researching human connection and interaction and how they impact all aspects of our well-being. As she explained to The Washington Post, face-to-face contact releases a "whole cascade of neurotransmitters" that protect you now and later.
It doesn't have to be a long interaction, either. Simply shaking hands with someone or giving them a high-five lowers your cortisone level (which makes you less stressed) and releases dopamine (which gives you a little high). But it only works when you're actually face-to-face with someone — screens don't count.


Read more:
Even brief encounters can make a lasting impression


Pinker compared brain scans of a person having a face-to-face conversation and a person watching a video of someone discussing the same topic, and the region associated with social intelligence and emotional reward only lit up with face-to-face contact.
One huge barrier to face-to-face contact is our current obsession with technology. Adam Atler, a professor of marketing and psychology at New York University, has been studying the effect all this screen time is having on our lives. We've all seen the studies that show how spending time on social media has an inverse relationship with happiness, and we might have even felt this effect ourselves. But Atler claims that technology has taken away what he calls our "stopping cues."
Most leisure activities are self-limiting. The book or movie ends, someone wins the game, the restaurant closes, the party winds down. But scrolling on smartphones is endless, and we simply don't know when to put it down. Atler showed the TED2017 audience a bar graph comparing technology use during personal time in 2007 versus the same today. In 2007, it took up a tiny sliver of our personal time — today, it takes up nearly all of it.
One of the reasons we can't break away from our smartphones is because they give us instant gratification — a brief burst of dopamine that produces pleasure. We often mistake pleasure for happiness; in fact, we often mistake the emotion of happiness for what actually makes us happy.
Emily Esfahani Smith spent five years interviewing people and discovered that the pursuit of happiness actually contributes to feelings of hopelessness and depression. Constantly evaluating our emotional state to check for a fleeting feeling of happiness is stressful, and we respond to not feeling happy by becoming increasingly distressed.
Read more:
Holocaust survivor Viktor Frankl makes surprising comment about happiness (VIDEO)
This is especially silly considering that what actually makes us feel sad is not a lack of happiness, but a lack of meaning. Esfahani Smith's new book The Power of Meaningexplores the various ways people create meaning in their lives, and most of them have to do with human connection.
Belonging in a group of people is vital to giving our lives meaning and purpose, which means prioritizing the people we love and who love us. Your kids are more important than your phone, and it's the interactions we have with the people around us physically that matter the most in the long run.
So put the phone away and go have a conversation with someone. Listen to the pope and start your own revolution of tenderness, "the love that comes close and becomes real." It will give your life meaning, and might even save it in the long run.