Maybe it's kids' most inconvenient characteristics that we ought to be imitating.
When I was a kid, I understood that Christ had said, "Truly I tell you, unless you change and become like little children, you will never enter the kingdom of heaven (Mt 18:3)" but I thought that was totally bogus. Kids were bad! I was always giving in to my various temptations — to cheat on my math, to disobey my parents, to take my brother's candy … and it seemed to me that adults had no trouble doing the right thing.
Well, now I know that adults have all sorts of trouble doing the right thing, but I also have a toddler, who's a real wild thing, and it's starting to dawn on me what Christ must have meant. Kids are sweet, but they are also pretty annoying, at times — and maybe it's their most annoying, inconvenient characteristics that we ought to be imitating.
1. He doesn't stop asking for what he wants: "If I hear 'MAMA!' shouted at me one more time, I am going to go hide in the closet," I find myself saying, almost daily. My son has no problem with persistence. If I've refused to sit on the floor and play blocks with him, he knows perfectly well that all he has to do is keep shouting, and eventually I'll realize that it's actually really important to him. Christ directly compared himself to an unjust judge who will mete out justice if he's bothered long enough — and I'm the same way with my son. It's a great reminder for me to be mulishly stubborn, and persistent, when I'm praying.
2. He's not polite: We're working on "please" and "thank you" and "don't bite me," but there's something wonderful about the way my little angel will turn purple, and shout "Mama, I want  watch ELMO!" See, good manners are a really important part of society — they're a true form of charity, and a way of showing respect to one another. But with God, who knows everything, there's something to be said for just being honest and direct with him, instead of foolishly trying to hide our real thoughts under flowery words. So if that means turning purple and shouting, I don't think God will be offended. He's our Papa, after all.
3. Everything that's yours is mine: My son feels entitled to everything of mine. The concept of personal space or ownership is totally nonsensical to him. He knows that I'm his mother, and therefore, he expects to be included in whatever exciting thing I'm eating, or whatever interesting thing I happen to be doing, even if it's bleaching the toilet. I wish I could get this comfortable with Jesus, and understand the gift of his Spirit this fullly. Ezekiel tells us that God promised "I will put my spirit within you" (36:27). As Luis Martinez notes so beautifully in The Sanctifier, God truly has given his own Spirit to us, and "the gift that belonged to the giver becomes the possession of the one who receives it."God loves me. He wants to include me in what he has (ask and it will be given to you) — or rather, in what he is.
4. He tells me all his triumphs: It's hard to sit outside with a book while my son is playing, because every 30 seconds, I hear "Mama, I find an ant! Mama, what's that? Mama, I see a robin!" He has a real need to share everything with me–not just when he needs something from me, either. He genuinely needs me to share in his excitement, about his little discoveries. I realized that I pray a whole lot more when I'm unhappy. When I'm happy, I don't go to God quite so readily, but I'd like to work on that. God wants to be part of my joys, as well as my sorrows.
5. He runs to me for comfort, even when I was the one who upset him: The other day, my toddler was just fast enough to manage to spill a big bucket of motor oil all over the patio, before I could get to him. I told him off, and I think my tone spooked him, because he started to cry, and needed a hug. It reminded me that when I've sinned, and I know I've offended God, he still wants me to come to him for comfort. He doesn't want me thinking that because I've done wrong, he isn't going to want to show me his love, and make it all better. There's something very touching about a toddler's frank expectation of love, even when he's been bad, that I want to imitate.
6. He's not afraid to need everything from me: His whole life, his parents have been the ones keeping him alive, and supplying every single one of his needs. So he expects everything of us, as he should. Sometimes, we adults can get so caught up in our own supposed independence that we forget that it's always been God, all along, who's responsible for everything we have. We're not quite as independent as we think, and it might help us to remember how dependent we really are.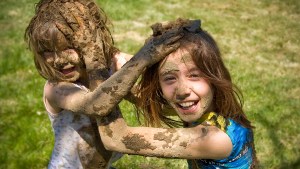 Read more:
5 Spiritual lessons we can learn from little children