Friar's debut album a rich, intimate blend of folk, rock, and gospel rooted in discovery of a peace the world couldn't give.
In a New York Times photo of Tansi Ibisi, his eyes say it all.
The Franciscan novice was looking out the window of St. Crispin Friary chapel in the South Bronx, wearing a gray knit skull cap, gray sweater, and hooded gray habit. The photo was taken for a 2008 article about the nourishment that the Community of the Franciscan Friars of the Renewal (CFR) have been providing to New Yorkers since 1987, a mission which has since spread to over a dozen friaries in several countries.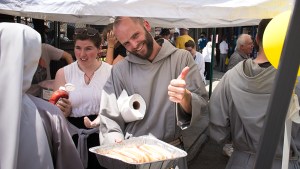 Read more:
Franciscan Friars of the Renewal party it up in celebration of pontifical designation
The then 30-something Nigerian, who had recently left England to join the Franciscans, is first pictured on the steps of the chapel with a few of his brothers, welcoming a local man with an open arm and a smile. In the second picture, he stands alone behind the double doors, his gaze fixed on the pale light of the city streets below. His eyes aren't filled with fear or insecurity, but neither are they filled with self-conscious pride. Instead, his expression radiates the strength and satisfaction of a man who has found his way home.
And behind his eyes, songs were stirring. Brother Tansi had picked up the guitar over the years, and in the friary, started writing songs as a way to pray and reach out to God. He never had any intention of recording them; but just as surely as he had been led to the South Bronx, the raw beauty of his songs would be led out into the world.
This May, almost a decade later, Brother Tansi became Father Tansi, as he and five other Franciscans were ordained to the priesthood at St. Patrick's Cathedral. But it's a landmark year for another reason: Fr. Tansi has just released his debut album, Garden (available on iTunes and Amazon, or for hardcopy pre-order through Love Good), a rich, intimate blend of folk, rock, and gospel rooted in his discovery of a peace that the world couldn't give.
But before Eden, there was England. Tansi Ibisi was born in Liverpool in 1974 to Nigerian parents. When he was four years old, his parents moved Tansi and his older brother, Francis, back to their native Nigeria, where the family's faith started to bloom. "It wasn't until my parents moved back to Lagos that they began to really get into practicing their faith," he remembers. "Eventually, my parents would become active parishioners and even daily Mass attenders. There was never a question of if the children were going to Mass or not. If you were home that morning, it's what you did."
Lagos proved to be fertile ground for musical as well as spiritual training. Music had always been a part of Tansi's life through his father, "who wrote songs which he liked to sing while driving." He also spent time writing music with a friend in Lagos who played different instruments. "Whenever I would visit, I would pick up the guitar and try to get him to teach me a bit, or I would try to teach myself," he recalls. "Sometimes I would write lyrics and he would write music to the lyrics."
Almost 20 years later, Tansi moved back to England, where he studied computer science and landed a job in tech support. In the process, he wandered away from his Catholic heritage and looked for meaning elsewhere, a change which left him feeling restless. "I thought fulfillment could be found in possessions and in persons other than God. But the human heart is made for the profoundest intimacy, and will be satisfied by nothing less than truth itself, goodness itself, and beauty itself. This led to my beginning to wrestle against all that had been put before me in the place of true beauty and to my becoming restless in my search for truth."
In one of those curious turns of providence best revealed in hindsight, Tansi started attending a young adult prayer group in Covent Garden, London for "adoration, rosary, and praise and worship." It was at one of these meetups that he first met the friars of CFR. The encounter not only reignited his musical talents; it also got him thinking about his vocation. The young computer scientist realized that when he felt God called him into networking, he "misunderstood what He meant." In 2007, he resigned from his job and moved to New York to join the friars.
It's no surprise that among the first songs Tansi wrote as a novice is "Heave Ho," an autobiographical portrait of his life's transformation:
Once upon a time I bought a one-way ticket to a distant place

I said goodbye to mama as I kissed her face

I walked through bushes and I swam seven lakes

On my way to heaven's grace

I changed my name, and my aim, the stars now my trajectory

Then I tied some rope around my waist to set me free

I said to the Lord "Break me!" and then I said "Heal me!"As I go heave-ho, hey-ho,

See I go heave, I go ho, and I go,

Me I go heave-ho, hey-ho, amen
While Tansi's life as a Franciscan made room for music, it also made incredible demands on his time. He not only preached about God's presence, but practiced it, studying philosophy and theology at Immaculate Heart of Mary Seminary, Seton Hall and Saint Joseph's Seminary; working for a youth program and for the poor and destitute in the Bronx; and helping to lead worship at Catholic Underground, a cultural apostolate of CFR that fuses Eucharistic adoration, prayer, and the transformative power of music, poetry, and art.
Read more:
EXCLUSIVE PHOTOS: A Rare Look into the Life of a Friar
It took another brother – Br. Mark-Mary, the man behind CFR's "Renewal in Motion" initiative – to connect the dots. "He approached me in October 2016 about recording, and after his encouraging me, I agreed. Br. Mark-Mary sought out the permissions that were needed and begged for the help that would make the project possible."
That included reaching out to bassist and Catholic Underground veteran Scott Mulvahill, a full-time member of Ricky Skaggs's band Kentucky Thunder, to produce Tansi's album. Mulvahill agreed, and in a matter of weeks, Tansi was on his way to Nashville to record his music. "With the help of Scott and his friends we recorded the album in February 2017 from a Friday to a Sunday…I felt very comfortable leaving Scott with the rest of the work, because I could see that he knew exactly what we were trying to capture with the project."
He was right. Garden is a chilled, cozy refuge for the soul, one that stands right alongside the work of other spiritual troubadours like Josh Garrels and Trevor Hall. The album enjoys a lush arrangement of keys, strings, percussion, and backup vocals that lift Tansi's gentle voice and guitar without ever overwhelming them.
The album opens with only one instrument, however, and that's Tansi's voice. "This Is My Faith," one of two tracks recorded in Mulvahill's parish after their studio sessions, is a spoken word piece that immediately draws inspiration from the natural world. "This is my faith," he declares in a half-whisper. "Sown in clay – these seeds awake. Growing in the rays and in the breeze that breaks me open. I crave to breathe, to blaze to be freed…"
Tansi's acappella is followed by three songs written during his early years in the friary. The drifting joy of "Heave Ho" slows into "Hollow," a moving song shaped by the keen awareness of what life without God looks and feels like. "I'm hollow without You," he sings over searching guitar strums, "So I follow, I'm following You…In the hollow of His hands, I be."
The mood shifts dramatically with "Creation," a celebration of earth unified in all of its living diversity. "Saint Francis discovered the footprints of God in all of creation," Tansi recalls – and Tansi discovers them once more:
I can see the sky, the trees, hills and mountains, fields and fountains,

A slice of peace, mice and geese, show a picture of a boa constrictor

Gorillas angry at every inclination…it's creation!Do be still, see the dew distill

The dawn sings for me to the sun's symphony

To the desert sands while the pheasants dance

In flight to the Fandango, and me I like mangoes

Hear the pigeons in their intonation…it's creation!

In the air's the rhythm of their orchestration…it's creation!From the grounds to the heights, the sounds and the sights,

The browns and the whites, amen, amen!Death and pain, rebirth again

Rewind the craziness, what kind of days are next?

Soul and blood, hope and love

Displace the hate and cold, don't place your faith in gold

Civilization, tragic operations, man's recreation

In every nation, messianic expectation of the New Creation
By the third verse, the din and disorder that cover up God's tracks come into play, and what began as a lighthearted song takes on a more serious, socially conscious register. "The last three popes have captured this truth of the turmoil, noise, and uncertainty that is characteristic of our age," Tansi says. "They express it better than I can." He quotes from John Paul II's Angelus message of July 11, 2004, to underscore the point: "…only in silence does man succeed in hearing in the depth of his conscience the voice of God, which really makes him free.'"

The heart of Garden is four songs that dive into that stillness. First is the meditative title track, which takes us from the grandeur of nature to the innermost chamber of the heart. "A hidden cove is the place where streams flow, there You rest my soul," Tansi sings. "A garden enclosed, where living water flows, is the place where we go."

"Garden" flows into "Eden," a serene piano and string instrumental that beautifully embodies the album's theme. "We began our journey in the Garden," Tansi reflects. "We come from God through His creation, and in our journey back to God, Christ is the way … Christ is the center of all creation and also the center of salvation history. He desires to unite himself to us and also be our center."

While writing Garden, Tansi took inspiration from the Song of Songs, a cherished romantic poem of the Old Testament that reflects that union. "The Song of Songs is one of my favorite books in the Bible especially because it celebrates a love as fierce and 'strong as death,'" he explains. The title track references some of its imagery ("a garden fountain, a well of living water, and flowing streams (4:15), myrrh and aloes, with all chief spices (4:14), etc."), but Tansi also set a favorite portion of the poem to music (2:8-14). For that track, Mulvahill wisely decided to leave the instruments behind and let Tansi's voice fill the silence of his parish once more. The resulting "Song of the Beloved" has a rapturous simplicity that gets to the heart of what Garden is all about. What we hear is the human soul, stripped of all of its pretensions and preoccupations, pining for God's love.

Between the instrumental and the acappella is "Rising," a song inspired by Tansi's experiences with a cancer patient (a story he shared with Cecilia music earlier this year) written for evening Eucharistic adoration at Catholic Underground. When Renewal in Motion partnered with Spirit Juice Studios and a talented young group of musicians to record a live performance of the song, it reeled in over 30,000 views on YouTube and became something of an anthem:

This holy stillness at the heart of Garden shines into the second half: the gentleness and kindness of "Let Go"; the patience of "When You Come"; the faithfulness of "Starlight," which ponders the Incarnation; and the peace of the closing track, "Rest," in which Tansi contemplates the image of the tree of life. "Interestingly enough, the last book of the Bible refers to some being granted to eat of 'the tree of life, which is in the paradise of God,'" Tansi points out. "Also, the Fathers of the Church saw the Cross as the true tree of life and the medicinal fruit of the Tree of Life as Christ himself in the Eucharist, the Body and Blood of Christ. This is where we find our true rest as we continue on this great journey."

Alongside the release of Garden, Renewal in Motion is launching two new videos for Tansi's "Nani Chineke," an exuberant "mishmash" of Nigerian songs (spiritual and traditional) and languages (Ibo and Yoruba). The

is a live rendition recorded with the same team behind "Rising"; but in a lyric video, the song is paired with scenes from Generation Hope, a documentary about the organization Mary's Meals:

This charity, Tansi notes, "aims to provide chronically hungry children across the world with one meal every school day. It is named after Mary, the mother of Jesus, who brought up her own child in poverty." Throughout the first year of Garden, when the majority of album sales happen, all of the proceeds generated from online sales will go directly to Mary's Meals.

It's been a long journey for Fr. Tansi, now in his early 40s. For now, he is focused on his role as a new priest, and "becoming a living sign of the love of the heart of Jesus to all whom God places before me."

And because Garden was never something he planned to make, but naturally resulted from following God's lead, his attitude toward the future of his music is a kind of open question nested in trust. "Who knows what God has planned or where He will lead next?"