Focus on the children of the marriage that is falling apart — your grandchildren.
What can God do in your life with one Bible verse a day?
Subscribe to Aleteia's new service and bring Scripture into your morning:
Just one verse each day.
Click to bring God's word to your inbox
Whatever the causes of a grown son's separation and divorce, his parents must walk a fine line between being supportive and allowing him to bear his share of the responsibility. Parents can provide valuable moral and practical support with their wisdom and experience, particularly with practical issues involving grandchildren. Although every case is different, these general principles can serve as a guideline for how the parents of an adult son can provide support through the difficulties of a divorce.
Make sure your son meets his obligations to his family
He should come to an agreement that not only fulfills his legal obligations, but also reflects a merciful heart. He should provide alimony and/or child support that can provide for dignified housing, clothing education, health care, etc. Divorced men tend to return to a bachelor's lifestyle, with a list of expenses that lead them to become insensitive to the real needs of their ex-wife and children, because as the saying goes, "out of sight, out of mind."
He should be responsive to any request for help.
He should care for his ex-wife's reputation in the eyes of others, and above all, in the eyes of their children.
Read more:
How to become an effective "co-parenting couple" after divorce
Help your son be a better father
Above all, motivate him to spend quality time with his children, being attentive to their problems and difficulties — whether academic, or related to health or personal development.
He should not limit himself to giving his children gifts (especially expensive ones). Rather, he should give them himself, not focusing on taking them out to visit places or entertaining them, but on accompanying them in their daily lives. That means staying very involved in all their ordinary and extraordinary events, such as homework, games, birthdays, graduations, sports achievements, etc. He should also be close to them in their difficulties, always being ready to listen to them.
He should not feel that his fatherhood has been weakened; he should earn the right to discipline his children.
Stay in touch with your ex-daughter-in-law
Your son is the one who got divorced, not you. Unless there is a serious reason to the contrary, it isn't right to try to erase the feeling of belonging that has been established through the marriage bond, in which there was an authentic relationship of acceptance and affection. Your former daughter-in-law and your grandchildren do not need to pay that additional price. Continue to accept and support her as she works to rebuild her life, even when that includes a new relationship.
Keep being grandparents
Don't reject the children's mother; this would only hurt both her and the children.
Keep your house open to your grandchildren as a place of refuge. Love them and welcome them without making any distinction between before and after their parents' separation.
Do not feed resentment, and if any of your grandchildren show an inclination to judge or speak badly about their parents, correct them lovingly.
Keep an eye out for any signs of abuse or alienation from their parents. There are times when one parent may try to influence the children's way of thinking in order to obstruct, block, or destroy their bond with the other parent.
The grandfather should strive to substitute, when possible and needed, for the lack of a father figure in his grandchildren's home.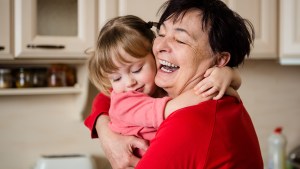 Read more:
Kids need to spend time with their grandparents … for humanity's sake
Keep up your relationship with the maternal grandparents
Your shared grandchildren are a common and indestructible bond that joins you to each other. You need to speak openly and non-judgmentally about the situation, focusing on your desire to support the grandchildren through this difficult time.
One of the deepest and most sudden losses in a divorce is the loss of the sense of unity in the marriage (we are no longer one, but rather one against the other), and unity in the extended family. As parents, we may not be able to put the broken pieces of a marriage back together, but our discreet, quiet support can make the best of a difficult situation, especially for the grandchildren.
This article was originally published in the Spanish Edition of Aleteia.