Here's how we can band together and send a strong message.
Here's a tip: don't let your children sit next to you when you look up options for a Halloween costume on Google. The vast majority of images I found upon typing in "Women's Halloween costume" featured skintight leotards, low-cut tops, and ultra-miniskirts. There were sexy vampires, a sexy nun (really?!), and sexy pop stars. I could order a scantily-clad pirate costume, a "Big Top Tease" circus master uniform (yes, it's really called that) — even a come-hither Minnie Mouse get-up.
 Who knew there were so many inappropriate dress-up choices for women? Color me embarrassed. I was googling costumes because I wanted to go to a party dressed up, not dressed down, showing off every part of my body. Thankfully, upon scrolling far enough, I also saw a few modest outfits; among them, Rosie the Riveter, 
Katniss
 from 
The Hunger Games
, and 
Rey from the most recent Star Wars flick
.
Evidently, the market demand for skimpier costumes far outweighs the Rosie and Rey costumes, though. Companies produce what sells, after all. Year after year, women continue to purchase such hypersexualized versions of heroines and pop culture figures. The question is: how did we all get to a Halloween that looks like this? I say, enough.
Read more:
An important message from a 33-year-old virgin (VIDEO)
First, we need more choices — for far more personalities as well as body types. From what I've seen online, costume companies seem to think every woman is 5'6" or taller, with long legs and huge ya-yas. It's simply ridiculous. And beyond that, it assumes that all women want to look like this, that we think this skin-baring, pushed-up look is how we want to define ourselves. But that's not my idea of identity. And I bet there are other women who would agree with me. I'm not advocating that we all dress in floor-length robes or compete for the most boring costume. We can still use our God-given imaginations to dream up unique, personal, and memorable fashion choices. However, short of sewing our own creations, we need different options than the ones we currently have in stores and online. So how do we convince companies to make better costumes? Money talks: Fortune reported that adults in America spend roughly $1.2 billion a year on Halloween costumes. Our wallets speak volumes about our values, and if women refuse to buy provocative costumes, retailers' bottom lines will suffer — and they will take notice. Sarah Seltzer of The New York Times has a similar opinion: "We should welcome the holiday as a chance to play with our identities … but we shouldn't encourage costume companies that offer a one-size-fits-all prescription for what Halloween playfulness should look like."
Second, women of substance and character can portray their self-confidence and creativity in classy ways. As women, if we want other people to respect us, we must respect ourselves. We are so much more than the sum of our measurements. We are so much more than "Sexy Batgirl" or "Transylvania Temptress" (yes, both real options on the market today). A woman's curves are beautiful, and her loveliness should be celebrated. But it should not be exploited.
Of course, plenty of women disagree with me. I'm not saying that women who wear sexy costumes are wrong for wanting to feel attractive, or that they're asking for harassment. Not at all. What I am saying is that we limit and shortchange ourselves when we play into the media's one-dimensional portrait of what an attractive woman looks (and should dress) like. We also have the privilege of modeling a more modest, genuine style of dress for the younger women around us. Unfortunately, this hyper-sexualized mode of clothing is trickling down into younger and younger costumes, as every mom of a young girl can attest. Setting a better example is one of the ways we can help stop that from happening. I, for one, will be ordering a buttoned-up Hermione costume this year. (And if there's a sexy version, I don't want to know about it.) Whatever your stance, just remember your dignity and remind your teens and yourself of the longevity of social media. No one wants to have to explain to a future employer why you thought "Skimpy Ninja Turtle" was a wise investment.
Read more:
Have We Finally Reached Peak Pornography?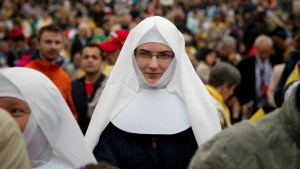 Read more:
Please stop fixating on what women wear