Research shows that homework is beneficial only in certain grades.
I really like the charter school my kids attend. We've had good luck with charter schools overall, in fact — they are well-organized, responsive, and academically rigorous. But they have the same drawback as private and public schools: they give too much homework, way too soon.
When my second and third grader bring home pages of math and spelling, it drives me crazy. The third grader mopes and whines and drags her feet and spends hours doing a worksheet that would normally take 10 minutes, because she's been doing schoolwork all day and she's tired of it. She wants to play. And she's 8 — she should play.
My second grader loves doing worksheets, but even he tends to resist homework. The simple fact is that kids are in a structured classroom for seven hours a day, and when they come home they need to leave school behind and be kids. Fortunately, Lifehack reports that more and more research is supporting what parents have long known — homework is bad for elementary school kids.
After over 25 years of studying and analyzing homework, Harris Coopers' research demonstrates a clear conclusion: homework wrecks elementary school students. In his book, The Battle over Homework: Common Ground for Administrators, Teachers, and Parents, the homework guru gives details about the relationship between homework and success at different grade levels. While homework has a significant benefit at the high school level, the benefit drops off for middle school students and "there's no benefit at the elementary school level," agrees Etta Kralovec, an education professor at the University of Arizona.
The article gives a number of reasons why homework is actually damaging to elementary school kids, including the negative effects on sleep and the need for kids to play. But one in particular caught my eye, because it's something I've experienced but not thought much about: homework can be damaging to parent-child relationships in the long term.
Of course, any parent can attest to this. The nightly homework battle is a common experience. But what I didn't consider is the fact that establishing this pattern during elementary school greatly increases the chances that it will extend into high school, when homework is beneficial.
Think about it. If we get into the habit of reminding our little ones to finish their homework and monitoring them until they do, at what age do we break that habit and let them succeed or fail on their own? Part of what homework is meant to accomplish is to instill a sense of responsibility and to involve parents in a child's education, but both of these goals can be sabotaged by establishing homework as an unpleasant (and unnecessary) battle of wills in the early years of a child's education.
Fortunately, I have found most elementary school teachers to be responsive to conversations about the detrimental effects of homework, particularly when those conversations are accompanied by research. And even if they continue to assign homework to the class at large, most teachers will allow homework to be optional, or to be replaced with 20 minutes of reading.
So don't be afraid to talk to your child's teacher about the repercussions of premature homework. You'll be saving yourself and your child from years of homework angst, and laying the groundwork for a positive homework experience in the future.
Read more:
Your kid is right — homework is stupid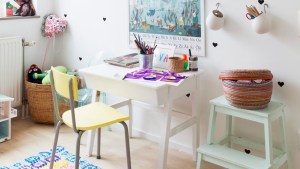 Read more:
How to set up a homework corner that your kid will love