Catholic priests are human and fallible, like everyone. But sometimes they're outright heroes.
Need an idea for Lenten almsgiving?
Help us spread faith on the internet. Would you consider donating just $10, so we can continue creating free, uplifting content?
Make a Lenten donation here
Several years ago, at her now defunct blog the Crescat, Aleteia's resident advice columnist Katrina Fernandez found this photo here and marveled at "the stuff our priests are made of!"
4 June 1962. Navy chaplain Luis Padillo was giving last rites to dying soldiers as sniper fire surrounded him. A wounded soldier pulled himself up by clinging to the priest's cassock, as bullets chewed up the concrete around them. Hector Rondón Lovera, who had to lie flat to avoid getting shot, later said that he was unsure how he managed to take this picture. [See all pictures he took that day]. Norman Rockwell eerily used this photograph as a template for his Southern Justice painting, "Murder in Mississippi."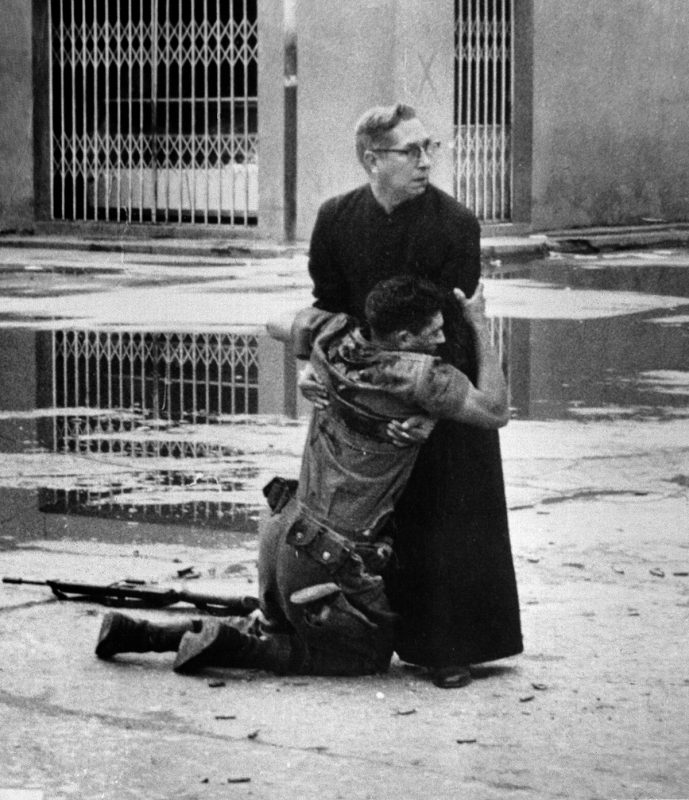 I myself am struck by the sense of absolute calm in that image of Fr. Padillo. There is something startlingly grounded there. Unflappable. Daring, even.
The image brought to mind the "Grunt Padre," aka Servant of God Vincent Capodanno, who was killed in Vietnam:
Father Capodanno went among the wounded and dying, giving last rites and taking care of his beloved Marines. Always watching out for them, as they watched out for him. Wounded in the face and suffering a severe shrapnel wound that nearly severed his hand, during the epic battle of Dong Son in September 1967, Father Vince moved to help a wounded Marine only yards from an enemy machine gun. Father Capodanno died from a machine gun blast [while] taking care of this young Marine. When his body was recovered, he had 27 bullet wounds.
A priest with

weary eyes

.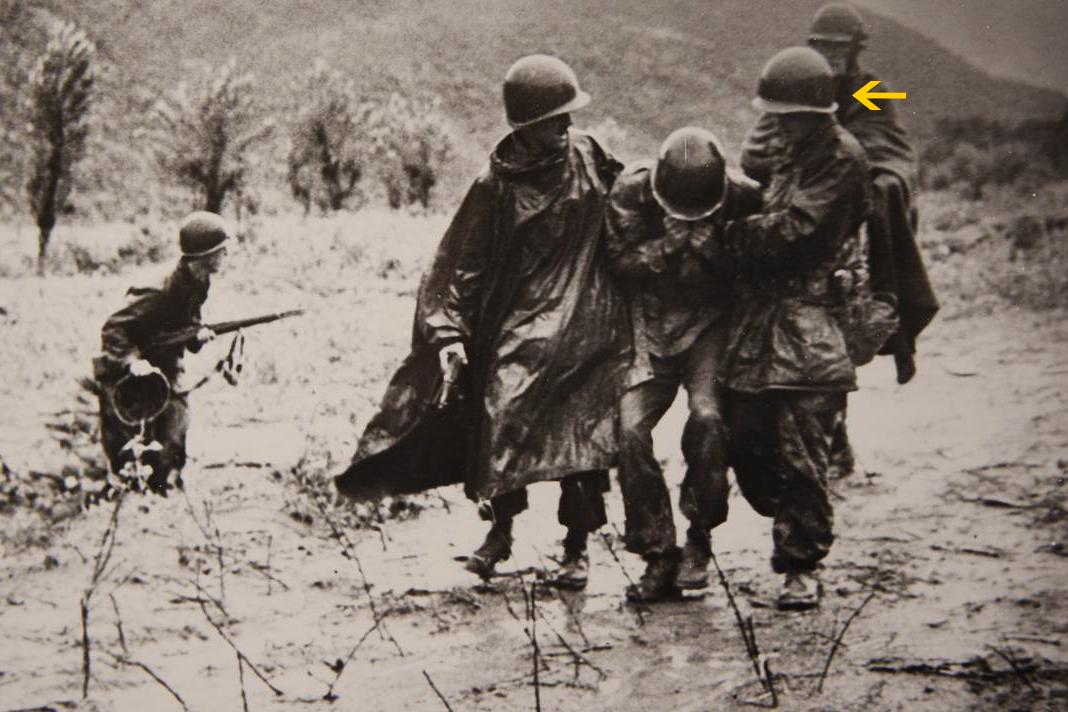 Fr. Capodanno's story puts me in mind of another possible saint, Kansas-born Chaplain Father Emil Kapaun:
Feverishly working beyond the American lines in "no-man's land," he actually stopped an execution and negotiated with the enemy for the safety of wounded Americans. No one knows how many young soldiers he carried to safety on his back. Going back again and again he was finally taken prisoner as he tried to rescue another wounded soldier.
There is a great story about Kapaun, that while he was assisting a wounded man an enemy soldier approached and raised his rifle. Kapaun, apparently in no mood for it, hauled off and decked the soldier, before being taken prisoner.
Kapaun puts me in mind of:
Army Chaplain Fr. Tim Vakoc, who died of injuries sustained in Iraq.
Vakoc was injured on May 29, 2004 – the twelfth anniversary of his ordination to the priesthood – while returning from saying Mass for soldiers in the field in Iraq when his Humvee struck a roadside bomb (IED). He sustained a severe brain injury … On June 1, 2005, a flag – signed by Vakoc and his unit – was given to him. His first message to the visitors who presented the flag was "TIM 4F" (the military code for unfit for duty) and then "OK."
And Fr. Vakoc's story called to memory the incredible Fr. Aloysius Schmitt, Navy Chaplain, who had finished celebrating Mass on the USS Oklahoma just moments before the attack on Pearl Harbor, and died while helping other sailors get to safety.