Social interaction should be a high priority for parents -- and for kids.
You can get Aleteia inspiration and news in your inbox. Our specially curated newsletter is sent each morning. The best part? It's free.
Sign up here
The other day I happened to read two articles on parenting and loneliness back-to-back. They both described being overwhelmed by raising small children in our modern world, with no tribe or village or friends or family to lean on day-to-day. The first one, at Scary Mommy, said the state of modern parenthood is unacceptable:
What isn't acceptable is parents burying their feelings so deep that we're hiding in our secret room, sobbing, and then splashing cold water on our faces to hide it. What isn't acceptable is that the highlight of our current life is going grocery shopping alone.
The Huffington Post similarly lamented the isolation of modern parenthood, but concluded that while the isolation is unavoidable, it won't last forever:
This will be the most unglamorous and unappreciated time of your life, and sometimes it just totally sucks. That's okay. But have peace in knowing that this will be the season you look back on longingly. One day, we'll feel we'd gladly give up all the friends in the world to have our babies small again. To be able to fit them on our laps and read them stories and go on adventures and eat pancakes at every meal.
I spent many years trying to convince myself that the second one was true. But as my kids are getting older and I only have one left at home with me all day, I'm starting to realize that I could have done things differently in those years of isolation. And the only reason I look back at them longingly is because I wish I had a do-over. I still have time to do things differently, particularly during Christmas break with all five of them home bouncing off the walls. But I can't reclaim those years of isolation.
I spent most of my years of motherhood limiting outings to one or two per week, because even just the prep work was exhausting. Packing up, checking diapers, changing clothes, braiding hair, brushing teeth, finding shoes, bringing snacks, filling water bottles, loading up, and buckling car seats and seat belts took 45 minutes on a good day. And that was just the pre-game festivities.
All that is a lot of work to undertake when the trade-off is an afternoon of grocery shopping with toddlers and babies. There's just not a lot of upside there. Sometimes it was unavoidable, but I could have planned things differently so that our "outing energy" wasn't wasted on necessary but tedious tasks that I could have done alone in 1/10 the time.
But I always prioritized the "chores" over the "friends." So we spent a lot of afternoons at the grocery store, but not very many at friends' houses for lunch playdates. I told myself that it was too much work for something unnecessary.
Here's the thing, though: when we went to a friend's house for lunch or coffee, my kids always had a great time. They had other kids to play with and I got to bask in adult conversation, so I always had a great time. And listen y'all, eating lunch at someone else's house means you can help with the clean-up and then not have to do it alone, by yourself, at home.
The big kicker is that when I look back on the rare lunch/friend outings from those years, I remember them clearly. I remember the fun and the joy of social connection that was never dampened by kid antics, not even by the time my toddler wiped his poop across my neighbor's tile floor. Instead, we laughed together (well, she laughed, I apologized profusely), cleaned together, and then drank more coffee together.
I don't remember days of isolation clearly. They run together into a blur of messes and snacks and tears and naps and antics, even poop ones, that did NOT inspire laughter and bonding. They inspired yelling and tears.
Isolation isn't just misery-making, it's dangerous. It's a torture tactic for a reason. Isolating yourself with kids leaves you with no one to put things in perspective or de-escalate a tense moment. It leaves your kids with memories of standing outside the bathroom door calling for you while you're locked inside crying. Kids aren't stupid. They know you're crying, and they usually extrapolate that they're somehow the cause.
I wish I had realized that isolating myself when my kids were all little wasn't just misery-making for me, it was also misery-making for them. Those few lunch dates stand out primarily because of how happy we all were, and the glow of that happiness lasted long after we had gone home.
I wish I had known that making time for friendship, both mine and my kids', was infinitely more important than sparing my husband from doing the grocery shopping. I know that now, and I solemnly swear to never again prioritize chores over friends. Chores are a necessary part of life, but friends make that life worth living.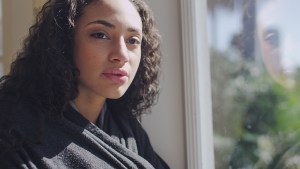 Read more:
5 Ways to befriend your loneliness