... and what you should say instead.
Comforting someone who's grieving can be tricky. People want and need different things: one person might want to talk about their grief while another might prefer to be distracted from it. Everyone has different religious beliefs, and sometimes, the bereaved may have complicated feelings about the deceased. We ourselves might be uncomfortable with loss.
It's a natural impulse to say something that we think would help us if we found ourselves in the same situation, but even if we've experienced the same "type" of loss, we have not experienced the same grief. Phrases that we think will help often don't, especially if the person we're talking to doesn't share our faith (and many times we simply don't know if that's the case).
These common refrains can be hurtful, even if you have the best intentions:
"It's part of God's plan. Everything happens for a reason." 
Even if you know the other person shares your beliefs, this tired phrase doesn't help, and for non-believers, it really doesn't help. Being told that your pain is part of a masterful and beautiful plan — just as your entire world is falling apart — doesn't ease pain, it adds to it. It tells the person grieving that their pain is irrelevant in comparison to the destiny their loss fulfills — not exactly the compassionate response they need in a time of grief.
"In the grieving process, people need compassion, which literally means the willingness to share their suffering and accompany them as they need in their pain," says Fr. Roger Landry, national chaplain for Catholic Voices USA. "Spiritual bromides don't share another's pain but are directed toward minimizing or verbally taking that pain away. For that reason, in most cases, they not only don't work but can unintentionally increase the pain because the one grieving recognizes that the other doesn't really 'get' it."
"Any comment that suggests that it was God's will that your loved one is dead is not good and sounds sanctimonious. It is not helpful to hear," says Terry Bryan, a California-based drama instructor. "Don't try to act like you know something due to your wisdom or closeness to God that those grieving do not know or understand."
"They're in a better place."
Even for Christians, this is a hard phrase to hear when you're grieving the loss of a loved one. When Mary Lehr's adult son died, the California mother of nine found that hearing he was in a better place was just frustrating. "Well, no, actually, he should be here on Earth raising the children God gave him," she would think.
Hoping a loved one is in heaven doesn't necessarily ease the pain of those suffering without them. In any case, even the most devout Christians can't know what happens after death: Father Landry notes that, "Except in the case of a canonized saint or a baptized infant, we don't know for certain where someone who has died has gone" and that "some of the oft-repeated platitudes are not grounded in any knowledge that a human being can have."
This is also a particularly difficult statement to hear for non-believers, who don't necessarily believe there is a "better place" for their deceased loved ones.
"God never gives you more than you can handle."
When you are drowning in grief, barely able to put one foot in front of the other, the last thing you want to hear is that you're saddled with the "perfect" amount of pain, tailored especially for you. The truth is, grief is always more than we can handle, even if we do manage to go on putting one foot in front of the other. You may say this as a way of encouragement, but it can often make the grieving person more angry with God.
"I particularly dislike being told that 'God never gives you more than you can handle,'" says Ashley Austrew, a freelance writer from Omaha, Nebraska. "Sometimes loss is more than I can handle, and there's nothing comforting to me in being told that I am or should be innately equipped to cope with my grief, or in the thought that God is up there measuring out the exact right amount of pain to throw my way."
"At least they were old/lived a full life."
When a close loved one dies, knowing that they lived a long or full life doesn't lessen the pain left in their wake. In fact, it only amplifies the very large hole left by their departure. It may help you deal with the loss, but for someone closer to the deceased it might bring even more pain. When Jennifer Lizza, a New Jersey based writer, experienced the passing of her grandmother, she was devastated by the loss, and felt she had lost one of her best friends. "So many people kept saying, 'Well at least she was old,'" she says. "It made me so mad. I just couldn't understand why her age should make me hurt any less."
"It will get easier with time." 
Not only does this phrase not help while someone is suffering, it also isn't necessarily true. There is no set timetable for grief, and everyone's experience with grief is different. Sometimes grief is something we move past, but sometimes it stays with us for life, shifting and evolving over time. "Grief doesn't exist in the 'easy' or 'hard' paradigm," says Josh Nieubuurt a teacher from Okinawa, Japan who heard this phrase in the wake of his father's death. "It's a multifarious expression of a wide range of emotions. Grief never gets easier, only more manageable as time goes on. Grief will still exist as grief. But with time and experience the qualities of grief will also evolve with the individual."
It is very hard to find the right words to ease the heavy burden of grief, and sometimes the best thing you can do is realize that there is nothing you can say to make the situation "better." Grief is a process that doesn't follow a straight or predictable line, and there is no way of knowing the exact emotional space of someone following tragic news or loss.
So what should we say, when faced with a friend or loved one's grief?
The basics can never go awry: "I'm so sorry for your loss" can never be misinterpreted. And, if you know the person well, you can offer to call frequently, or deliver meals, or help them navigate the logistics and administration that follows a death. In the end, though, your sympathy and your presence alone may be the biggest comfort of all. As Father Landry says, "In many situations of grieving, the best thing we can do is just be there for and with those who are mourning. Our silent presence speaks that the person doesn't need to suffer alone. They will often perceive in our quiet presence a wisdom that grasps that there are no "magic words" in those circumstances that can immediately whisk away their pain."
Try to hold emotional space for the person, whether that means praying for them or offering an "I'm thinking about you" for nonbelievers. It's important to let those grieving know that you haven't forgotten about them, even if you, like all of us, don't know exactly what to say.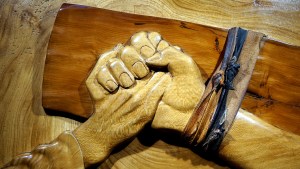 Read more:
Is sharing your grief with others really TMI?