Also says he's "very worried and saddened by the escalation of tensions in the Holy Land"
Today at the general audience, Pope Francis spoke as a father of his universal flock, lamenting humanity's penchant for violence and conflict. "We never learn," he said with regret. "God help us!"
The pope spoke of war at two different moments, first to a group of World War II veterans from Poland, who were in Rome to commemorate the battle of Monte Cassino.
"The sadness — you remember wars … two great ones in the last century — and now … we never learn. God help us!," he said to the elderly veterans. "May the tragedy of war that you lived, your strength of spirit, fidelity to ideals, and witness of life become an appeal for the cessation of current conflicts in the world and for the search for ways of peace."
Then in a final appeal, the Holy Father spoke of one particular conflict, escalating in these days.
"I am very worried and saddened by the escalation of tensions in the Holy Land and in the Middle East, and by the spiral of violence that is increasingly moving away from the path of peace, dialogue and negotiations."
On Monday, nearly 60 Palestinians were killed at the border between Gaza and Israel in the bloodiest day of conflict in years, just as the United States opened its new embassy in Jerusalem.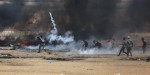 Read more:
Diocese of Jerusalem pleads for prayer, condemns 'cynical use of human lives'


"I express my great sorrow for the dead and the wounded and I am close with prayer and affection to all those who suffer," Francis said.
"I reiterate that the use of violence never leads to peace," Peter's Successor exclaimed. "War begets war, violence begets violence."
The pope concluded with an exhortation that "all the parties involved and the international community" would "renew their commitment so that dialogue, justice and peace prevail."
He led those at the audience in praying a Hail Mary, invoking "Mary, Queen of Peace" and concluding with the prayer, "May God have mercy on us!"
He also expressed his greetings for the month of Ramadan, which begins tomorrow. "May this special time of prayer and fasting help to walk the way of God which is the path of peace," he said.
Also today, the pope tweeted the same expression of concern for the Middle East:
I express my great sorrow over the dead and wounded in the Holy Land and the Middle East. Violence never leads to peace. Therefore, I call on all sides involved and the international community to renew efforts so that dialogue, justice and peace may prevail.

— Pope Francis (@Pontifex) May 16, 2018