Because they're not -- and it's stealing away an important part of their childhood.
Two months ago, in response to the tragic suicide of a Newport Beach high school student, the principal of a neighboring school took to Facebook in an effort to shed some light on the mounting pressure that teens are facing today.
"A lot to ponder, and many conversations and changes ahead," Dr. Sean Boulton wrote. He noted that much of the hopelessness felt by the now-deceased student came from stress at school. The 16-year-old left "notes which made mention of the pressures of school and growing up in Newport-Mesa."
Although Newport Beach is a particularly wealthy community where higher education and well-paying careers are the norm, the pressure felt by this high school sophomore to perform exceptionally is not limited to his location. In fact, there is an unprecedented amount of stress and anxiety among teens, due in large part to academic competitiveness.
"We think that earning a 'C' grade in a class is … the end of the world," Boulton lamented. "Earning 'As' in AP classes [has become] the norm… We endlessly discuss test scores, National Merit Scholarships, reading scores, AP scholars, comparisons to other school districts and this is when we start losing our collective souls — and our children."
But sadly, time for young people to even be children is disappearing. Freedom to stretch their imaginations in unstructured, carefree ways without adult supervision or intervention is slowly becoming extinct. "[Today], play is something of an endangered activity," a TIME magazine article noted late last year.
When we think of play, we typically picture toddlers with blocks or elementary school children on a playground. But in actuality, the brains of teens are still developing. Consequently, they can't adequately handle the same pressures and demands that mature adults can.
"Childhood is supposed to be carefree, happy, memorable," Mary Nelson, a high school youth minister in Ohio, declared. "Parents are currently doing everything they can to set their child up for future success. Here's the issue though. If we set them up for so much success, at what point do we take their childhood away?"
There's nothing wrong with parents desiring academic success for their teen. But in a time when "college admissions mania [has gone] into hyper drive," as Boulton put it, the pressure can often feel tremendously burdensome for teens who, in many ways, are still children.
"Growing up is tough no matter what time you're growing up in," acknowledged Amanda Butler, a clinical social worker and therapist specializing in children and adolescents. "There's so much to process and if the process is rushed, it can create a lot of stress and confusion mentally and emotionally and physically."
For example, Butler explained, a teen being "asked to take on a role that they're not developmentally ready for … Taking on an adult persona or an adult schedule." Obviously, this varies from teen to teen since some are equipped to handle more than others. But the important thing is for parents to be aware of their kids' limits.
"Balance!" Nelson declared. "Find balance. Make sure your kid wants to do an activity. If it's stressing them out and causing them anxiety, maybe it's not healthy. Let them have fun at school and don't [expect them] to get an A in every class, or on every test. Tell them as long as they've tried their best you're still proud of them and love them. Just remember what it was like as a child and the freedom you had to just mess around, hang out with friends and do stupid things. I'm not saying go let your teen do illegal things. But give them the room to just breathe, relax and not feel the pressure of life."
Butler concurred, noting, "It's important for kids to be engaged in things they enjoy … and to have a balance in life. [Parents] need to check in with their teen about how they feel about the current load that they're under."
It's an understandably complex balance to strike: preparing a child for a successful future while also allowing them time to be, well, a child. But it's clear that what so many teens are hungry for is a little more leeway. They simply need more time to absorb all that childhood throws at them.
"I guess if you really want your youth to have a childhood, ask them if they're enjoying it," Nelson suggested. "Ask them if [all this work] is worth it to them or if in ten years will they look back … with a heart that aches thinking about other opportunities they passed up — even if that opportunity was just staying up till 2 a.m. with friends talking about nothing and eating candy."
Because if you can't enjoy that innocence and freedom when you're a kid, when can you?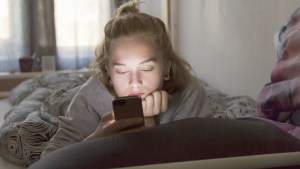 Read more:
The habit that's creating a generation of anxious kids