Know that I am always here, he told her ...
Anna is divorced and found herself pregnant from a liaison with a married man. When her lover found out she was pregnant, he began to pressure her, refusing to acknowledge paternity of the child.
The only solution that offered itself to her: abortion.
Then, Anna, who is originally from Arezzo in central Italy, received an unexpected, sudden phone call that changed her life.
On the other end of the line was Pope Francis, who, as a good father, made her reason it through, and explained to her why carrying the pregnancy to term was worthwhile.She accepted Pope Francis' advice, and decided not to interrupt the pregnancy.
Read more:
Pope Francis explains why we must always welcome the unborn
This happy account comes to us from a report on May 22 in Credere, an Italian Catholic publication. It explains how Anna had lost her job and decided to move to Rome. It was there that she discovered that she was pregnant by a man who already had a family. He had no plans of acknowledging the child. He pressured her, and she made plans for the abortion.
Before going through with it, though, she decided to write a letter to a special person. She wrote her story down and slipped it in an envelope; the address was simple: "Holy Father Pope Francis, Vatican City, Rome." She sent the letter without thinking too much about it. Then, a few days later, the phone began to ring.
"I read your letter."
The number on the screen was unfamiliar, with the prefix of Rome. She answered, and was struck dumb: "Hello Anna, this is Pope Francis. I read your letter. We Christians must never lose our hope. A child is a gift of God, a sign of Providence."
"His words filled my heart with joy," Anna says. "He told me that I had been very courageous and strong for my baby."
During those moments on the phone with Pope Francis, Anna told him that she didn't want to kill the child she was carrying in her womb. She told Francis her true desire was not to interrupt the pregnancy, and that she wanted to baptize the baby as soon as he or she was born.
Read more:
Pope on aborting the disabled: Like the Spartans but with more cruelty and science
"Know that I am always here."
The pope answered with the simplicity of a true pastor: "I'm convinced that you won't have any problem finding a spiritual father, and anyway," he added, "if that's not the case, know that I am always here."
Thus ended the phone call that changed Anna's life — and that of her baby — forever.
Read more:
How Pope Francis gave me hope for my son, whose dad won't show up for Father's Day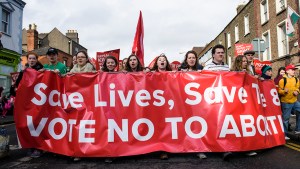 Read more:
Irish abortion referendum set for May 25