The way women are represented in the media affects us more than we realize.
My favorite part about going to the dentist as a teen was always the pile of glossy, trashy, gossip magazines. The ones I knew better than to subscribe to, since they didn't exactly line up with my values. "But what's the big deal?" I'd ask myself. "It's not like I read them every day." Still, I couldn't ignore how yucky I felt after reading even a few. Suddenly, my thighs were too big, my skin was too blotchy, and what was up with my lumpy knees? They look so weird. How did I not notice that before?
Sitcoms work on me the same way, even now. The more I watch, the uglier I feel. There are more and more studies coming out saying that my experience is not unique. A 2017 meta-analysis of 50 different studies found"a positive, moderate effect of sexualizing media on self-objectification." Essentially, the more sexualizing media you consume, the more likely you'll see yourself as an object — one that doesn't measure up.
An even more alarming conclusion comes from another analysis of 135 different studies: Exposure to sexually objectifying media portrayals of women is "directly associated with a range of consequences, including higher levels of body dissatisfaction, greater self-objectification, greater support of sexist beliefs and of adversarial sexual beliefs, and greater tolerance of sexual violence toward women."
It's enough to make me pretty cautious about what I let my eyes consume — and even more worried about what our children are exposed to so regularly that they hardly even notice it. But it also made me want to give a round of applause to the board of Miss America for nixing the swimsuit portion of their competition.
Gretchen Carlson, former Miss America winner and now the organization's chairwoman, intends the change to be a radical shift. "We are no longer a pageant; we are a competition," she said. "We will no longer judge our candidates on their outward physical appearance."
Honestly, I'll be more convinced when the next woman who wins happens to be a size 18, but you know what? This is still a really good step. It's one more slice of the world that isn't bombarding us with images of women as sexual objects.
I was thinking of how much more I dislike my body after I get exposed to over-sexualization, and realized that of all the TV shows I've seen, there's one show that never leaves me feeling that familiar sense of disgust. That would be This Is Us, thanks to Chrissy Metz's character.
Metz plays Kate Pearson, a significantly overweight woman who is complicated, intelligent, and passionate. She has body-image issues, sure, but she also has joy and pain that has nothing to do with her body. Her body is only one aspect of her experience of the world, and it's not the focus of all her storylines. Her character isn't reduced to her body type. It's almost absurd how refreshing it is.
I hope to goodness that we'll see a growing trend in the media, of women presented as whole people, not reduced to their sexual appeal. The way women are represented has a substantial, undeniable affect on us, and at this point, every baby step counts — for ourselves, and for our daughters.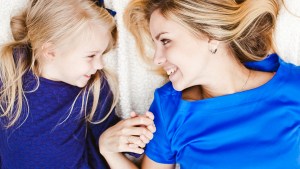 Read more:
The number one thing moms can do to help their daughters develop a healthy body image