Music isn't just fun to listen to, it has many benefits and helps us to grow and improve.
What can God do in your life with one Bible verse a day?
Subscribe to Aleteia's new service and bring Scripture into your morning:
Just one verse each day.
Click to bring God's word to your inbox
Music is everywhere … it's at work, in the car, or on the street as we walk. It's the pulse of parties, where the choice of playlist can set the tone for the entire event.
The music in our lives connects us in ways no other form of art can — it transports us because it simultaneously touches multiple levels of our being, mixing notes and rhythms, achieving unique combinations that become engraved in our memory.
Music is also capable of awakening our emotions and moods. Much has been said about the "Mozart effect" and the importance of early musical stimulation in babies even before they are born.
Creative inspiration
Music is creativity in itself. It's a means that allows very different people to come together, offering each of them a space within the group that makes them unique and necessary. It's a universal language that everyone can understand. It connects continents and overcomes distances and cultures. It reaches people's depths by communicating a feeling, an experience, an idea that causes an internal movement.
Some of life's biggest goals are personal development, growth, and self-improvement. We pick up new ideas or ways of thinking, which then lead to new behaviors and attitudes, which in turn improve our quality of life as we achieve our objectives. This transformation needs a true inspiration, and music can provide that by stimulating creation and self-transformation. The law of cause and effect means that the type of music we listen to will push us toward one behavior or another.
Listening to sentimental, aggressive, or high-tension music causes different effects in people and social groups — we've all experienced it. Marketers use music all the time to achieve results. In supermarkets, for example, shoppers will make their purchases in a more relaxed or quick way depending on the music.
The power of music in the human being
Music stimulates the brain to create new ideas, but it can also help us to fall asleep. Depending on the musical genre and type of melody, it can help us manage stress or make us feel alive. It's an art form that has been with us from the beginning of humanity. We don't know how to live without it.
Music, played with instruments and listened to with the ears, goes far beyond sound waves. It brings us closer to our spiritual side, touching the spiritual dimension of a person, opening us to transcendence and connection with others.
The bottom line: Music is fundamental for our personal growth. So play some tunes and enjoy!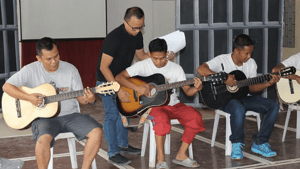 Read more:
Jesuit priest helps young prisoner find redemption through music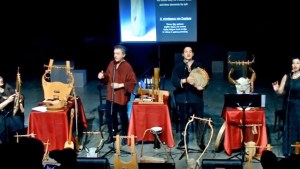 Read more:
Step back in time: Listen to the music of ancient Greece