Our Lady of Sion has connections to France and to two Jewish brothers who found faith in her Son.
What can God do in your life with one Bible verse a day?
Subscribe to Aleteia's new service and bring Scripture into your morning:
Just one verse each day.
Click to bring God's word to your inbox
Our Lady is beloved under so many manifestations and titles, from the tender motherhood of Our Lady of Guadalupe, to the dire warnings of Our Lady of Fatima. Her titles are truly innumerable.
One special one is Our Lady of Sion.
The roots of this devotion go back to the 4th or 5th century. Sion (or Zion) is a place in the Diocese of Toul in France where Christianity in the future nation took root. Writings from a Christian named Nicetius were found there, and it is recorded that a church dedicated to Our Lady was the center of a very large Catholic community. The Basilica of Our Lady of Sion was built over the ruins of a temple that had been dedicated to an unknown Roman goddess.
Leaping forward to the 19th century, the Congregation of Our Lady of Sion was actually two Catholic religious congregations founded in Paris. Two brothers, Theodore Ratisbonne and Alphonse Ratisbonne (some spell it Ratisboone or Regensburg), founded the order for Religious Sisters in 1843 and the order for Catholic Priests and Brothers in 1852.
Their mission statement reflects the uniqueness of this devotion to Our Lady: "to witness in the Church and in the world that God continues to be faithful in his love for the Jewish people and to hasten the fulfillment of the promises concerning the Jews and the Gentiles." (Constitution, article 2).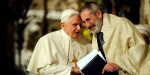 Read more:
New text from Benedict XVI: Judaism has a special place for the Church


As a cradle Catholic who is the maternal grandson of a Hebrewman, and a descendant of  family members killed in the Holocaust, I was edified to learn of the Congregation of Our Lady of Sion.
The Ratisboone brothers and founders of the order were Jews. They were continually being drawn to the Church but Theodore became Catholic first. Seeing some of his friends embrace Catholicism and after studying and reading about the faith, he was baptized in 1826. He was not done with his conversion. He was ordained a priest in 1830.
Alphonse was much more reluctant to embrace and believe in Jesus Christ. But on January 20, 1842, while on a trip to Rome before getting married, he happened to visit the Church of Sant'Andrea delle Fratte. It was here that the Blessed Virgin Mary appeared to him. He hurriedly contacted Theodore and told him. Both brothers believed that God was calling them especially since Alphonse had been personally converted by none other than Our Lady. They both strongly felt that they had been called to bring their fellow Jews to Christianity.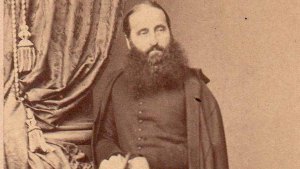 Read more:
How a radical atheist became a Catholic priest
Alphonse was baptized and entered the Society of Jesus, where he spent several years. In 1843 Theodore founded a small community of women who wanted to join him in his ministry of teaching the faith to Jewish children. In 1850, Alphonse, with permission from Pope Pius IX and the Superior General of the Jesuit Order, left the Jesuits and joined with his brother to work together. Side by side, in 1852, they founded the Congregation of the Fathers of Our Lady of Sion.
Eventually, Theodore Ratisbonne wanted to continue his work of bringing fellow Jews to Christianity. In 1842 while visiting Rome, Pope Gregory XVI blessed Theodore's ministry. He immediately formed a school for Jewish children in a Christian setting. As God will provide, two Jewish sisters came to him for spiritual advice. They converted to Christianity and became the starting point for the Congregation of Our Lady of Sion, founded in 1847.
Alphonse moved to the Holy Land and in 1858, on the site of the ruins of an old church, built an orphanage and vocational school which the Sisters ran. These schools were open to all children regardless of creed. In 1874, Alphonse began construction on the Ratisbonne Monastery on the outskirts of Jerusalem.  It was a school for boys and today is a branch of the Salesian Pontifical University.
Today the Congregations of Our Lady of Sion are spread around the world from Australia to England, to Istanbul, Costa Rica, Rio de Janeiro and even Kansas City, Missouri.
At this time neither of the Ratisbonne brothers has a cause for canonization open, but there are those who are diligently trying to get the process started.
Aleteia has brought you an introduction to some of the titles under which Mary is honored, especially in Latin America. See here:
From Nicaragua, Immaculate Conception of El Viejo: Do you know the connection between St. Teresa of Avila, Our Lady, and Nicaragua?
From El Salvador, Our Lady of Peace of San Miguel: Mary will find her way into your life with creativity and persistence
From Ecuador, Our Lady of Quinche: When God brought a child back to life through the prayers of His Mother
From Paraguay, Our Lady of Miracles of Caacupé: No two stories of Our Lady are ever the same: A mother's individualized love
From Chile, Our Lady of Andacollo: More marvelous than all Our Lady's apparitions and miracles put together is this simple reality
From Peru, Our Lady of Evangelization: Do you know the first evangelist?
Also see:
Our Lady of Charity, from Cuba: In the face of evacuation from Irma, turn to Our Lady of Charity
Our Lady of Aparecida, from Brazil: Pope Francis recalls the joy of entrusting his pontificate to Our Lady of Aparecida