As a new priest, I remain hopeful—optimistic even—for the future of the Catholic Church in my lifetime.
What can God do in your life with one Bible verse a day?
Subscribe to Aleteia's new service and bring Scripture into your morning:
Just one verse each day.
Click to bring God's word to your inbox
On August 22, as news of scandals circulated through headlines, I was lying face down on the floor before the altar at the Cathedral of Our Lady of Walsingham in Houston. Soon I would kneel in front of the bishop so that he could lay his hands on my head and ordain me a priest. But while I was lying there, rather than thinking about my impending ordination, I was listening carefully for one name to be sung. Earlier in the day, I was told that I could add the name of one saint to the litany. "St. Mary of Egypt, pray for us," sang the choir, and my heart leapt in my chest.
In many ways, St. Mary of Egypt is a saint for our time. From an early age, she took pleasure in luring married men and those who were religiously devout to give up their chastity for her. It was for this reason that she traveled to Jerusalem for the Feast of the Exaltation of the Holy Cross, hoping to defile as many young pilgrims as she could on the way. But when she got there, she tried to enter the Church of the Holy Sepulchre and found that she could not. She looked at an image of Our Lady and realized that it was her sin keeping her out, so she repented in tears. After entering the church, she heard the voice of God calling her to cross the Jordan where she would find rest. She went to the Monastery of St. John the Baptist on the banks of the Jordan where she made her confession and received Holy Communion. The next day she departed to live alone in the desert where she would stay for the next half century until her death.
It was a long, slow healing process for St. Mary. She spent the first 18 years in the desert daily plagued by her passions and the temptation to return to her old life. It took intense and fervent prayer for her to change, along with humility and a deep experience of God's mercy. But by the time she met her biographer, St. Zosimas, in the last year of her life, she was so holy that she radiated.
Read more:
St. Mary of Egypt: From a life of sin to sainthood
I have had a devotion to St. Mary of Egypt for a long time. I see in her story a powerful narrative of grace that resonates with my own sense of gratitude for the way that Jesus has changed my life. She ran about as far away from God as she could and she wounded herself deeply in the process. Her transformation from sinner to saint was not instantaneous but took humility and a willingness to suffer over a long period of time. It is that kind of humility that we need in the Catholic Church today if we are going to heal from decades of dark secrets and broken promises. It is a patient, slow stripping away of our defenses that will be the only cure for what ails the willful and battered Bride of Christ.
As the news stories began to break during the week of my ordination, I wondered if I was really in the right place. Yet as a new priest, I remain hopeful—optimistic even—for the future of the Catholic Church in my lifetime.
There are great evils that need to be confronted in the culture of the Church today — secrecy, ineptitude, an unaccountable hierarchy, and a generation of anemic preaching and teaching that has robbed many people of their faith. Yet despite her great foibles, the Catholic Church has been entrusted by God with the good news that Jesus Christ has come to rescue the world from sin and death. As a priest, my one and only job is to bring people that Gospel. When everything else is stripped away from us as priests, including our pride and status, the only thing we will have left to give to the world is the truth.
There is a touching moment in the story of St. Mary of Egypt when St. Zosimas first encounters her. Right away, he recognizes her deep sanctity and knows that he is nowhere near as holy as she is. In a rare move, he asks her to bless him. She replies that he needs to bless her. They go back and forth like this for a while, but in the end, St. Mary convinced him by saying, "Abba Zosimas, you must bless and pray, since you are honored with the grace of the priesthood. For many years you have stood before the holy altar, offering the Holy Gifts to the Lord."
This—and only this—is what sets priests apart and makes them invaluable. There is nothing inherently worthy in me. I do not deserve special accolades for being a priest any more than I deserve the scorn and derision I now experience from the looks of people on the street when I walk around in my clerical collar. But it's not about me. It was never about me, or about any of my brother priests. It is about the one true priest, Jesus Christ, who works through our sinful flesh to deliver the gift of new life, found in the Holy Eucharist, to His people.
I am optimistic because I can already see the effect that the living out of a simple priesthood, in transparency and in union with the community around me, can have on the people of God. I am privileged to be chaplain of a Catholic high school where I spend every day with young people who are trying to understand their place in the world. They are not looking for anything fancy. They are as challenged by the scandals as any of us, but they are even more challenged by the weight of living in a toxic culture that demands more and more from them while giving them less and less. All they really need is a hand to bless them and to place the Body of Christ on their tongues. That may seem quite small, but it is enough to ignite their hearts and give them the strength to shoulder their burdens.
The Catholic Church of the future will be filled with powerfully holy lay people like St. Mary of Egypt who have been transformed by the light of Christ. And they will be equipped by priests like St. Zosimas who recognize that many of the laity they serve are far holier than they could ever hope to be, but who nonetheless dedicate their lives to making sure those holy lay people have all that the Lord provides. I will be forever grateful if I can spend my life being that kind of priest.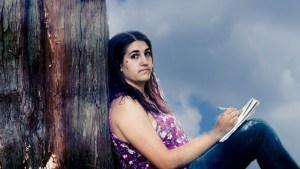 Read more:
A letter to a priest: It's an omission that I've never told you this