Here's the way to identify the two types of pain we experience -- and to find healing.
What can God do in your life with one Bible verse a day?
Subscribe to Aleteia's new service and bring Scripture into your morning:
Just one verse each day.
Click to bring God's word to your inbox
Life is messy. No matter how joyful and blessed our lives are, we will all experience emotional pain in one form or another — from the death of a parent, spouse, or child, to the injustice of poverty or the loss of employment.
But the messiness of life doesn't have to create emotional messiness — according to Wired, there are two types of pain, and only one kind is inevitable:
Cognitive scientists have a useful conceit for distinguishing two kinds of pain: clean and dirty. Clean pain is the kind all mammals experience — tissue damage, of course, but also the ache after the death of a mate or a child. Dirty pain is infinitely more common, and it shows up in humans. I'm an idiot for getting this sunburn. Why did my controlling cousin make me go to the beach?

With blame and indignation come new surges of cortisol that amplify — maybe even cause — physical pain. Shinzen Young, the mindfulness teacher, counsels dying patients to experience pain from annoyance to agony cleanly — with precision. It's a challenge, but a liberating one: to resolve the pain by removing stories about who did what to you.
I've seen this in my kids — a bump that would otherwise go unnoticed becomes an epic wound when coupled with the injustice of having been bumped by a sibling. A mosquito bite is an annoyance; but being bitten by a mosquito that was let into the house by a sibling who stood in the open door for too long is an outrage.
This particularly human trait of amplifying pain by recognizing an injustice behind it is doubtless an evolutionary trait, one that helps us form social bonds and live in society. And it's certainly useful when there is a wrong that needs to be righted, or at the very least accounted for.
Where it bogs us down is when there is no real injustice to be resolved, or when an injustice can't be resolved. Indignation that persists without a source becomes outrage, then just plain rage. Eventually the pain that inspired the indignation in the first place is lost in a quest for vengeance — often, vengeance that can't ever be satisfied.
That's when we become trapped by dirty pain. Our cortisol levels stay high as we seek (and usually find) new sources to feed that outrage. Whether it's political talk shows or bitter gossip with colleagues at the water cooler, letting ourselves become stuck in a cycle of indignation and outrage magnifies suffering — primarily our own. Blame and indignation essentially fuel suffering and prevent us from healing and enjoying the good things in life.
One way to start lessening suffering in the world is to take Young's advice, and allow yourself to feel pain without attaching it to a narrative of injustice. Even if the pain you suffer was caused by an injustice, it's vital to take what steps you can to seek justice and then let go of the blame.
I've started teaching my kids to do this by reminding them that their emotions are their own responsibility. So if they've been hurt by a sibling, that sibling is expected to apologize and take whatever steps are necessary to make reparation. But beyond that, it's not their sibling's job to make them feel better. It's their own job, and no one else can do it for them.
This is harder for adults, obviously, but it's no less vital. When life gets especially hard for me, it's tempting to retreat into the seeming refuge of blaming others and feeling miserable. But I'm slowly getting better at refusing to let my mind go there. Instead of dwelling on how unfair the circumstances are, I let myself acknowledge that things are hard and painful. Then I force myself to think about how I improve my situation and why I should want to — the why being, of course, those five children to whom I'm trying to teach this same lesson. What better way to teach than by example?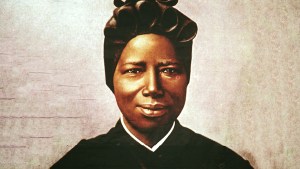 Read more:
5 Saints who lived a "luminous life" despite their painful childhoods