Man is more than a body that can die ...
Insults come as easily to us as breathing, Pope Francis lamented today. But Jesus considers them an assault to the dignity of one of his children, and thus a breach of the Commandment against killing.
With this message, the pope continued his reflection on the Fifth Commandment, picking up from his catechesis of last week, when he likened abortion to hiring a hitman.
"We have already underlined how this Commandment reveals that in the eyes of God, human life is precious, sacred and inviolable," he said. "No-one can disregard the life of others or his own; indeed man carries within him the image of God and is the object of His infinite love, whatever the condition may be in which he is called to existence."
But, the Holy Father continued, Jesus takes this Commandment much farther. "He adds that even insults and disdain can kill," the pope explained. "… This is a way of killing the dignity of a person."
Francis suggested that this teaching of Jesus should again enter "into the mind and heart," such that each of us made the resolution: "Do not insult anyone ever again."
"It would be a good intention," he said, "because Jesus tells us: 'Look, if you disdain, if you insult, if you hate, this is murder.'"
The pontiff observed that we are all "accustomed to insulting" and that an insult "comes as easily as a breath of air."
But, he said, "Think of the gravity of the insult, of contempt, of hatred: Jesus puts them on the line of killing."
An inner life
Why would Our Lord extend the Commandment to this point, the pope asked?
He said that it's because man's "hidden self" is no less important than his physical being.
A harsh sentence, a cold gesture, the betrayal of trust … all of these things hurt.
To annihilate a man, just ignore him. Indifference kills. It is like saying to the other person: "You are a dead man for me," because you killed him in your heart. Not to love is the first step to killing; and not killing is the first step to love.
Reflecting on the biblical account of the first murder — Cain killing his brother Abel — the pope noted how this indifference is the mark of killers. Cain asked, "Am I my brother's keeper?" This is how killers talk, Francis said: "It does not concern me"; "It is your business, not mine"; and similar things.
Let us try to answer this question: Are we our brothers' keepers? Yes, we are! We are each other's keepers! And this is the path of life, it is the path of non-killing.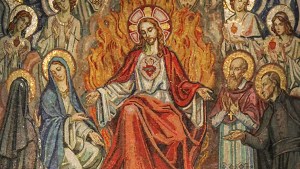 Read more:
These are the words Jesus said to renew devotion to his Sacred Heart
Pope Francis brought the catechesis to the theme of mercy, saying that mercy is the type of "authentic love" that Christ shows us and that humans need.
The love we cannot do without is the one that forgives, which welcomes those who have harmed us. None of us can survive without mercy; we all need forgiveness. So, if killing means destroying, suppressing, eliminating someone, then not killing will mean curing, valuing, including. And also forgiving.
Avoiding wrong is not enough for a human being, the pope continued. That is the existence of a plant or a mineral, but not of a human. "More is demanded of a man or woman," he said. "There is good to be done, prepared for each of us, each to his own, which makes us truly ourselves. 'Do not kill' is an appeal to love and mercy, it is a call to living according to the Lord Jesus Who gave His life for us and rose for us. …"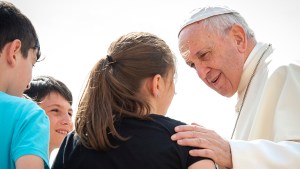 Read more:
"But, I don't do bad things": Pope Francis explains why that's not enough
He, the Lord, Who incarnating Himself sanctified our existence; He, Who with His blood made it priceless; He, "the author of life," thanks to Whom each person is a gift from the Father. In him, in His love stronger than death, and through the power of the Spirit that the Father gives us, we can accept the Word "Do not kill" as the most important and essential appeal: that is, not killing means a call to love.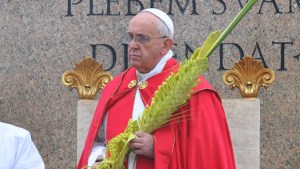 Read more:
Christ calls us to a 'difficult logic': Pope says we need to pray blessings on our enemies today
---
See the Holy Father's series on The Commandments here:
Pope points out what God says BEFORE he gives the Commandments
You probably don't think of the 10 Commandments like this! Check out the pope's amazing insight
Pope: Are you making yourself a human sacrifice to your idols?
Taking the name of the Lord in vain is much more than "OMG," explains Francis
Vacation wears us out because we don't know how to rest: Pope gives the answer
Pope explains how to find rest when you're a slave to yourself
Scarred by your parents? Pope explains why you should still honor them
Abortion is like hiring a hitman, says pope in strong defense of 5th Commandment