She saw the baby Jesus at Midnight Mass and experienced the beauty of God's love for her.
What can God do in your life with one Bible verse a day?
Subscribe to Aleteia's new service and bring Scripture into your morning:
Just one verse each day.
Click to bring God's word to your inbox
St. Faustina is best known for her miraculous visions of Jesus and his message of Divine Mercy. Yet, throughout her life she experienced many other visions that came to her in different forms. All the visions expressed the infinite love of God for humanity and the particular love God has for each individual soul.
For example, at Midnight Mass on Christmas Eve in 1937, St. Faustina saw a glorious vision of the baby Jesus. She writes about it in her Diary and describes what happened.
When I arrived at Midnight Mass, from the very beginning I steeped myself in deep recollection, during which time I saw the stable of Bethlehem filled with great radiance. The Blessed Virgin, all lost in the deepest of love, was wrapping Jesus in swaddling clothes, but Saint Joseph was still asleep. Only after the Mother of God put Jesus in the manger, did the light of God awaken Joseph, who was also praying. But after a while, I was left alone with the Infant Jesus who stretched out His little hands to me, and I understood that I was to take Him in my arms. Jesus pressed His head against my heart and gave me to know, by His profound gaze, how good He found it to be next to my heart. At that moment Jesus disappeared and the bell was ringing for Holy Communion.
It was a brief encounter, but one that communicated to Faustina and immeasurable lesson. It reinforced in her heart the immense love of God and showed to her the true meaning of Christmas.
Christmas is principally about welcoming the baby Jesus into our arms and letting him rest upon our heart. It is not surprising that this vision occurred immediately before Holy Communion, when Jesus can do exactly that. It is through the reception of the Eucharist that we can let Jesus rest upon our hearts and pour out his love for us.
As you approach the Eucharistic banquet on Christmas Day, remember this vision of St. Faustina and let it dominate your thoughts and prayers. By doing so, you can imagine the little baby Jesus opening his arms to you, waiting for you to pick him up. Then when you receive communion, you can let him rest on against your heart and receive his loving gaze.
Christmas will never be the same.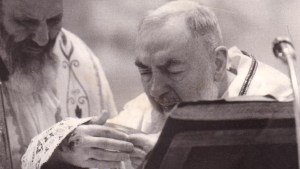 Read more:
When Padre Pio celebrated Christmas the baby Jesus would miraculously appear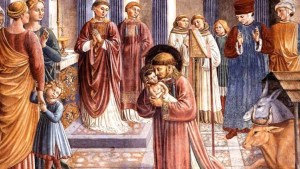 Read more:
How St. Francis invented the first Nativity scene