Little is known about the actual life of St. Donatus, but legends abound.
Arezzo is a relatively small city in Tuscany, Italy, the birthplace of the medieval music theorist Guido D'Arezzo (regarded as the inventor of modern musical notation) and also of a saint who might not be as well-known a dragon slayer as St. George: St. Donatus of Arezzo.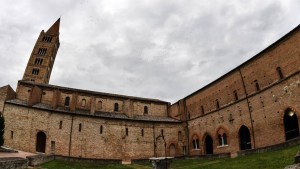 Read more:
Meet the 1,000-year-old abbey where modern musical notation was born
Plenty of different sources tell the story of St. Donatus, but most of them are of questionable historicity. As early as the 6th century, Pope Gregory the Great already knew of a hagiographical account of St. Donatus' deeds. Another source, most likely the most famous one, is that of Severinus, a bishop of Arezzo, who claims Donatus died a martyr, although some other sources explain he was also a bishop in his home town and a confessor of the faith.
Severinus claims Donatus and the Roman emperor Julian the Apostate were childhood friends, and grew up and studied together under the direction of a Christian priest by the name of Pymenius (St. Peter Damian would refer to this friendship in one of his Sermones). According to the same source, Julian would eventually be responsible for the executions of Donatus' parents, Pymenius, and Donatus himself. But before dying a martyr (according to Severinus' hagiography, at least), Donatus performed many miracles: he not only raised people from the dead and restored the sight of a young woman, but he also slew a dragon who had poisoned a well in Epirus.
The remains of both St. Donatus and the "dragon" he slayed (most likely the ribs of a large mammal) were brought to the church of Santa Maria e San Donato on the Venetian island of Murano in the 12th century, from Byzantine Greece.