And a short prayer to say before you do anything else!
As a parent, what can do with children who have rebellious attitudes, who behave rudely and challenge you?
If you noticed, I didn't say "rude children" or "rebellious children" because I'm against labeling people, especially children. We are all much more than our behavior. Even so, we can't deny that there are many children who treat their parents badly and disrespectfully—in other words, they have serious issues with authority.
There's a lot that you can do to deal with this kind of negative behavior. If what we're trying to achieve is to make sure this kind of behavior never happens again, I suggest the following. [Keep in mind that it may seem very simple, but requires the parents to have character, equanimity, and firmness.)
To begin with, when a child is having a tantrum—saying rude and insulting things—that is not the time to talk or to try to fix anything. Rather, you need to employ an intelligent, strategic silence.
You as the parent must remain calm and composed, not lowering yourself to the child's level. A good strategy is to look them in the eye and say, at most, "I'm going to pretend I didn't hear what you just said."
Most likely, the child will want to continue provoking you. Breathe deeply! Keep calm, even though you might not feel calm at that instant. Without raising your voice, say, "When you control yourself, we can talk …" and leave the room. Put a prudent space between you and the child.
Here, I want to add a parenthesis and share something that I do, and which has always worked. Right at the moment when I realize that I'm a hairsbreadth away from conflict with one of my children—or with anyone else—the first thing I do is pray this short prayer:
Just judge, in the judgment seat, I put the soul of (name of other person) at your feet. Just judge, in the judgment seat, I put my own soul at your feet.
Once things have calmed down and both parties have cooled off a bit, go have a conversation with your child.
Typically, it will go something like this:
"What did you say to me a while ago?"
Since your child will be calmer, it's possible the reply will be, "Nothing."
"Nothing? Well, let me remind you: you said such-and-such."
"Right! The thing is, you drive me crazy. Dad, you never … Mom, you always …"
Your child can go on and on, excusing his or her behavior and looking for people to blame for their actions, saying anything possible so as to avoid taking responsibility. They especially tend to blame you, the parents.
It's very important that you stop them in their tracks and say, firmly but lovingly,
"I understand how you feel, but to begin with, you can't talk to me like that, because you and I are not equals. I'm your father (or mother), and I'm not going to allow it."
This sounds harsh, but it's important to remind them where they stand. They need to understand that you are the authority figure, and that they owe you obedience.
Then, with these facts laid out, you can continue the conversation, each explaining yourself and coming to an agreement about the matter you were discussing.
If the child loses control again, you repeat the method of leaving the discussion for later.
The first rule of every household should be respect, so clearly, no lack of respect can be allowed under any circumstance. If it should happen again—if the conversation doesn't work—then you have to adopt a harsher strategy. I'm not talking about corporal punishment, but about restricting permissions and privileges. The details will depend on each household.
The worst thing we can do as parents is to let things slide, losing our temper and letting our children speak to us inappropriately as if it weren't an issue, or at least, not a big deal.
We have to deal with these situations head-on, but intelligently. If we let an instance of disrespect slip by, soon it will happen more and more often and to a greater degree. We always need to talk it over, as often as necessary, but we need to do it with understanding, empathy, and love. Also, we have to do so in a way compatible with our children's age and maturity.
So, here's the summary of what to do when your child is being disrespectful or rude:
You need to communicate clearly that vulgarity and rebelliousness are forbidden. 
Leave the room when they're having a tantrum. It's not the time to talk.
Make it clear that you aren't going to tolerate disrespectful behavior.
Pick up the conversation with them when they're calmer.
If they don't obey and they continue to be disrespectful, it's time to limit their permissions and privileges. Children need to accept responsibility for their actions.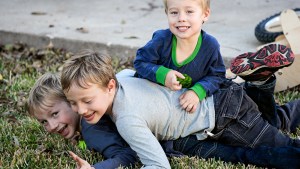 Read more:
3 Survival tips for parenting boys from St. John Bosco
Read more:
12 Tips For Raising Joyful Children