The twin sister of St. Benedict is a powerful intercessor for those desiring purity.
While little is known about the life of St. Scholastica, it is said that she dedicated herself to God at an early age. She maintained a childlike innocence throughout her life and is considered the founder of the women's branch of the Benedictine order.
Her holiness and simple trust in God is related in an incident when her prayers succeeded in delaying the travel plans of her brother. Scholastica prayed to God and a violent storm erupted that prevented Benedict from leaving their discussion.
With this in mind, many pray to her for purity, asking God to grant a similar innocence of heart and mind.
O God, to show us where innocence leads, you made the soul of your virgin Saint Scholastica soar to heaven like a dove in flight. Grant through her merits and her prayers that we may so live in innocence as to attain to joys everlasting. This we ask through our Lord Jesus Christ, Your Son, Who lives and reigns with You and the Holy Spirit, One God, forever and ever. Amen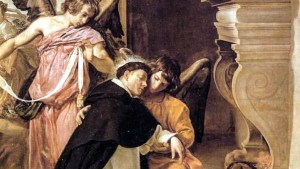 Read more:
This Novena for Purity finds inspiration in St. Thomas Aquinas
Read more:
Prayer to St. Lucy against the temptations of the world, flesh and devil