The truth came out on a business trip, and it was almost too incredible to believe.
Antonio Nunes is 35 years old, and his friends call him Tonho (pronounced "TON-yo"; "Tony" in Portuguese). He's Brazilian, from the southern state of Santa Catarina. This past February, his life took the sort of improbable twist that you would expect in a movie, but not in real life: he discovered that an employee he had recently hired for his company was none other than his own youngest brother, whom he had never met.
Tony's mother didn't have the resources to raise her three children—Tony, Jefferson, and Maicon—so she entrusted her first son Tony to her own parents, and later, the middle child and the youngest, in turn, were placed for adoption, each to a different family.
Tony and Jefferson found each other nearly three years ago, because Jefferson's adoptive family knew who Tony's parents were. Together, Tony and Jefferson began to search for their youngest brother, whom they had never met because by the time Maicon was born, his two older brothers had already been entrusted to their new families.
The only hint they had about Maicon's whereabouts was, unfortunately, vague: they knew that his adoption had been managed by an intermediary, a hairdresser who also happened to work at the bus station in Blumenau at the time. When they spoke with her about it, they learned that the last time she had seen Maicon was when she ran into him by coincidence not long before, at a school on election day.
The incredible discovery of the lost younger brother
Tony, who owns a natural gas distribution company, used to make some deliveries in person. One of his clients was a company whose representative was named Maicon Luciani. Tony and Maicon became friends. At the end of 2018, Maicon lost his job and when Tony found out, he contacted him to offer him a job. Maicon accepted his friend's offer, and began to work with Tony this past January.
In February, Tony needed to go on a business trip to a neighboring state, and he asked Maicon to accompany him so he could learn the ropes of the business. During the long hours of conversation on the road, Maicon mentioned that his last name before he was adopted was also Nunes, like Tony.
Tony himself tells the rest of the story, with contagious joy, in an interview with the Brazilian news website NSC:
"He went on to say that the name of his biological mother was Sulimar, and that he'd been adopted through the mediation of a hairdresser who worked at the bus station. That's when I asked, 'Was your father's name John?' He said, 'Yes.' I asked him, 'Did you happen to meet the hairdresser on Election Day at the school?' He said, 'Yes.' So then I said, 'Buddy, you're my brother!'"
Of course, it was difficult for them both to believe at first, but it was undeniable: all Tony's information was correct (and the two of them share a strong physical likeness). Tony, astonished and amazed, reflected on the surprise that life had in store for them:
"So close, and at the same time, so far away! It's a strange sensation …  We always lived in neighborhoods that were next to each other! I had always been looking for him, and the thought never crossed my mind that the guy was right next to me!"
Indeed, throughout their entire lives up to that point, the two brothers had never met, yet they lived only about three miles apart.
They say that "friends are the family you choose." Tony and Maicon are witnesses that, through the mysterious plans of God, sometimes "family is the friends we choose"!
Read more:
Given away in a box as a baby, Brazilian judge is now an adoption advocate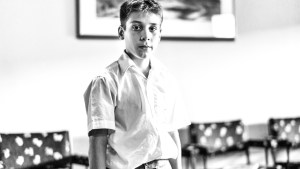 Read more:
After 70 years, finding a brother I didn't know I had