It's about a lot more than thriftiness and warm blankets.
Most of us are familiar with patchwork, whether it's thanks to a handmade quilted bedspread passed down from a grandmother, or a trendy jacket we bought on Etsy. While quilts are perhaps the most common application of patchwork, this technique of sewing multiple pieces of cloth together to form a larger design is also used to make tablecloths, cushion covers, tapestries, and clothes, among other things. The overall design can include everything from abstract geometrical patterns on rectangular or hexagonal grids (for example), to landscapes or irregular designs.
Patchwork has often been used as a thrifty way of making use of cloth scraps, but it also has taken on meaning as a form of artistic expression, creating works that often end up being passed on as a family heirloom. It's a technique practiced all around the world, dating back thousands of years.
Although the industrialization of the production of textiles dealt a blow to the tradition of hand sewing patchwork quilts and similar items, the art has had something of a resurgence in recent decades. Especially in developed countries, it's rarely a matter of necessity or frugality, taking advantage of old clothes to create something new; it's an art and a hobby that connects its practitioners to the long tradition of our ancestors, and a technique that can dazzle crowds with its amazing results.
Practicing the art of patchwork has various benefits for its practitioners, beyond resulting in a colorful, unique, and often useful item:
It combines moments of peace and solitude with opportunities for conversation and socializing.
You can sew your quilt alone, spending hours in quiet concentration or listening to music, an audio book, or a podcast. This can help you disconnect from your worries, reflect calmly, and come up with solutions for problems that keep you up at night. Working on patchwork can help you distance yourself from situations so you can be more peaceful and objective.
At the same time, though, patchwork has a strong social component: you can talk with other people (especially fellow aficionados) about how your work is going, you might join a class or a quilting club to learn the technique, or you could just get together informally with friends at your house to spend an afternoon sewing.
You can talk about anything you want while you work, and the bonds of friendship that you weave around patchwork can be very strong.
It's therapeutic.
Sewing patchwork can help you overcome depression, stress, and anxiety. It also can help your self-esteem, because it helps you see that you're able to create something beautiful and unique.
A hobby such as patchwork is highly recommendable for people recovering from an illness such as cancer. With arts and crafts of this sort, you can set your own goals and deadlines, if you want to, but that's up to you. You can work slowly when your health and tiredness don't allow you to do more. You don't need to go anywhere to do it; you can do it at home or in a hospital bed. When, as you recuperate, you become able to go outdoors or to someone else's house, you can bring your patchwork and continue working there.
It's a form of artistic expression.
Maybe you don't dare try painting or drawing, but through patchwork you can still discover your artistic side. You can create your own patterns and choose the shapes, colors, and textures you want to use. In the end, a quilt can be as beautiful as a painting in a museum.
It makes a contribution to your family.
Sewing a quilt means putting together, little by little, something that in the end will be a treasure for the whole family. Patchwork items become heirlooms passed from generation to generation. They become an important presence in the bedroom or on the sofa, forming part of the environment we love the most. Making a patchwork quilt isn't just about making a blanket, but about creating an environment and sending a message of love.
It's a form of "slow living."
If you're interested in the "slow living" philosophy, quilting is a great hobby for you. It's as much about the process as it is about the result. You can dedicate as much time as you want to your sewing; it's not a race. You savor the work, and the goal is to make something that will last and be cherished, not simply used and discarded.
Patchwork ties you into a millennial tradition of creativity and practicality, of contemplation and fellowship, of sharing and learning. You can start with something simple, such as small towels or a table runner for the dining room, and little by little you can progress to sewing more complicated and larger designs. No matter the size of what you're doing, it becomes a gift of time: every hour and every minute you spend sewing a patchwork article for your family or friends, you are gifting them with irreplaceable moments of your life.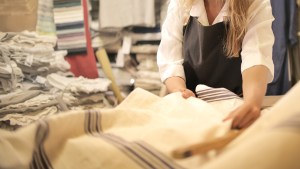 Read more:
Meet the man who's turning fashion industry waste into beauty (VIDEO)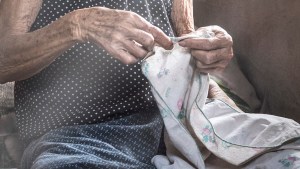 Read more:
The day I saw a homeless woman wearing one of my family heirlooms