Artist Joseph Daigle won first prize for his faithful recreation, using gummy bears as stained glass.
The Newark Arts Alliance's gingerbread house competition is only two years old, but it draws some exceptional artworks. This year's winner is Joseph Daigle, who constructed a beautiful and faithful gingerbread replica of Notre Dame de Paris.
The shape of the cookie-based structure is unmistakable, complete with flying buttresses and the famous rose window. For stained glass, which appears in every window of the replica, Daigle used gummy bears. A series of LED lights illuminates the colorful confectionery from the inside. Daigle also included the famed Notre Dame spire, which was consumed by the 2019 fire.
The Newark Post reports that the project was completed by Daigle with the help of his parents. The trio worked on the gingerbread Notre Dame for 6 days, accumulating an estimated 120 man-hours.
First prize
On the Newark Arts Alliance competition page, they list three prizes: $100 for "Best of Show," another $100 for "People's Choice," and $50 for "Honorable Mention." Daigle's Notre Dame has won "Best of Show" and is expected to win the "People's Choice" as well. The "Honorable Mention" went to a piece titled "Dog House."
This is the second time Daigle has won first prize at this competition. Last year, during the inaugural event, Daigle submitted a replica of Frank Lloyd Wright's "Falling Water." The Notre Dame piece was much larger in scope and scale, leaving event organizers to wonder how he will top himself next year.
The Newark Arts Alliance gingerbread competition will put pieces up for auction to raise funds.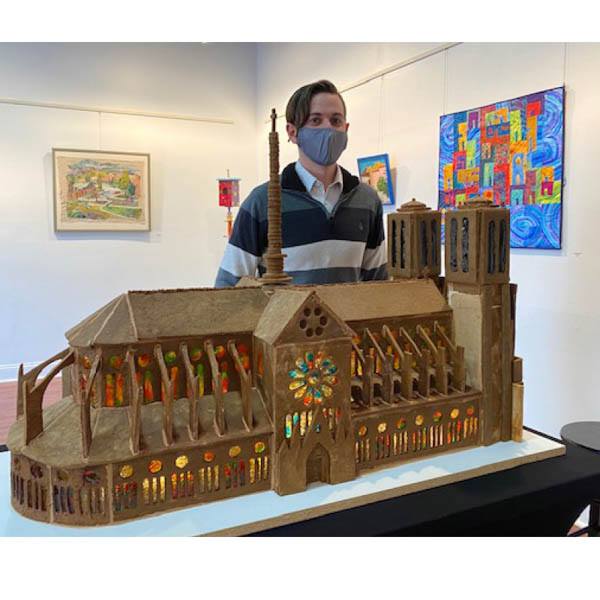 Launch the slideshow