The dad-of'nine quits the Colts to move on to another rewarding career.
At 39, the quarterback Philip Rivers has announced his retirement from a career that fulfilled one of his "childhood dreams." After 17 years, which included 16 seasons with the Los Angeles Chargers and a final season with the Indianapolis Colts, the dad of nine has decided to put his football skills to other use, as reported by ESPN.
Although the Colts coach Frank Reich had hoped Rivers would stay on for another season, the athlete will instead be heading to St. Michael Catholic High School in Fairhope, Alabama, to coach football to students — including his own sons. With this decision, Rivers continues a family tradition: his dad, Steve, was actually a head coach for many years and passed on his own skills to a young Phil (he's also in the Alabama High School Sports Hall of Fame).
It was only last year that Rivers shared, "I (had) two childhood dreams. One was playing in the NFL. I still love that. The other was to be a high school football coach as my dad was."
Tradition is also very much at the heart of Rivers' announcement on January 20. While it marked the 13th anniversary of when Rivers tore his ACL during a game where the Chargers' lost to the New England Patriots in the AFC Championship Game, it was also a day that has a more Christian meaning to him:
"Every year, January 20 is a special and emotional day. It is St. Sebastian's Feast day, the day I played in the AFC championship without an ACL, and now the day that after 17 seasons, I'm announcing my retirement from the National Football League. Thank you God for allowing me to live out my childhood dream of playing quarterback in the NFL."
St. Sebastian is considered the patron saint of athletes and holds a special place in Rivers' heart.
In his announcement to the Union Tribune on Tuesday night, the devout Catholic not only gave gratitude to God, but to a number of people important to his success:
"Thanks to the fans in San Diego and around the nation that both cheered and booed. Special thanks to my teammates. Without a doubt my favorite part of the game, being a teammate. Thank you for being mine."
Finally, the NFL legend gave thanks to his own personal team of supporters who've motivated and inspired him throughout his incredible football career, and his life as a loving father and husband.
"Lastly, thank you to my wife and best friend Tiffany, and our children Halle, Caroline, Grace, Gunner, Sarah, Peter, Rebecca, Clare, and Anna. Could not have done it without y'all's unwavering support."
While he may be hanging up his Colts football jersey, there's no doubt Rivers will continue to don his much-loved baseball cap with the motto "Nunc Ceopi." Its meaning "Now I begin" will hold even more importance to the athlete who has proudly shared his faith for all to see through his many triumphs and defeats over nearly two decades.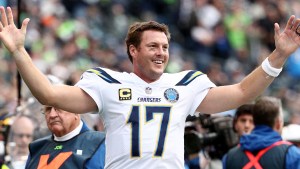 Read more:
Keys to raising big, happy family from QB Philip Rivers