A closer look at what's behind the namesakes of the Loyola Ramblers and Gonzaga Zags.
Gonzaga University and Loyola (Chicago) are in the NCAA basketball tournament, hoping to win it all. Just as the Gonzaga Zags and Loyola Ramblers demonstrate heroism on the court, the saints after which these schools are named can teach us about heroism amidst COVID.
Granted, COVID was undiscovered when Ignatius Loyola and Aloysius Gonzaga lived in the 16th century. But both of these gentlemen coped with plague, and both offer lessons relevant for today.
Ignatius Loyola was born in the Basque region of today's Spain and aspired to military glory. But that plan was shattered along with his leg, in a 1521 battle. That trauma catalyzed a profound religious conversion and his plan B: a journey to the Holy Land, beginning with a pilgrimage to the famous shrine of Montserrat, an arduous journey of about two months across hundreds of miles of difficult terrain.
Along the way, the saint-to-be wasn't hailed as a pious hero on a noble venture. See, 16th-century pilgrims didn't flash credit cards and check into hotels for hot baths after each day's trek. Rather, they begged for food, rarely bathed, wore the same outfit day after day, and often slept out in open fields. Imagine what Ignatius looked and smelled like after a few weeks.
Unsurprisingly, he was often shunned. City guardians refused him entry to at least one town along his route, terrified that this unkempt vagrant was carrying plague and would, in today's parlance, be a "super spreader" among their community. He had to pass the night outside the city walls before continuing on his way.
Too bad Ignatius hadn't encountered someone like Aloysius Gonzaga, our other NCAA tourney-connected saint. Gonzaga, born into a wealthy family a decade or so after Loyola had died, was so drawn to the Jesuits that he renounced rights to a sizable inheritance to join the religious order before even reaching the age of 18.
As it turned out, inherited wealth was the very least of what Gonzaga eventually sacrificed. A horrific plague swept Rome in 1591. People of means fled the city to protect themselves (just as some wealthy New York City residents decamped to the Hamptons as COVID descended).
Not Gonzaga: while others fled, he leaned in, so to speak. He tended plague victims on Rome's streets, sometimes carrying the afflicted to hospital on his back. He knew he was putting himself at enormous personal risk, similar to tending to COVID patients without wearing protective garb today. Predictably, Gonzaga himself contracted plague and soon after died.
What lessons might we learn from these two? Gonzaga should inspire us to generosity of spirit. Of course, we need to take prudent steps to protect our own health; that's essential. But Gonzaga's (admittedly extreme) example underscores how a worthy life must transcend self-interest to focus on others, especially those who suffer. In this COVID era, we might ask: Are we making an extra effort to stay in touch with elderly, isolated neighbors? Are we offering to shop for health-compromised friends who are afraid to shop for themselves? Do we offer to prepare a meal for the over-burdened single parent who is juggling homeschooling and work?
To use a basketball analogy: Neither Gonzaga nor Loyola will win if each player focuses only on himself and neglects the team. So too, a winning human life involves proactive care for others.
And the lesson from Loyola? He inspires resilience, of course, and reminds us to keep persevering as life challenges throw us off course and shunt us to Plan B.
But, importantly, he warns us against being judgmental. Many of us pass unkempt people on the street daily. As they beg for food or money, we may shun them as unworthy of support or even of eye contact. The bedraggled Loyola outside those town gates should remind us that these folks we meet daily are no less God's children than we are. Therefore, they are our brothers and sisters. Heck, one or more of them might someday be named a saint, as Loyola was.
So, as the NCAA tournament opens: Go Loyola Ramblers! And Go Gonzaga Zags! I hope both teams play heroically. But you know something? The real heroes are the guys those two schools were named after. Let's learn from them as we navigate the COVID era.
Chris Lowney is author of Heroic Leadership; follow Chris Lowney on Twitter,Facebook, and www.chrislowney.com.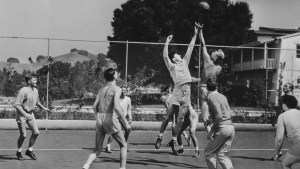 Read more:
How a Christian invented basketball