Lord, forgiveness for so much cruelty ... Where was God in those days? Why was he silent? ... From plague, from famine, from fire and from war ... and from war, deliver us, Lord.
Popes John Paul II and Benedict XVI, from Poland and Germany, respectively, lived World War II from the depths of their own personal and family experiences. In their footsteps, Pope Francis made a visit to Auschwitz a priority.
Auschwitz was liberated on January 27, 1945. That date is marked each year as Holocaust Remembrance Day.
Francis: Lord, forgiveness for so much cruelty
Pope Francis visited there in 2016.
Francis paused to pray in silence in Roll Call Square, where prisoners were hanged and where St. Maximilian Kolbe offered his life in exchange for that of another prisoner.
After being received at the doors of the "hunger cell," the location of the martyrdom of St. Maximilian Kolbe, by the Superior General and Provincial of the Franciscan Order of Friars Minor Conventual, he entered alone into cell 18 of the underground part of Block 11, where the Polish priest died. Hunger was one of the many forms of death penalty that existed in Auschwitz. The prisoners, chosen from the block or working group from which a prisoner had escaped, were condemned to a slow death in the camp's hunger cells. There is now a commemorative plaque and a candle, given by St. John Paul II, in the cell of St. Maximilian Kolbe.
Upon leaving, the Pope signed the Book of Honour with the following words: "Lord, have mercy on your people, Lord, forgiveness for so much cruelty" Franciscus, 29.7.2016.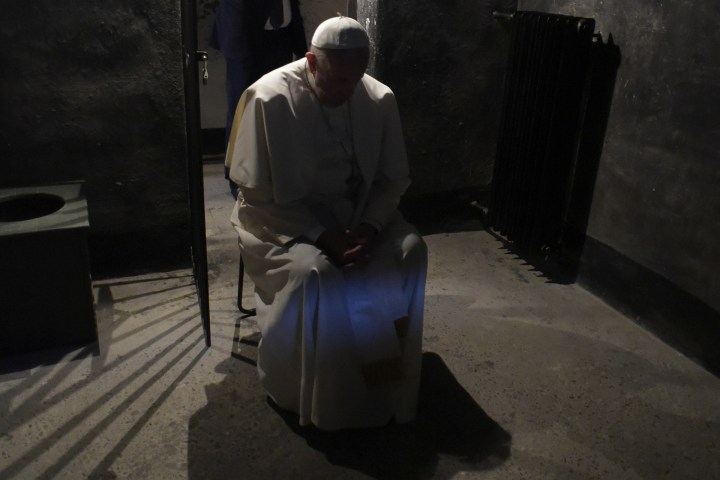 Osservatore Romano | AFP
Benedict: Where was God in those days?
Pope Benedict XVI had visited 10 years before, in 2006. Among his considerations, he said:
Pope John Paul II came here as a son of the Polish people.  I come here today as a son of the German people.  For this very reason, I can and must echo his words: I could not fail to come here.  I had to come.  …

How many questions arise in this place!  Constantly the question comes up: Where was God in those days?  Why was he silent?  How could he permit this endless slaughter, this triumph of evil?  …

We cannot peer into God's mysterious plan – we see only piecemeal, and we would be wrong to set ourselves up as judges of God and history.  Then we would not be defending man, but only contributing to his downfall.  No – when all is said and done, we must continue to cry out humbly yet insistently to God: Rouse yourself!  Do not forget mankind, your creature!  And our cry to God must also be a cry that pierces our very heart, a cry that awakens within us God's hidden presence – so that his power, the power he has planted in our hearts, will not be buried or choked within us by the mire of selfishness, pusillanimity, indifference or opportunism …

The place where we are standing is a place of memory, it is the place of the Shoah.  The past is never simply the past.  It always has something to say to us; it tells us the paths to take and the paths not to take.  …

At Auschwitz-Birkenau humanity walked through a "valley of darkness".  And so, here in this place, I would like to end with a prayer of trust – with one of the Psalms of Israel which is also a prayer of Christians: "The Lord is my shepherd, I shall not want.  He makes me lie down in green pastures; he leads me beside still waters; he restores my soul.  He leads me in right paths for his name's sake.  Even though I walk through the valley of the shadow of death, I fear no evil; for you are with me; your rod and your staff – they comfort me … I shall dwell in the house of the Lord my whole life long" (Ps 23:1-4, 6).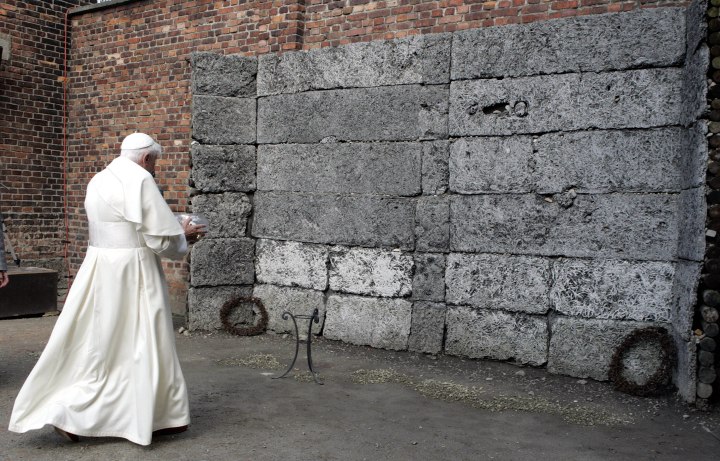 Photo by PIER PAOLO CITO / POOL / AFP
John Paul II: War never again
Pope John Paul II visited the death camp in 1979, very soon after his election. In his native Poland, it was a place he'd been too many times, as he noted:
I am here today as a pilgrim. It is well known that I have been here many times. So many times! And many times I have gone down to Maximilian Kolbe's death cell and kneeled in front of the execution wall and passed among the ruins of the cremation furnaces of Birkenau. It was impossible for me not to come here as Pope.
John Paul II quoted his predecessor, Paul VI.
Therefore I would like to repeat in this place the words that Paul VI pronounced before the United Nations Organizations: 
"It is enough to remember that the blood of millions of men, numberless and unprecedented sufferings, useless slaughter and frightful ruin, are the sanction of the covenant which unites you in a solemn pledge which must change the future history of the world: No more war, war never again. It is peace, peace which must guide the destinies of peoples and of all mankind" (AAS 57, 1965, p. 881).
He concluded his address like this:
I speak not only because of those who died, the four million victims of this vast field, I say it in the name of all the nations whose rights are being violated and forgotten. I speak, because it obliges me, obliges all of us – to the truth. I speak, because it obliges me, it obliges all of us, to care for humanity.

And because of this, I ask all who hear me, that you focus, that you focus all your powers for the care of the human being. But those who listen to me with faith in Jesus Christ, I ask you, to focus in prayer for peace and reconciliation.

My dear brothers and sisters, I have nothing more to say. 

I call to mind the words of the supplication: 

Holy is God! Holy and strong! Holy Immortal One! From plague, from famine, from fire and from war 
… and from war, 
deliver us, Lord.
Amen.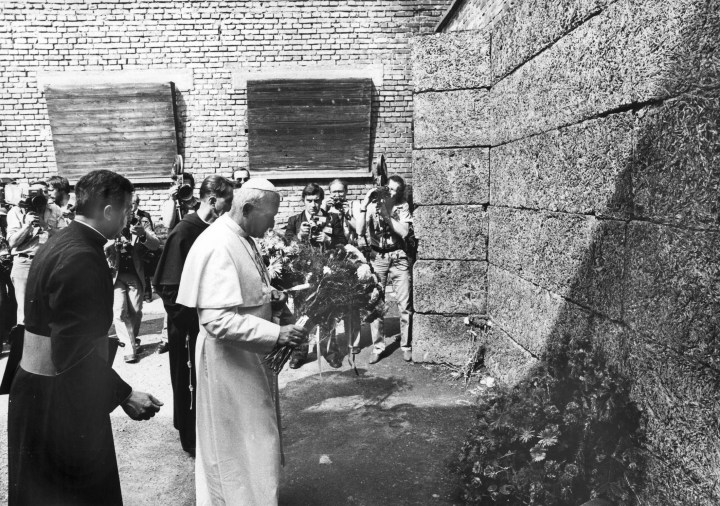 AFP