"Ultimately, his answer said more about him than anything else - about who he is as a person by nature and by vocation."
Young couples dream of a perfect wedding day. But having your wedding celebrated by an eminent cardinal who is soon to become pope would seem a dream that couldn't come true.
Unless you are Anthony and Marta Valle. They aren't family or close friends of Joseph Ratzinger, but they had the honor of having him as the celebrant at their wedding.
Aleteia asked Anthony to tell us how it all came about …
Aleteia: How did you come to know Benedict well enough that he celebrated your wedding? 
Valle: Well, the answer to your question is precisely the key that opens us up to a clear view of who Joseph Ratzinger-Pope Benedict XVI really is as a person. To begin, the fact is, we barely knew him at all. We had read some of his works, attended some of his Masses, and held him in high esteem, but we had no previous relationship with or special connection to him that serves as a clear reason as to why he celebrated our wedding. We were essentially outsiders or newcomers in relation to him, two ordinary pontifical university students at the time with no claim to nobility, aristocracy, or anything else considered special or unique. 
That said, here's how the ball was set in motion. Before I proposed to my now wife Marta Valle, I was inspired to ask Cardinal Ratzinger to bless the engagement ring after one of his Masses, which he gladly did and we then exchanged a few brief words. After our engagement, my then fiancée and I went to the cardinal's weekly Mass, celebrated every Thursday at 7 a.m. inside the Vatican and open to the entire public for anyone wishing to attend. After he celebrated Mass with his usual reverence and characteristic simplicity, we met and briefly spoke with him as did many others who attended the Mass. We left the little chapel, passed under an arch, turned toward each other misty and starry-eyed, simultaneously saying, "Wouldn't it be great if he could celebrate our wedding Mass …", and then laughed aloud together.
Aleteia: So you began to attend his weekly public Mass regularly? Did he come to recognize you then?
Valle: Given the fact that we lived a considerable distance from Rome, we could not attend his weekly public Mass as regularly as we would like to. However, the next time we went, Cardinal Ratzinger, after spending some quiet prayer time in the sacristy after Mass as was his custom, emerged in a simple black cassock and in his typically timid demeanor. He was immediately greeted by a sizable contingent of enthusiastic people from practically everywhere, some seeking his autograph, others to snap a picture, and others to speak to him. He then began to talk to and take an eager interest in each individual person, family, and group who were there to see him, answering questions in their various languages, asking some of his own, cracking a joke occasionally, but always focusing his entire attention upon each individual person in a very gentle, devoted, and pastoral manner. 
It was our turn. "Do you remember us?"
"Yes," he replied. 
"We have a favor to ask of you." He waited patiently in silence. "Would you celebrate our wedding Mass?"
"Well, let's see what we can do. The best thing would be to put your request in a letter, including some possible times, dates, and places."
We responded: "Actually, we already have a letter prepared with several possibilities," and judging by his reaction our preparedness surprised yet simultaneously delighted and impressed him.
Within a week, Marta received an envelope from the Congregation of the Doctrine of Faith. Opening it, we read, stunned, "Yes." So, to answer your question, he did recognize and remember us, but we did not know each other well enough yet for him to grant our request of celebrating our wedding Mass. We were simply inspired to ask and he simply said yes. I guess one could view it as a case of providential luck, though such a notion is theologically suspect. So, as with many things in life, one is left with the Holy Spirit as the most likely explanatory factor. His yes to our request certainly did not hinge on my qualities or connections. Ultimately, his answer said more about him than anything else, about who he is as a person by nature and by vocation, namely, a pastor of souls, a humble worker in the vineyard of the Lord. 
Ultimately, his answer said more about him than anything else, about who he is as a person by nature and by vocation, namely, a pastor of souls, a humble worker in the vineyard of the Lord. 
Aleteia: Did you meet with him before the wedding? How did he know anything about your readiness for the sacrament?
Valle: Before the actual wedding, Cardinal Ratzinger requested a personal meeting with us in order to get to know us better and to discuss the sacrament of marriage.  His exemplary assistant Monsignor (now Archbishop) Georg Gänswein informed us we would have only 10 minutes for the meeting due to his packed schedule. When the door to the cardinal's office opened, he warmly greeted and received us, and to our surprise our meeting with him concluded about 45 minutes later. Being talkative and inquisitive throughout, it was rather he than we who exceeded the set time limit. So much for German punctuality and sticking to rules. Bavarians like him have a bit of leeway with this.
We had a wonderful conversation with him about various topics, our backgrounds and families, our studies and life plans, theology and spirituality, liturgy and sacred music, and naturally the sacrament of marriage itself.
Aleteia: And then, what happened next after your personal meeting with then Cardinal Ratzinger? 
Valle: A back-and-forth correspondence with Cardinal Ratzinger continued via Msgr. Gänswein who would be the master of ceremonies at our wedding Mass. There were many significant details that needed to be discussed, organized, and the cardinal had to be apprised of them beforehand: the 10 priests in addition to the cardinal and his assistant who would also be there to celebrate the wedding Mass; the choir who would sing primarily in Latin chant; and the prayers of the faithful that would be in the four languages representing our own backgrounds – Polish, German, English (USA), and Croatian. Even at its best, wedding planning can become a trial of nerves for the two spouses and respective families. Factor a cardinal into that mix and you're asking for trouble. To minimize the attendant noise and edginess, we made a pre-marriage retreat to keep our hearts set on each other and our focus on Christ, and, thankfully, everything went off without a hitch. 
On the morning of June 24, 2004, we were brimming with love and joy since we were about to receive the sacrament of matrimony in the Eternal City, be wedded to each other in Christ in the heart of the Church at St. Peter's Basilica. All that together was in itself more than enough for us to take in and certainly more than I deserved.
But in addition to this, the primary ecclesiastical witness of the sacrament and the priest celebrating our wedding mass would be Joseph Cardinal Ratzinger. Of course, while it is the spouses themselves who administer the sacrament of marriage to each other and the focus is and should be on them and the sacrament and not the priest, it was and still is a gift and mystery that the most significant and busiest priest in the Catholic Church after Pope John Paul II took his time out that Thursday morning to celebrate a nearly two-hour nuptial Mass in St. Peter's for an ordinary and unknown couple and give the hundred people present from many different countries a profound, half-hour homily.
One could argue, Ratzinger clearly should not have done so since there were certainly many more urgent matters awaiting him given the stature of his office and person. But such an act, as many other people have testified by their own personal stories of him, encapsulates the essence of Joseph Ratzinger-Pope Benedict XVI in one word: priest.
Aleteia: Is that homily available to the public?
Valle: We have the original homily recorded and transcribed in German and translated into English. It needs work and I plan to submit it for publication in the future. That said, there is an unofficial translation in the following two sources. To make a byzantine story short – if that's possible – a German friend of ours had only the English we translated from the original German and he translated it back into German from our English translation which is found here.
An unofficial English translation is here.
We were not upset about all this retranslation and unofficial publication of the homily, but quite surprised since no one had asked or notified us. As of now, there is no official German or English version of the homily, but we will remedy that by publishing both in the future and those will be the official and final ones.
Aleteia: So was the wedding Mass the last of it?
Valle: No. After the wedding, a package arrived to us out of the blue from the Vatican and sent by Joseph Ratzinger. Stunned again, we opened it to find a special, limited author's edition of one of his recent books. A wedding gift. Opening the volume, we saw he addressed it to us in his own handwriting, congratulating us on receiving the sacrament of matrimony and adding a few other personal and gracious words of his own.
After we discovered he was elected pope, with so many others throughout St. Peter's Square and the world we were ecstatic. As he passed by in the popemobile in the coming days, we made sure he heard and saw us by yelling very loudly and clearly in German, "Long live the pope!" Over the following years, we had a few personal audiences with him and with the added blessing of our children present, and we also shared some letter correspondence with him as well.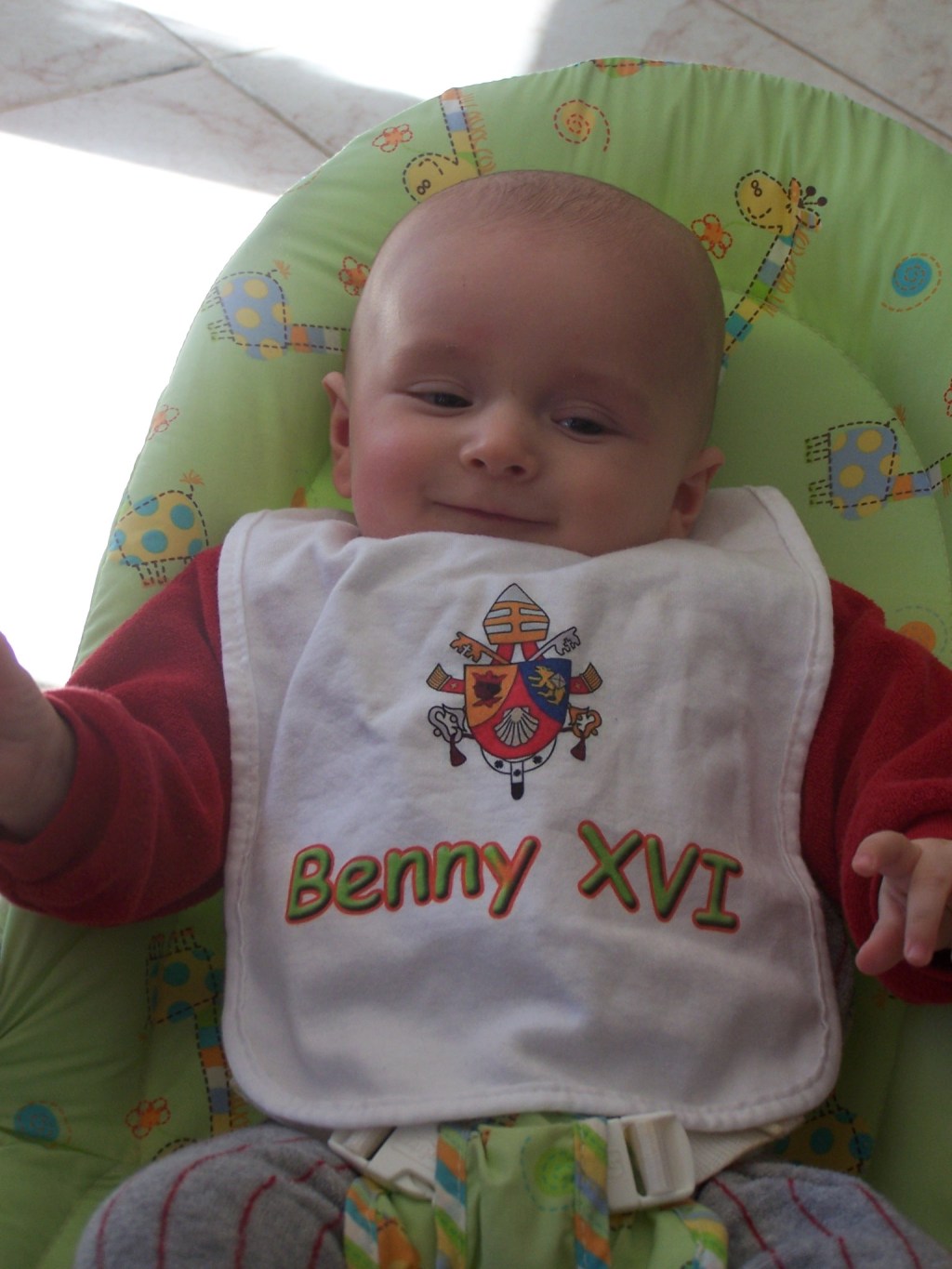 Courtesy of Anthony Valle
We are of course very thankful to him for all the above but — and here is the takeaway for anyone reading this interview: This was not the one time Joseph Cardinal Ratzinger-Pope Benedict XVIdid somethinglike celebrate the wedding of a couple he barely knew. More importantly, this should be remembered as only one of many times that he habitually lived out selfless acts of charity and heroic virtue on behalf of many other people throughout his life, being from beginning to end, a Servus servorum Dei/Servant of the Servants of God.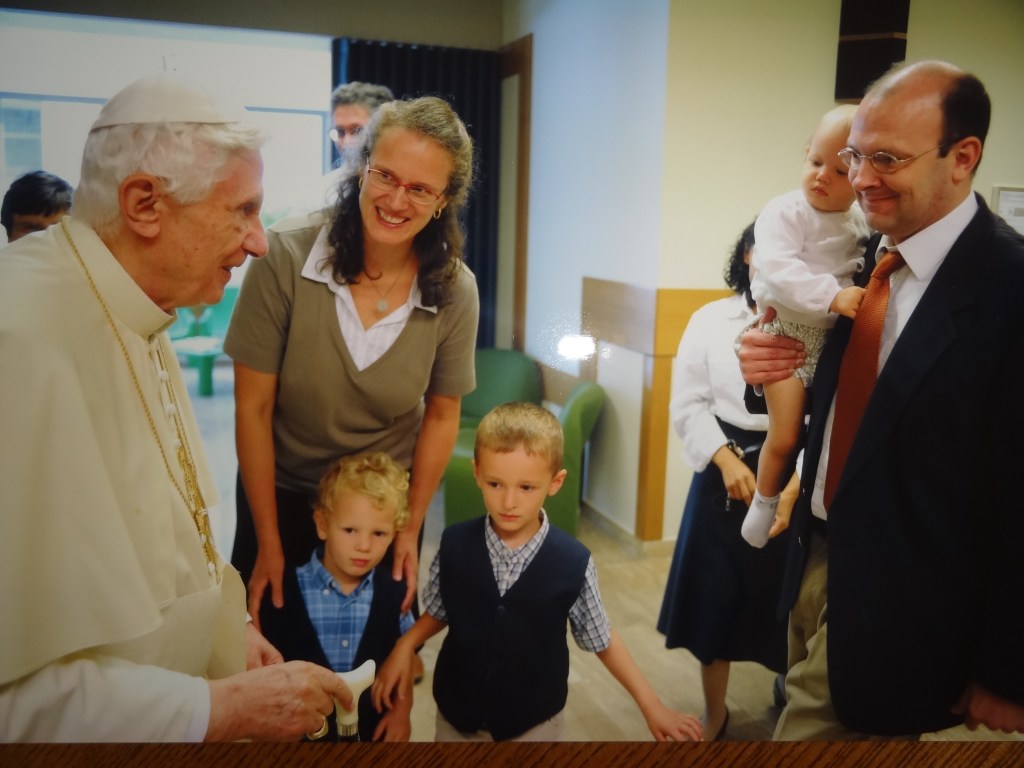 Courtesy of Anthony Valle
~
Anthony Valle is a graduate of the University of Notre Dame and Columbia University, a recipient of the Fondazione Vaticana Joseph Ratzinger-Benedetto XVI award, and a member of the Neuer Schülerkreis Joseph Ratzinger/Papst Benedikt XVI. He lives in the USA with his family.
The Neuer SchülerkreisJoseph Ratzinger/Papst Benedikt XVI. is an international group of scholars committed to researching the work of  Ratzinger/Benedict and to continuing his theological approach by promoting theological science and research in the spirit of his theology.