An infant saved from rubble who grew up to love Our Lady is the benefactress of this fascinating church.
What can God do in your life with one Bible verse a day?
Subscribe to Aleteia's new service and bring Scripture into your morning:
Just one verse each day.
Click to bring God's word to your inbox
A little church, dedicated to Our Lady of Atocha (in Maltese Madonna ta' Antijokja aka il-Madonna Tas-Samra – The Dark Madonna), is situated on a low hill known as Atocia. It was built in 1630.
Atocia Hill (formerly known as Braxia Hill) is the oldest part of Ħamrun. On this Hill, the Maltese insurgents against French rule (1798—1800) placed one of their artillery batteries in their blockade of Valletta. The altar piece is a faithful replica on canvas of the wooden statue of Our Lady of Atocha (Nuestra Señora de Atocha), venerated in the Royal Basilica of Atocha in Madrid.
The image depicts Our Lady with a "moreno oscuro, cuasi negro" complexion (dark almost black). Therefore, it became known as Il-Madonna s-Samra (the dark Madonna), and the namesake stuck up to this very day, also giving its name to the church and the area where it is found.
Our Lady of Atocha is lost in the midst of time
Our Lady of Atocha, whose parish is in Madrid, is the "mother" of the very popular Niño de Atocha, who according to some legends, escaped from his mother. Another legend has it that the Niño brought food and drink to Christians incarcerated by the Moors at a place called Atocha. The parish was entrusted to the Dominican Order in 1523, and still is today.
Originally a hermitage, it became a sanctuary of modest dimensions, intentionally kept small by the then-Moorish rulers. In 1863, it was elevated to Basilica by Pope Pius IX. However, the image of Our Lady of Atocha is much older. Ildephonsus of Toledo mentioned its existence in the seventh century and pointed, in his description, to the apple in Mary's hand.
Atocha is mentioned in the 13th century Cantigasde Alfonso el Sabio. Also, given the mysterious history of the image, some aficionados have attributed its origin to Saint Luke.
Our Lady of Atocha is a secondary patroness of Madrid, together with the Virgin de la Paloma. The principal patroness is Our Lady of Almudena.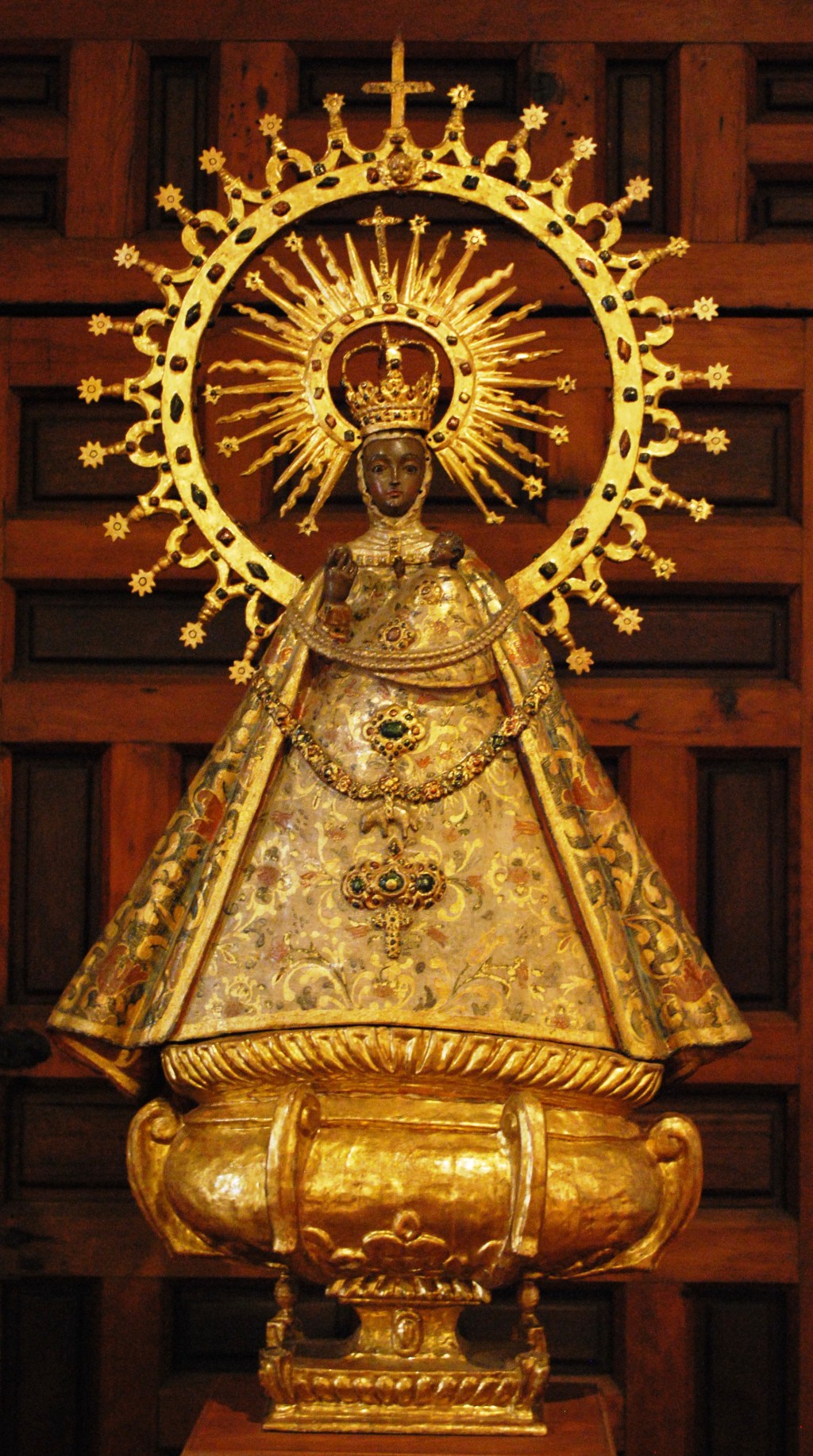 A Maltese home for the Holy Image
The Tas-Samra Church was built at the expense of Giuseppe Casuari, a wealthy merchant from Birgu (renamed Città Vittoriosa after the victory of the Great Siege of 1565) and his wife Isabella nee Spinaci, also from Birgu. As a great devotee of the Blessed Virgin, it was Isabel who wished that the church be dedicated to Our Lady. She believed that it was through Our Lady's intercession that she was saved from certain death. Isabel often recounted how her relatives had told her that during the attacks of the Ottomans in the Great Siege of 1565, when she was still a baby, the house where she was staying collapsed. Everyone had given up hope that baby Isabella could have survived, but the impossible happened – she was found alive under the rubble and debris! Her relatives were convinced that it was their prayers to Our Lady that had saved her, and Isabel grew up with a great love for the Blessed Virgin Mary.  
Due to his business, Giuseppi visited Spain very often, and in 1603 he had acquired the exquisite painting of Nuestra Señora de Atocha. At first, the couple kept the image in their home, but in reality, their earnest desire was to place it in a church where it could be venerated by all the Blessed Virgin's children. An abandoned and derelict chapel, dedicated to San Nicola di Bari, located in an area at the time called Braxia Hill, got Giuseppi's attention.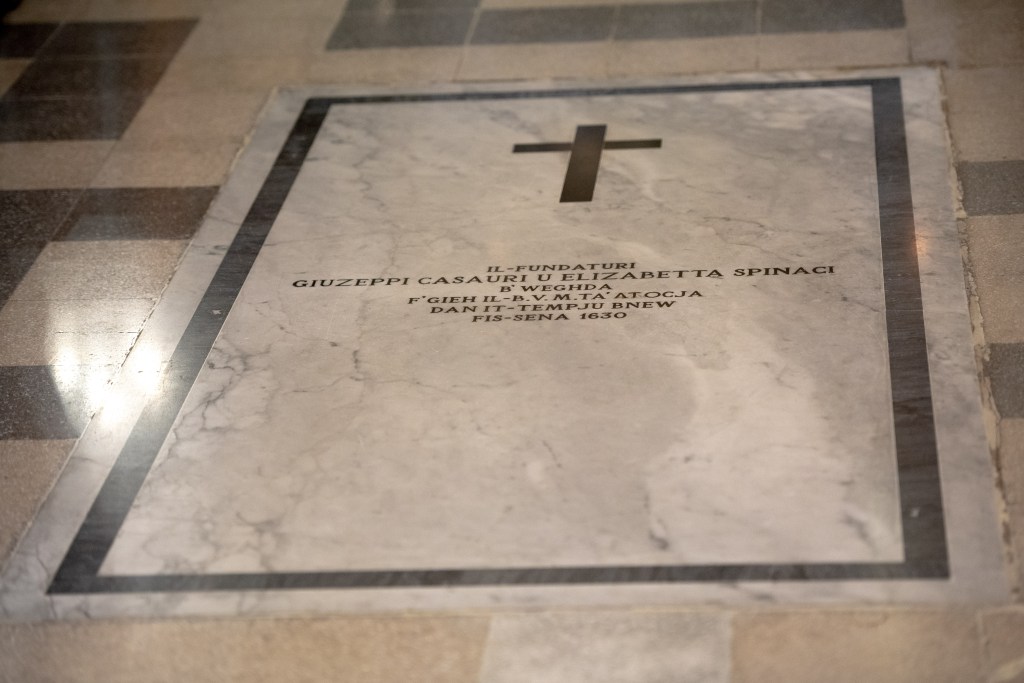 Archdiocese of Malta. Photo by Ian Noel Pace
Due to its bad state, the chapel had been de-consecrated by Mgr. Pietro Dusina during his Apostolic visit in 1575. So, Giuseppi decided to rebuild it. The church, bigger than the original, was completed in 1630, and was rededicated to Our Lady of the Assumption, the patroness of Malta. Next to this church, a residence was also built where the Casuaris lived as hermits, with the permission of their confessor, until they died in 1636 and 1646, respectively. The new church became the home of their beloved Our Lady of Atocha painting; indeed it was placed on its main altar. Giuseppi and Isabella Casauri are buried in the church (the name "Elizabetta" appears in the tombstone). The inscription on their tombstone commemorates the contribution of these two great benefactors.
Next to the church is the Mother House of the Sisters of Nuzzo (Daughters of the Sacred Heart of Jesus) who were founded in this very Institute by Sister Maria Tereża Nuzzo, born to Paul Nuzzo and Louisa Morrocchi on May 11, 1851, in Valletta. The Congregation was officially founded on November 21, 1903, when Maria Teresa with a few women who followed her formed the first community. Today, the Daughters of the Sacred Heart are in Malta, Rome, India, Kenya, Uganda, Tanzania, Philippines and United States of America. In 2007, the remains of Sister Maria Tereża Nuzzo were also placed in the church. 
Of devotion, graces, and indulgences
The couple fervently spread the devotion to Our Lady of Atocha. In time this church radiated a certain devotion both among the people of Hamrun, as well as among other devotees who came to visit the church from outside this town, so much so that it was bestowed with indulgences by Popes and Bishops, among them Pope Sixtus V, Pope Clement XIII and Pope Benedict XIII; Bishop of Malta Mgr. Gaetano Pace Forno and Archbishop of Malta Mgr. Michael Gonzi. Many ex votos found in the sanctuary testify to many graces granted through the intercession of the Madonna Tas-Samra.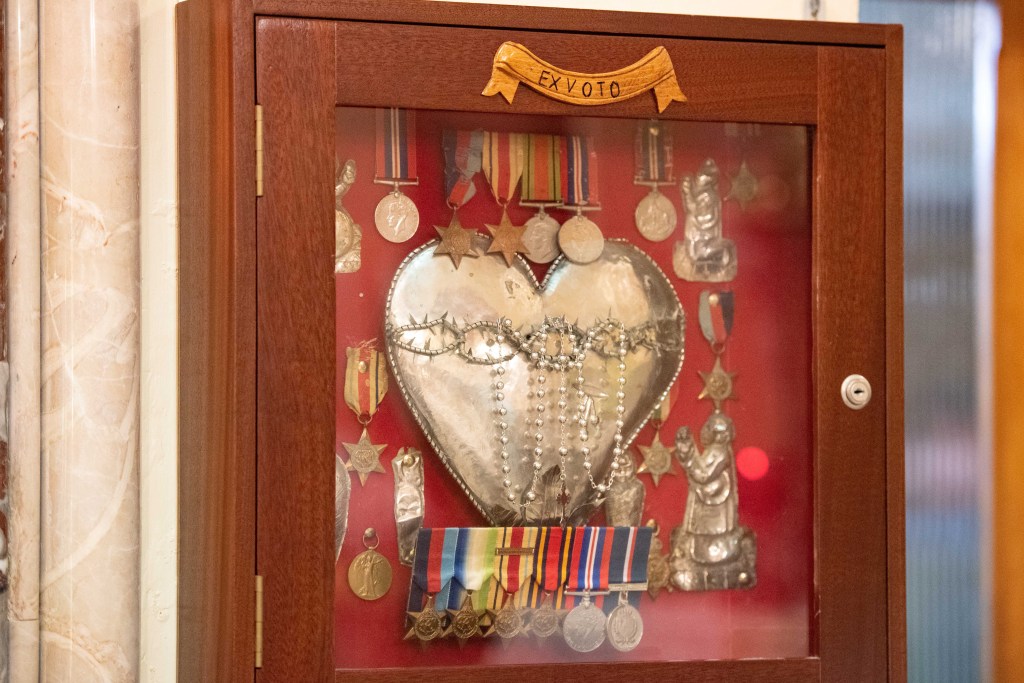 Courtesy of the Archdiocese of Malta. Photo by Ian Noel Pace
Saint Ġorġ Preca and the Tas-Samra church
In the 20th century, the church was again de-consecrated due to years of neglect. For a long time, whoever took care of it would only open it once a year, on the feast of the Assumption, August 15. This time it was Saint Ġorġ Preca who came to its rescue. Saint Ġorġ was closely connected with Tas-Samra church.  Saint Ġorġ's life on earth revolved around spreading and explaining the Good News in the Maltese islands. This article about Our Lady is published today on this Marian day, commemorating the first apparition of the Immaculate Conception in Lourdes, but today also happens to be the vigil of Saint George's birthday! Our beloved Saint was born in Valletta on February 12, 1880, but in 1888, when Ġorġ was eight years old, the Preca family moved to Ħamrun.
For this Apostle of the Word, the Gospel was "The Voice of the Beloved." He authored and published numerous books and booklets on prayer, dogma, morals and spirituality. When preaching about death, Divine Judgement, Heaven and Hell he never sugar-coated his teachings; nevertheless, he always proclaimed the Lord's infinite mercy. Dun Ġorġ was also very gifted. In many instances it was very clear that he was endowed with knowledge of hearts and of the future. However, he was an example of humility, goodness, meekness and generosity – a holy pastor of the People of God! Ġorġ was ordained a priest on December 22, 1906. He always recounted how Fr. Galea, his confessor, appeared to him a few days after he passed away, and told him:"God has chosen you to teach his people."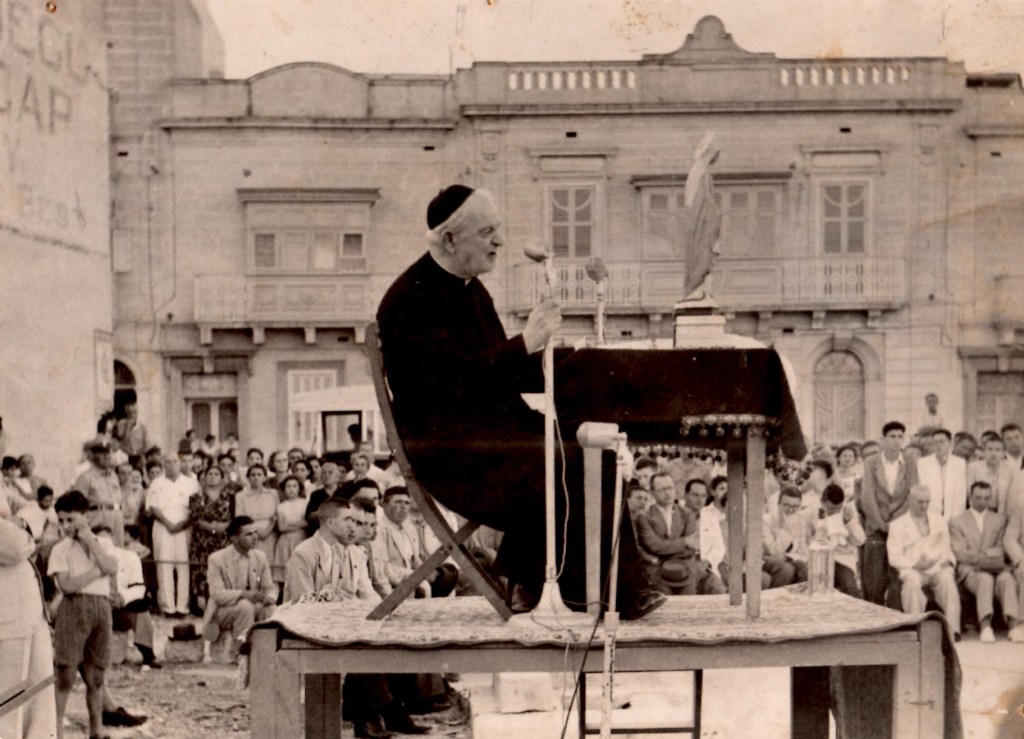 Courtesy of Ġorġ Agius of the SDC
Ġorġ was enthused with this idea and wrote a rule in Latin for Pope Pius X's approval. He envisioned groups of seven permanent deacons (assisted by lay auxiliaries) in every parish who would be responsible for the formation of the People of God. This idea later developed into the Society of Christian Doctrine (SDC). As soon as he was ordained a priest, he used Tas-Samra church as a centre for his pastoral activities. At Tas-Samra he set up religious activities helped mainly by Pawlu Mifsud and Ganni Borg who were procurators of the church at that time. Saint Ġorġ also strived to reignite the devotion to the Dark Madonna. And indeed, he did! Devotion soon spread so much that the church was again refurbished and embellished, and daily Holy Masses were celebrated again. Also, processions in the streets around the church on the feast day of the Assumption were held, and still are today every August 15. With his usual zeal and rock-solid faith, he used this church to establish a monthly devotion, known as the 15th-of-month devotion. In this church, every 15th of the month, he personally recited the fourth decade of the Glorious Mysteries of the Holy Rosary and a set of prayers, including a prayer the Saint himself wrote, for which the Imprimatur of the Curia was granted in 1926:
A prayerto be recited before the miraculous image
of the Most Holy Mary of Atocha
How great You are, O Most Holy Virgin! How can it be that You are greater than You are, when the Almighty chose you as His natural Mother and assigned Himself to You! You yourself proclaimed that You are truly great when you said that the Mighty One has done great things for you.

While we praise you for this great grace that you alone have found before God, we ask you to console us in our sadness, to free us from the scourges of divine justice and in our death to take us with you to enjoy the Mercy of your God and ours.

May God be blessed who in His eyes saw you so uniquely precious because through you all His blessings come upon us. So be it. 

Translated from the original prayerin Maltese
Nihil Obstat: die 27o ianuarius 2023, Hector Scerri, Cens. Theol.
Imprimatur: Datum in Curia Archiep Melit., Florianae, die 27o ianuarius 2023 
+ Joseph Galea Curmi Vicarius Generalis
To this day the church is kept open all day every 15th of the month, and one can still visit and recite these prayers, receive confession, and participate in Eucharistic Adoration.  Until his health permitted, on this day Saint Ġorġ celebrated Solemn High Mass. It is said that in 1910, during a panegyric of one of his Masses, the Saint had made a prophecy that this devotion will continue to be followed even after his death, and indeed it is! But this is not the only devotion he established in this church, which is still alive today.
In 1921 the Baby Jesus Christmas procession was launched from Tas-Samra.  This is a procession with a statue of Baby Jesus in a manger carried shoulder high by students of the SDC. Lanterns with words of praise to Baby Jesus are also carried in this procession. The statue used in the first procession belonged to the Saint himself. Later it was donated to the church and can still be seen in a small niche on the altar of Saint Lawrence. Fr. Ġorġ passed away on July 26, 1962, and was canonized on June 3, 2007.
Courtesy of the Archdiocese of Malta. Photo by Ian Noel Pace
A Sanctuary united with Royal Basilica of Atocha
On September 12, 2016, Our Lady of Atocha church was elevated to a sanctuary by decree of H.E. Archbishop Charles Jude Scicluna after an application submitted by Rev. Walter Cauchi the Archpriest of the Ħamrun Parish of San Gaetan. Rev. Cauchi submitted the application on the advice of the rector of the church. The application was also based on Saint Ġorġ Preca's 15th-of-the-month devotion. 
Our Lady of Atocha Sanctuary was also affiliated (aggregated) to the Royal Basilica of Atocha in Madrid, from where the miraculous image was brought in 1603, and raised to the dignity of Aggregazione Spirituale (spiritually aggregated to the Basilica). For this occasion, a pilgrimage was made between the Sanctuary and the Royal Basilica of Atocha in Madrid. Devotees visiting the Sanctuary and hearing Mass every 15th of the month (which are votive Masses of Our Lady of Atocha) are also granted a plenary indulgence. Every 15th of the month, three Masses are celebrated – at 8am, 12pm and 6pm.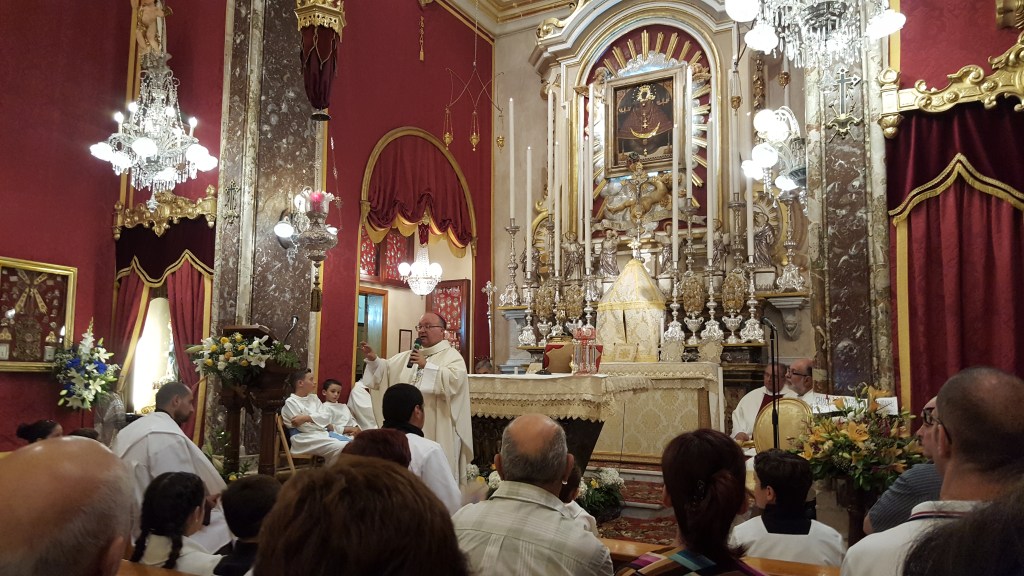 Courtesy of the Archdiocese of Malta. Photo by Ian Noel Pace
References
Busuttil R. Il-Knisja tal-Madonna tas-Samra – Ħamrun(The Church of Our Lady of Tas-Samra). Kappelli Maltin (Maltese Chapels website).
Cordina J. C. Church on historic resistance hill turned into sanctuary. The Malta Independent. Monday, 7th November 2016
Our Lady of Atocha. All About Mary.University of Dayton