Catholic students are learning to live their faith as they support and befriend other children around the world through Unbound's engaging program.
What can God do in your life with one Bible verse a day?
Subscribe to Aleteia's new service and bring Scripture into your morning:
Just one verse each day.
Click to bring God's word to your inbox
When former schoolteacher Kimberly Klein began working for Unbound — an anti-poverty organization that invites people to partner with families in developing countries — she had one big question: Is this in Catholic schools?
Unbound's unique sponsorship program has profoundly changed the lives of tens of thousands around the globe for 42 years. Founded in Kansas City in 1981, Unbound currently operates in 18 countries in Latin America, Africa, and Asia and partners over 278,000 children, elders, and their families with more than 219,000 sponsors. 
To Klein, the mission of Unbound seemed like a perfect fit for aligning the mission of Catholic schools with Catholic Social Teaching — an ideal opportunity for children and their families in the US to learn, connect with, and support children and families in need across the world. 
Klein's question, has now, over seven years later, blossomed into a life-changing program called Global Classmates, and it is gaining traction in Catholic schools across the country. 
"Catholic schools have always promoted service, but teachers have been looking for ways to facilitate and teach global awareness," says Klein. "The Global Classmates program allows students to walk in solidarity with other children in other countries, to learn about other cultures and realities, and to deeply appreciate what they themselves have here at home." 
Through the program, students — ranging from pre-K to high school — grow in this understanding through activities like letter writing, prayer, encouragement, fundraising, photographs/artwork, and other special projects. Having a "global classmate" has proven to be a transformative experience for students, teachers, and parents wherever it is put in place.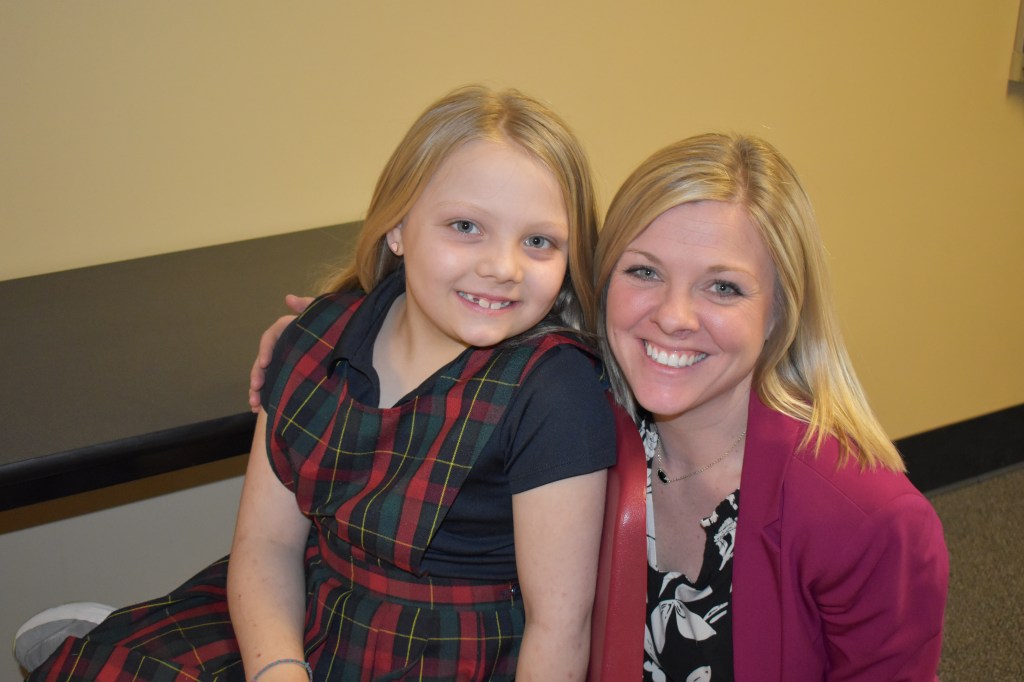 Courtesy of Unbound
St. Joan of Arc — "Even at the age of 5, they can impact another's life."
One of the first schools to adopt the Global Classmates program was St. Joan of Arc school in Toledo, Ohio. During the 2016-2017 school year, the school began sponsoring 10 children from 7 different countries and have added 2 more sponsorships each year. It now has 21 sponsorships representing 13 countries.
"The global classmates program enables our school to not just tell our students to be servants and ambassadors of our faith, but provides us an opportunity to show them how to do it on a global scale," explains Jenna Shinaberry, a kindergarten teacher at St. Joan of Arc. "It provides opportunities for personal connection and proves to students that even at the age of 5 they are capable of impacting another child's life. It is in these moments of connection that the students begin to think of their global classmate as a friend, someone they care about, the realization that a child around the world is just like them."
Shinaberry says that students have responded positively from the very beginning. "I've had students ask how they can sponsor a child on their own. One pair of fourth grade students once asked me if they could sponsor a student together and each work to be able to pay part of the sponsorship contribution."
St. Joan of Arc aims to have at least one day a month where classes are focused on a lesson or activity related to their global classmates. "We aim to integrate our global classmates into all subject areas," says Shinaberry. "The educational opportunities are endless when we look through the lens of this program."
Students also celebrate their global classmates' birthdays, even wearing birthday hats, singing "Happy Birthday" and enjoying a special treat the way they would for any student physically sitting in their classroom. Shinaberry says some years they've also designed schoolwide Lenten projects to provide students opportunities for good deeds and almsgiving. Younger children might do work at home to earn money and then donate that money to support their global classmates. 
St. Joan of Arc sponsors one boy and one girl each year and begins the program in kindergarten. "We've had a few global classmates leave the program for one reason or another, but the best news we can receive is that the child's family is able to support themselves. [That's] bittersweet because of the relationships built; however, the students have been excited to have the opportunity to then turn their efforts toward helping another child. These experiences have provided them with a sense of pride," says Shinaberry.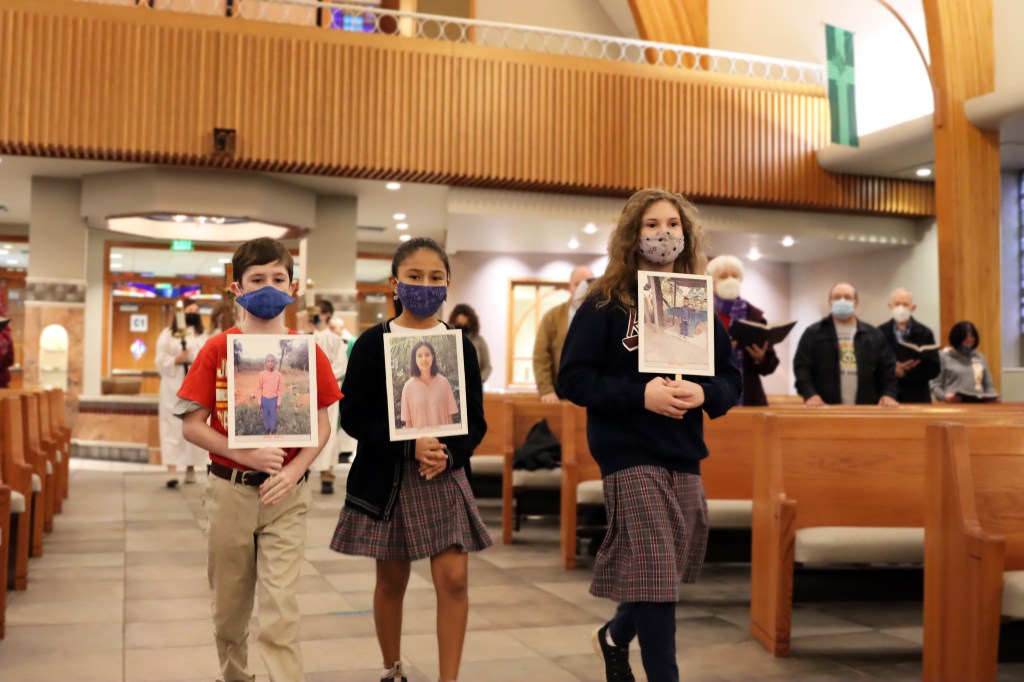 Courtesy of Unbound
St. James Academy — "It completely aligns with our school's mission."
Newer to the Global Classmates program but seeing fruits of it already is St. James Academy in Lenexa, Kansas, which committed to the program in October 2022. Director of Culture and Engagement Wendy Leon-Ryan says her favorite part of the program is how it aligns with the school's mission. 
"We are dedicated to developing the hearts of our young people to live virtuously in the service of others. Although our students serve our immediate community in various ways, Unbound is allowing us to expand our outreach to communities around the world."  
The school announced its participation in the Global Classmates program during an all-school assembly, and afterwards a senior girl approached Leon-Ryan to ask for a picture of her global classmate so she "could see her beautiful face while she prayed for her." 
"This is yet another connection to our mission," says Leon-Ryan. "We exist to pass on the Catholic Faith  to the next generation. Shortly after, we put up large posters that contain the picture and bio of each of our global classmates around the school. Seeing their picture daily reminds us all to think of them and pray for them and their families."
The school's eight sponsored friends are all under the age of 6, which Leon-Ryan says was intentional "so our students could walk all through the educational career of their young friends across the world." Due to the age of the sponsored friends, all correspondence the students have had so far is with the parents of the sponsored children, but "our students are excitedly looking forward to communicating directly with them in a few years."
Leon-Ryan points out that all the sponsorships are student-driven. "Our monthly monetary contributions were accomplished through a $5 dress-down day, and senior leaders write all letters to our young friends. Also, we're planning on offering mission trips to our students to visit their sponsored friends in person starting in 2025." 
The future of Global Classmates looks bright
There is something new for the students at St. Joan of Arc to look forward to as well. Shinaberry says she recently learned that they will be participating in their first ever Zoom call with one of their global classmates from El Salvador.  
"This is very exciting to our junior high students! They have been writing letters for years and the ability to actually see and speak directly to their global classmate continues to build that bond. We are very excited," she says.
Unbound's plans for the Global Classmates program are also very exciting. The organization has an "angel investor" whose vision is to eventually have all 6,000 Catholic elementary and secondary schools in the US participating in the Global Classmates program. "The donor whole-heartedly believes that it's important for American students to know and understand the lives of other children and families around the world," says Klein.
The impact on families both abroad and at home is one of the benefits participants say they experience with the Global Classmates program. 
Shinaberry says that when Unbound staff visited the school parish, she witnessed students excited to share photos and information with their families. 
Courtesy of Unbound
"They spoke of them the same way they would any other friend in their classroom — they knew their favorite foods, activities, subjects in school, etc." she says. "That weekend, many of our school families took on sponsorships of their own. The students led their families to live their faith more fully as they committed to support children around the world." 
These are what Shinaberry calls "full-circle moments," when she can see what they've been teaching and exposing the students to in the classroom coming to life in their families and in the church community.  "The children are becoming active members of our call to serve the needs of others."
While Global Classmates is geared towards Catholic schools, any student or group of students can participate, including homeschoolers. 
"Everyone can benefit by having a friend in another country and learning about their way of life," says Sarah Pendergast, Catholic School Account Manager for Unbound. "Global Classmates puts a face and a name on poverty, and this awareness expands to the entire family and community. By participating in the program, students and their families, teachers and all those involved, give and receive the gift."
For more information about Unbound's Global Classmates program, please contact Sarah Pendergast: sarahp@unbound.org, or visit  www.unbound.org/schools.