According to the original text, the woman doesn't merely "call out" to Jesus. No. She literally screams at the top of her lungs. 
There is so much that could be said about the rich and intricate story of the Canaanite woman and Jesus — this Sunday's Gospel — but we'll focus on one point. The woman is a mother in dire anguish because her daughter is tormented by a demon.  
An infinite scream
The passage says, And behold, a Canaanite woman came and called out, "Have pity on me, Lord, Son of David!" But according to the original text, the woman doesn't merely "call out" to Jesus. No. She literally screams at the top of her lungs. 
There's another example of it in the chapter just before. When the Apostle Peter begins to sink after walking on the water, he cries out: Lord! Save me! Peter needed to compete with a raging gale. In order to be heard, he had to holler over howling winds. Imagine how Peter would have cried out to Jesus, and then apply it to the woman.
And something else: The tense of the verb indicates that the Canaanite woman doesn't scream just this one time — she keeps on screaming! To the point that it begins to annoy the disciples: Send her away, for she keeps calling out after us.
It's disturbing, disruptive, and unnerving — screaming. But is there any painting that better captures modern day anxiety and angst than Edvard Munch's famous painting "The Scream"? There is a reason why a version of the work sold at auction for nearly $120 million. Is it because this shrieking, panicked face is an icon for our age, symbolizing the anguish and chaos besieging so many? Munch described his inspiration for the image: "I was walking along the road with two friends …. My friends walked on, and I stood there trembling with anxiety — and I sensed an infinite scream passing through nature."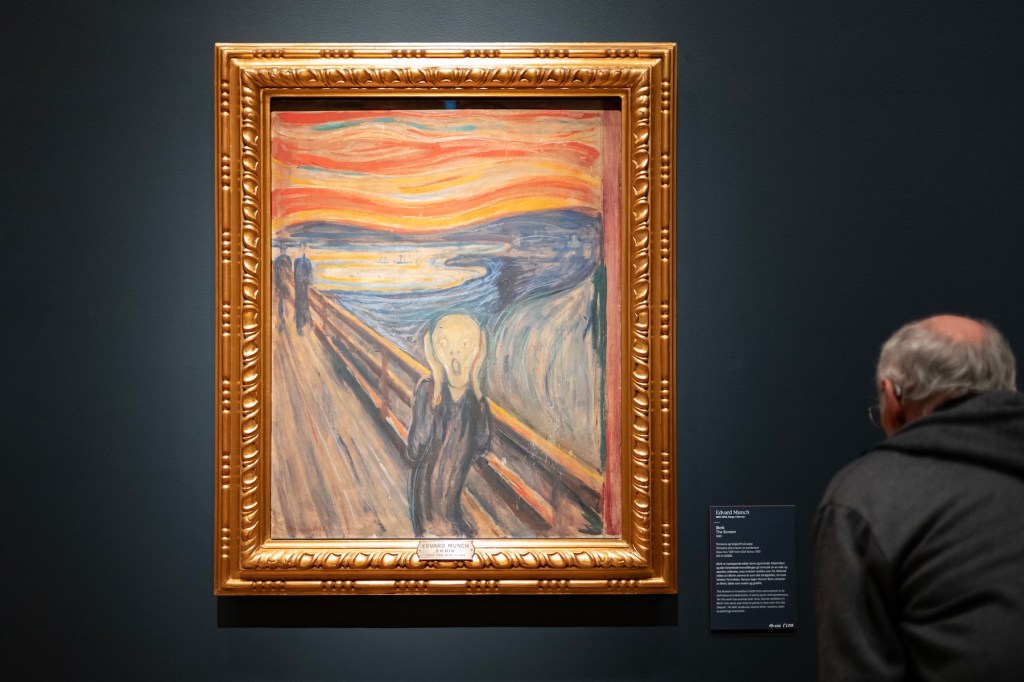 JWCohen | Shutterstock
Sometimes we just have to scream. There's a distressing scene in the film Terms of Endearment. Aurora Greenway is at the hospital bedside of her daughter who is dying a slow and painful death. She approaches the nurses' station and says, "Excuse me. It is after 10:00. Give my daughter the pain shot." A nurse replies, "Mrs. Greenway, I was going to. In just a few minutes." Aurora responds, "But please! It's after 10:00! It's after 10:00! I don't see why she has to have this pain!"
But when the nurses at the station don't respond, Aurora's emotion escalates as does her voice. Frantic, she beseeches, "It's time for her shot! Do you understand?! It's time! Do something! All she has to do is hold on until 10:00! And it's past 10:00. She's in pain! My daughter's in pain! Give her the shot!"
(Send her away, for she keeps calling out after us.)
A nurse attempts to calm her with the question, "Are you going to behave?" But this only makes Aurora more hysterical, and now, crazed and raving, she lets out with a bloodcurdling: "GIVE MY DAUGHTER THE SHOT!!!" 
Only then does a nurse comply.
Perfect silence
How does Jesus respond to the Canaanite woman's screaming? Jesus did not say a word in answer to her. Really? How is this not an act of rudeness, of rejection?
Maybe what the woman needed after so much crying out was an experience of perfect silence. For "perfect silence alone proclaims God" (St. Maximus the Confessor). C.S. Lewis prays: "I know now, Lord, why you utter no answer. You are yourself the answer. Before your face, questions die away. What other answer would suffice?"
In the silence, the woman changes. It seems to bless her with a gift for listening. The woman's speech is peaceful, without a shred of contentiousness. Even when Jesus refuses her, the word "but" never appears on the woman's lips. It is as if the woman has caught on to the Lord's scheme, as St. Claude la Colombiere describes it:
The refusal you meet with now is only God's strategy to increase your fervor. Jesus seemed to be irritated by the Canaanite woman barging in on him, but in reality he admired it and was delighted with her trust and humility, and for that reason he repulsed her. With what tenderness does he repulse those whom he most wishes to be indulgent to. Take care not to be deceived by it. The more he seems to be unwilling, the more you must insist.
Appealing to mercy
So maybe it is not right to take the food and throw it to the dogs, but the Canaanite woman makes a persuasive point: "Please, Lord, for even the dogs eat the scraps that fall from the table of their masters." We once again have to go back to the original text. It does not read "the table of their masters"; it says, "the table of their LORDS." And how many times in this short encounter has the Canaanite woman called Jesus Christ "Lord"? Three times!
Her riposte to her Redeemer says in effect: Yes, Jesus, I may be a dog, but three times already I have called you "Lord" and you accepted it. If I am a dog, I am your dog under your table. When I met you I already prostrated myself at your feet like a dog. And I am as certain about your mercy and your compassion as those lost sheep will be when you go out to find them. I am certain that you have come to find me too!
The Canaanite woman does what St. Claude la Colombière counsels us all to do:
You should say to Jesus, "I do not ask you to give me what I deserve. I do not appeal to your justice, but to your mercy." Do not lose courage. God loves the violence of your attacks and wants to be overcome by you.
The last thing that Jesus Christ will do on the cross before he dies is scream (Mk 15:37).
~
Find Fr. Peter John Cameron's reflection on the Sunday Gospel each week here.